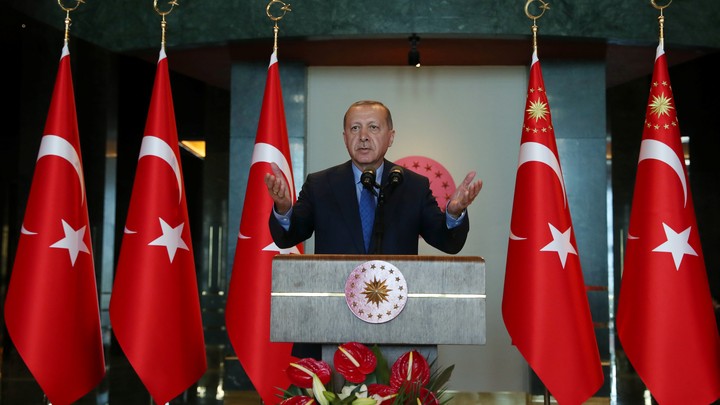 Turkey's central bank moved on Monday to shore up the declining lira, as the trouble with the country's currency threatened to spread to the broader economy—and the global financial system. But it took no steps to address the issue of interest rates, which economists say must be raised to deal with the crisis.
The central bank announced it was lowering the amount of funds maintained by commercial banks, and added that it will "provide all the liquidity the banks need." The lira, which had declined to about 7.20 against the U.S. dollar on Sunday, recovered slightly to about 6.61 after the announcement. This year, the lira has lost 41 percent of its value against the U.S. dollar.
The central bank's decision came three days after Donald Trump announced the doubling of tariffs on Turkish steel and aluminum imports. U.S.-Turkey relations have been tense since the July 2016 coup attempt against President Recep Tayyip Erdoğan. They have only grown worse since Turkey declined to free Andrew Brunson, the American pastor who was arrested in Turkey in the aftermath of the failed coup and charged with espionage. Trump's announcement caused the beleaguered lira to lose 14 percent of its value against the U.S. dollar on Friday alone.
'U.S. relations with Turkey are not good at this time'
Erdoğan reacted angrily to the U.S. actions, telling his supporters Friday that "there are several campaigns being carried out" against Turkey. He continued with that messaging Monday: "Turkey is under siege in the economy, as in other areas," he said, adding that the country's "economic dynamics are solid, strong, and intact." Of the United States, he said: "You act on one side as a strategic partner, but on the other, you fire bullets into the foot of your strategic partner. We are together in NATO, and then you seek to stab your strategic partner in the back." His words were coupled with the country's public prosecutor's warning of a possible crackdown on news reports and social-media posts that "serve as economic attacks."
Erdoğan's reaction to the crisis mirrors his responses to other crises in Turkey under his leadership. This is the same man who, long before the advent of President Trump, accused a "deep state" of conspiring against him, and oversaw in the early 2000s charges against more than 100 people in connection with a coup plot that may or may not have existed. More recently, Erdoğan blamed the United States and others of backing the 2016 coup attempt, and blamed Western nations for not doing enough to oust Syria's Bashar al-Assad. The Turkish leader is now bringing that approach to bear on his response to the currency crisis. His government's public response suggests it believes that the lira's woes are the result of outside machinations rather than economic mismanagement.
Although the lira's decline stemmed from a number of factors, the actual chain of events leading to the crisis is fairly straightforward. Turkey's economic growth came on the back of low interest rates and foreign capital. The low rates allowed Turkish companies to borrow money cheaply to finance projects. But corporate debt swelled to 70 percent of gross domestic product—one of the highest shares among major economies. Much of this borrowing was done in foreign currencies like the U.S. dollar—not in liras. This factor is one reason why Turkey's broader economy could be vulnerable as the lira continues to slide. The loans incurred by Turkish companies in U.S. dollars and other foreign currencies will now be more expensive to repay; profits will also be hit because of the depreciation.  
"This is a foreign currency crisis in its origin, but given the reliance of Turkey—both in the government and corporate sectors—on external finance, this could turn into a debt crisis which engulfs its banks," Hasnain Malik, the head of equity research at Exotix Capital, said Monday in a research note. "Because of the high participation of foreign banks and portfolio investors in Turkey, there are clear risks of contagion."
Investors would like to see Turkey's central bank raise interest rates (its benchmark rate is at 17.75 percent), address inflation (which is at 16 percent), and engage with multilateral lenders to keep the crisis from spreading. Erdoğan, however, has railed against higher interest rates. Turkey's central bank has stayed mum on rates, casting doubts about its independence. Erdoğan's appointment of his son-in-law as the country's finance minister hasn't inspired confidence either.   
Economists worry that Turkey's troubles could cause investors to start pulling money from other emerging economies. Other currencies fell Monday against the U.S. dollar, including the Indian rupee, which hit a record low, and the South African rand. Markets in Asia and Europe fell as well on Monday before recovering.
Erdoğan, meanwhile, found others to blame for the lira's slide. "There are economic terrorists on social media," he said Monday. "They are truly a network of treason. We will not give them the time of day … We will make those spreading speculations pay the necessary price."
We want to hear what you think about this article. Submit a letter to the editor or write to letters@theatlantic.com.