'U.S. Relations With Turkey Are Not Good at this Time'
U.S. tariffs on Turkish steel and aluminum caused the lira to slide. But ties between Washington and Ankara have been strained for a while.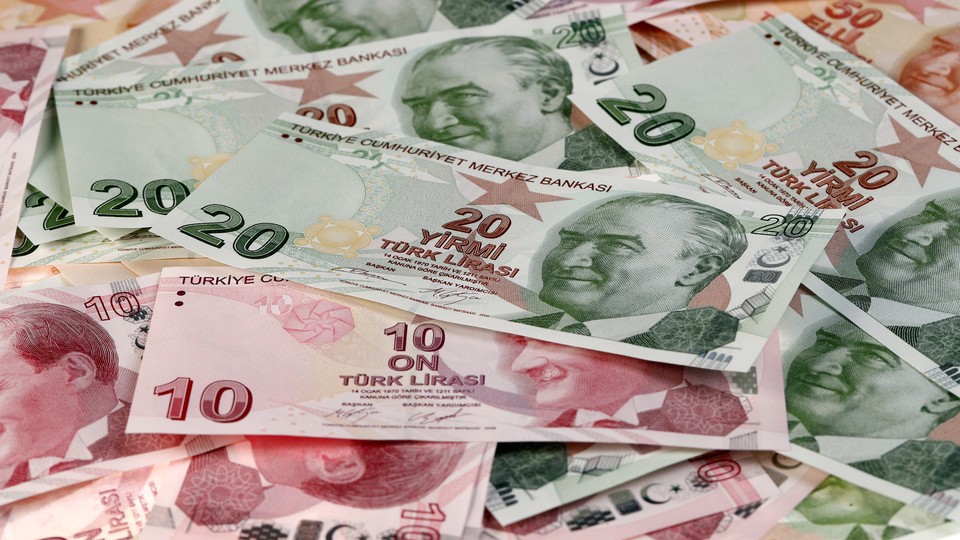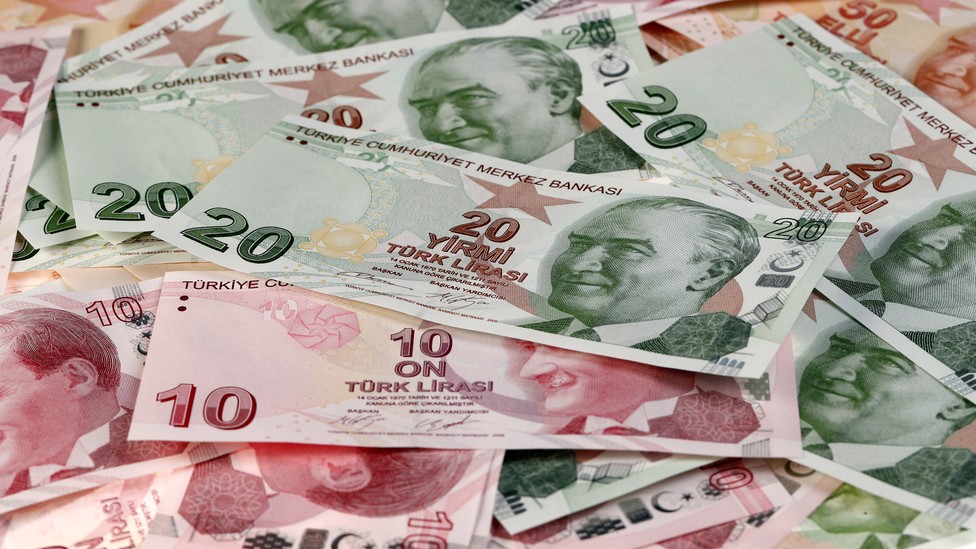 President Donald Trump announced Friday that he had ordered the doubling of tariffs on Turkish steel and aluminum imports, exacerbating relations with a NATO ally that has proven intransigent in recent years.
"I have just authorized a doubling of Tariffs on Steel and Aluminum with respect to Turkey as their currency, the Turkish Lira, slides rapidly downward against our very strong Dollar!" Trump said on Twitter. "Aluminum will now be 20% and Steel 50%. Our relations with Turkey are not good at this time!"
One could argue they haven't been "good" for some time. Özgür Ünlühisarcikli, an expert on transatlantic relations with the German Marshall Fund in Ankara, said Trump's tariffs are "very bad news for Turkey-U.S. relations in the short run, in the medium run, and even more in the longer run."
In the short term, he told me, the impact will be on the Turkish economy, as has been seen so far. In the medium run, he said, there will be security challenges for Turkey that will affect Ankara's security preferences. "But the real impact will be on the longer run," Ünlühisarcikli said. "I believe that all of this is putting Turkey on a path toward distance from the West. This might not be desirable for either the United States or Turkey at this moment. But it could become a vicious cycle, and it might become too late soon to reverse this."
The cause of the most recent public dispute between the two countries is Andrew Brunson, the American pastor who was arrested in Turkey in the aftermath of the July 2016 coup attempt against President Recep Tayyip Erdoğan and charged with espionage. As recently as this week, the Trump administration called for the release of Brunson, who is in poor health and under house arrest; Turkey did not oblige.
Relations between Turkey and the United States deteriorated dramatically in the aftermath of the coup attempt. Erdoğan viewed the Obama administration's response to the failed putsch as insufficiently supportive; demanded, unsuccessfully, that the U.S. extradite Fethullah Gülen, the Pennsylvania-based cleric whom the Turkish leader accuses of fomenting the plot against him; and dismissed U.S. criticism of his government's brutal crackdown on the opposition, civil society, and the media in the aftermath of the failed coup.
There were significant regional policy differences as well. Turkey was harshly critical of the Obama administration's approach to the Syrian conflict; Erdoğan actively supported groups fighting Bashar al-Assad, the Syrian leader, while Barack Obama was reticent about providing weapons to the rebels. The two sides were also divided over the Israeli-Palestinian conflict: Turkey, once a close and reliable ally of Israel, angrily broke with its regional partner in protest against its actions in the Gaza Strip.
These differences have continued under the Trump administration despite early promises of a rapprochement between the two countries. Turkish constitutional changes that consolidated power in the hands of the Turkish president, the U.S. support in Syria for Kurdish rebels whom Turkey regards as terrorists, and a U.S. investigation into Turkish banks for their alleged violation of sanctions on Iran have all further frayed ties.
"What's going is not in Turkey's interest. It's not in America's interest. It's not in NATO interests," Ünlühisarcikli said. "But I believe that it's in the interests of NATO's adversaries, specifically Russia and their affiliates within our societies. There are many people today, I can see how the pro-Russia, anti-American circles in Turkey are celebrating now … I'm sure similar things are happening in the United States. We should not make our enemies happy."
Friday's tariffs are unlikely to help relations. Although Turkey is a minor player in the global aluminum trade, by some accounts it's the world's sixth-largest steel producer. The United States is the largest market for Turkish steel and aluminum exports, which will now have to find other markets—not an impossible task. The tariffs come as Turkey's economy is in some trouble; the lira, its currency, is in a tailspin, having lost 14 percent of its value against the U.S. dollar on Friday alone—and 41 percent since the start of the year. It is now valued at about 6.50 lira to the dollar. The value of the lira will make foreign goods more expensive for Turks.
Erdoğan himself was predictably dismissive in response to Trump's tweets: "There are several campaigns being carried out" against Turkey, he told supporters in Rize. "Do not heed them. If they have their dollars, we have our people, our God. Know this: We are better than yesterday, we will be even better tomorrow. Have no doubts about it." He then urged Turks with "dollars or gold under their pillows … [to] exchange it for liras at our banks. This is a national, domestic battle."
But the slide in the lira is hardly just the fault of Turkey's dispute with the United States. Investors have been worried about Turkey's economic plans as well. Erdoğan recently named his son-in-law, Berat Albayrak, the finance minister. On Friday, a profusely sweating Albayrak tried to assuage investors' concerns about the state of the economy, and vowed to maintain the Turkish "Central Bank's independence." It is not clear how his father-in-law feels about that. Erdoğan, who calls himself an "enemy of interest rates," has urged the Central Bank not to raise rates as it tries to battle inflation. Despite international expectations that it would do so, the bank has so far appeared to listen.
But Turkey, and Erdoğan, still have a lot to bargain with: for one, Syria, where it remains a significant player; second, it still holds Brunson; third, and perhaps most significant, is the Incirlik Air Base in southern Turkey from which the U.S. and its allies strike ISIS targets.
Ünlühisarcikli said that it is possible for both sides to come to an understanding, but that each "should downgrade their expectations from the other." He said Turkey and the United States should agree to disagree on Kurds in Syria and Iraq; that Turkey should stop advancing the narrative that the U.S. was behind the coup attempt; and that the U.S. administration should work to improve Turkey's image in Washington and be mindful of the security interests of its NATO ally while working with Kurdish fighters.
"In the short run, I believe that there can be no solution without Pastor Brunson and other American citizens in Turkey being released from prisons," Ünlühisarcikli said. "But as things have developed, I believe that the two leaders have both locked themselves into their current position."
He said Trump and his aides, with their tweets, have made it impossible to backtrack from this position. "As far as Washington is concerned, Pastor Brunson's release will be a first step for any normalization of the ties," he said. "On the other hand, specifically because of tweets coming from President Trump and his aides, it's very difficult for President Erdoğan to backtrack either, at least in an honorable way. President Trump has not given him any honorable way out."