Trump's NAFTA Strategy: Bluff, Rebrand, Declare Victory
The president's announcement that he was "terminating" a free-trade agreement means less than he said.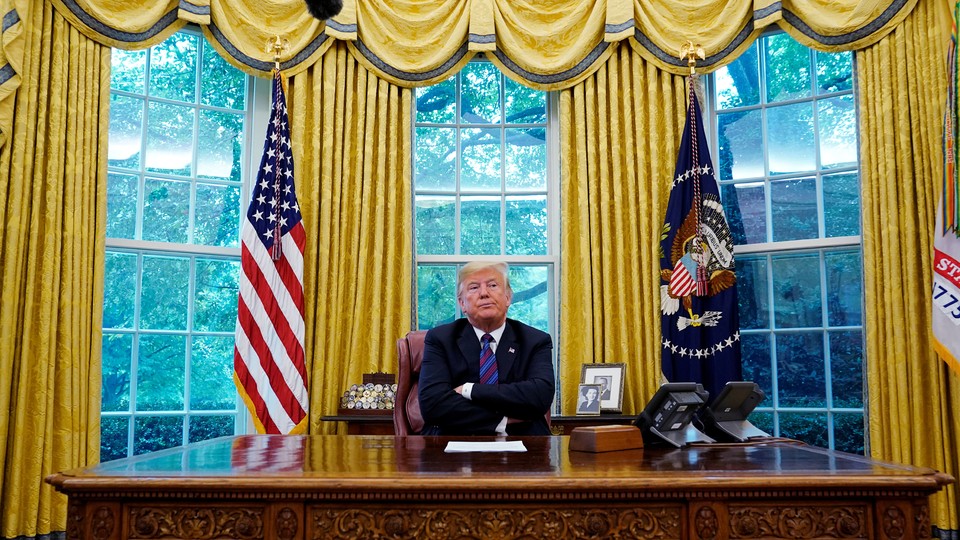 President Trump said Monday he's "terminating" NAFTA, the free-trade deal with Canada and Mexico he's called a "disaster" and blamed for job losses in the United States. It looked like a potentially massive development, as if Trump were signaling the end of a $1 trillion trade deal that's defined trade in North America for more than two decades.
But what he went on to describe seemed like more of a rebrand than a revolution. He hailed new trade arrangements with Mexico, said he'd "see if Canada can be part of the deal," and signaled that what he might really want to terminate was the name "NAFTA" itself.
"They used to call it NAFTA. We're going to call it the United States–Mexico Trade Agreement, and we'll get rid of the name NAFTA," Trump said in the Oval Office, with Mexican President Enrique Peña Nieto on speakerphone. "It has a bad connotation because the United States was hurt very badly by NAFTA for many years." (Peña Nieto, in his remarks, referred to the agreement as NAFTA.)
Trump also appeared to suggest that the agreement with Mexico was a bilateral one and that the U.S. would reach a separate bilateral agreement with Canada, the United States' second-largest trading partner. "I think we'll give them a chance to probably have a separate deal," he said. "We can have a separate deal or we can put it into this deal."
He added: "One way or another we'll have a deal with Canada. It'll either be a tariff on cars or it'll be a negotiated deal. Frankly, a tariff on cars is a much easier way to go. Perhaps, the other would be much better for Canada." A tariff on Canadian auto imports to the U.S. would make cars more expensive for American consumers.
Monday's remarks fit the pattern of Trump's international negotiations. They showed his preference for dealing with countries one-on-one rather than through multilateral institutions, a tendency he's displayed in trade negotiations with Europe as well. And they also showcased a strategy where Trump bluffs, rebrands, and claims victory. It's not clear Trump can actually terminate NAFTA without congressional approval; he signaled his dislike of the agreement's "connotations," and he declared his arrangement with Mexico "an incredible deal for both parties."
But what it may amount to in the end is some tweaks to the existing agreement—albeit ones that concern some of the most significant issues in the U.S. trade relationship with Mexico. Among these is the auto industry. The two countries agreed on steps that would, in effect, stimulate American manufacturing. The auto negotiations, the Toronto Star reported, had become contentious, which is part of the reason they didn't include Canada. Other details of the deal with Mexico, and any agreement with Canada, will likely emerge in the coming days and weeks.
A senior administration official, speaking to reporters after Trump made his remarks, explained Trump's comments on NAFTA this way: "Whenever you have an agreement that supplants another agreement, you have to pause or get rid of the prior agreement," the official said. "How we do that is something we're still in the process of looking at."
The official downplayed suggestions that the bilateral agreement with Mexico was meant to put pressure on Canadian Prime Minister Justin Trudeau. "We were in a position where we had negotiations that went on for close to a year. In the last ... several weeks, we decided we were better off to try to get a deal with one party and then hopefully the other," the official said. "It tends to be the way these things work in any event. It's hard to have three people all just have a lightbulb go off at the same time."
The official noted that U.S. and Canadian negotiators had discussed the issues for thousands of hours both bilaterally and with Canada. "It's not like Canada is coming in at the last minute. They know the issues," the official said. "We talked about all those issues and I think this is a normal, orderly way to arrive at an agreement with three people."
The other parties to NAFTA, for their part, are not speaking as if the agreement is going away. A statement from the Canadian prime minister's office said Justin Trudeau had spoken Sunday to Peña Nieto, the Mexican president, and agreed that NAFTA was a trilateral agreement—a tweet from Peña Nieto said Mexico hoped for a "successful trilateral negotiation of NAFTA this week." It is unclear whether Mexico will go along with the agreement if Canada is not party to it. A spokesman for Chrystia Freeland, Canada's foreign minister, said: "We will only sign a new NAFTA that is good for Canada and good for the middle class. Canada's signature is required."
NAFTA, which was signed by the three countries in 1993 and went into effect a year later, is responsible for about $1 trillion in trade among them. Critics of the agreement have said it encouraged American companies to move manufacturing jobs to Mexico, where costs are lower. The Trump administration had wanted a clause that would have killed any deal after five years unless all its signatories agreed to renew it. They moved away from that idea in Monday's announcement: The agreement with Mexico will remain in effect for 16 years, but be renegotiated every six years, the senior administration official said. If negotiators agree to keep the deal as is at the end of the six years, the accord will last another 16 years, the official said. If not, negotiators will meet each year until issues on which they differ are resolved. The official said this mechanism will keep "disputes from festering."
Monday's announcement should put to rest some of the uncertainty among U.S. businesses surrounding the agreement. But questions persist on  how the deal will make it through Congress, which has said it wants a trilateral deal. The official said the White House believed the president's move was consistent with his powers.
Robert Lighthizer, the president's trade representative, said the U.S. would submit a letter to Congress on Friday, adding he hoped Canada will join the deal later this week, but he added that Ottawa will have the option to join at a later time.