The British Trial That Became a Free-Speech Crusade for the Right
An anti-Muslim activist claims he was silenced for his views. But the truth isn't so sinister.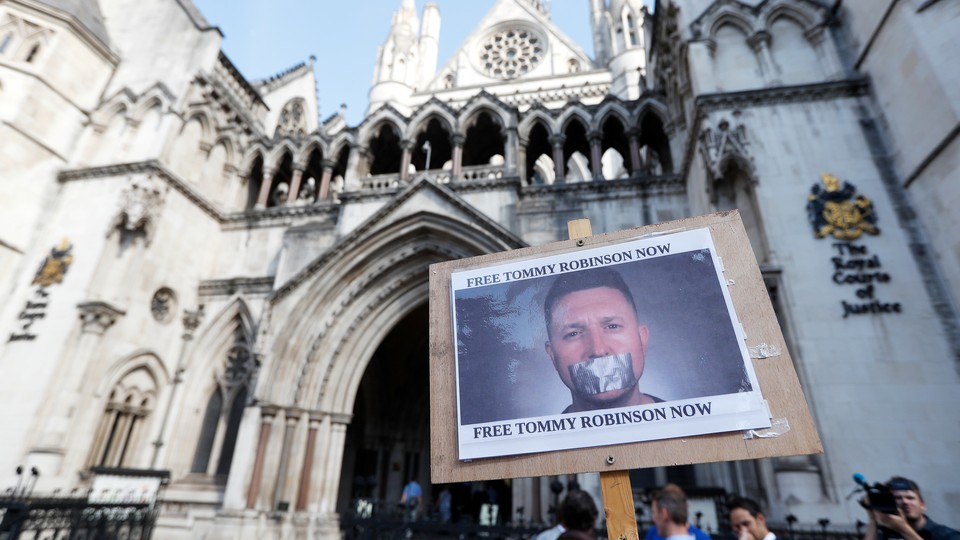 His fans see him as a poster boy for freedom of speech, and his detractors as a far-right agitator. But on Wednesday, Tommy Robinson and his supporters prevailed when a British court let him out of jail, where he'd landed after live-streaming from outside of a criminal trial, in violation of court-ordered media restrictions on reporting on the case. That case, which dealt with child sex abuse by members of the South Asian community, was one Robinson, who has previously been involved in anti-Muslim protests and incitement, tried to hold up as emblematic. "Do we have the prison places to deal with all of the men—all of the Muslim men who have raped across this country?" he said in the live-stream. "No, we don't."
"We fought the law and … we won," Raheem Kassam, the former London editor of Breitbart News and a vocal supporter of Robinson, said of his release on Wednesday. "Tommy has been freed. They said we couldn't do it. The media lied about his case, repeatedly. Journalists over the past few days laughed on the phone to me about it … We won."
Robinson's case in one way reflects a pattern that has recurred in various forms across Europe, where a rise in far-right politics has run up against traditionally liberal values like freedom of speech, and sparked debate about its limits. In France and the Netherlands, for example, the far-right politicians Marine Le Pen and Geert Wilders have faced criminal charges for inflammatory speech and tweets. Le Pen was ultimately acquitted on charges of inciting religious hatred after comparing public Muslim prayer to Nazi occupation, but has since been charged with "circulating violent messages that incite terrorism or seriously harm human dignity" over 2015 tweets showing ISIS victims. In the Netherlands, Wilders—who is also a vocal supporter of Robinson—was convicted in 2016 of inciting discrimination and insulting an entire ethnic group for asking a crowd, to chants of "Fewer!," whether they wanted more or fewer Moroccans in the Netherlands. Both Le Pen and Wilders have bemoaned what they see as violations of their right to free expression, though such a right is further circumscribed in Europe than in the United States, where even hate speech is generally protected by the Constitution.
But despite how it's being marketed, the technicalities of Robinson's case actually have more to do with specific British laws than they do any particular beliefs he holds—though that hasn't diminished the public-relations value for him or his supporters.
Robinson, whose real name is Stephen Christopher Yaxley-Lennon, was a little known figure in the United Kingdom nearly a decade ago when he helped found the now-defunct English Defence League, a far-right group known for its anti-Muslim protests. But that changed in May, when Robinson was detained for broadcasting details about the ongoing child-sex-abuse trial outside of the Leeds Crown Court in northern England.
During the more than hour-long Facebook live-stream, which attracted hundreds of thousands of views, Robinson called the defendants "Muslim child rapists" and heckled a group of men entering the courthouse he claimed were defendants. The video allegedly put Robinson in violation of Britain's contempt-of-court laws—which make it illegal for anyone to publish information about a trial that could pose a risk to the integrity of the proceedings—and he was tried and sentenced in a single day. Robinson admitted to the offense and offered to delete the video. He was then given a 13-month sentence for contempt of court (10 months for the offense, plus an additional three for violating a suspended sentence he had received last year—that time for broadcasting about another ongoing trial outside of a Canterbury court).
What followed wasn't just an amplified presence for Robinson in the U.K., but international notoriety. Around the globe, commentators, including many on the right, proclaimed Robinson a martyr for freedom of speech. Gerard Batten, the leader of the right-wing U.K. Independence Party, called Robinson's detention the work of a "police state." The conspiracy theorist Alex Jones's website Infowars likened it to "a Soviet-style disappearance." Even Donald Trump Jr. and the former White House chief strategist Steve Bannon have weighed in. To hear them tell it, Robinson was a right-wing voice the mainstream elite wanted to silence. The hashtag #FreeTommyRobinson began circulating online, and soon followed street protests calling for the same. U.S.-based groups offered to pay his legal fees, and supporters sent Robinson thousands of dollars in bitcoin.
"In the U.S. and much of the European radical right, this is being portrayed as a politically motivated imprisonment," Rob Ford, a professor of political science at the University of Manchester and a co-author of Revolt on the Right: Explaining Support for the Radical Right in Britain, told me. He noted that had Robinson been broadcasting any other criminal trial, he would have faced the same legal fate. "This isn't a libel case, this isn't a case about what he was saying. It was a case about what he was doing in terms of interfering with the legal process of another court case. That is completely lost on all of his supporters."
Yet the decision by the Court of Appeal of England and Wales to grant Robinson a new hearing had to do not with the merits of the contempt-of-court charge, but the "haste" that characterized Robinson's case, which according to The Guardian took only five hours to try. "Whilst the judge was entitled to deal with the contempt himself, the urgency went out of the matter when [Robinson] agreed to take down the video from Facebook," the judgement reads. "There should have been an adjournment to enable the particulars of contempt to be properly formulated and for a hearing at a more measured pace, as had happened in Canterbury."
And it wasn't just Robinson supporters on the right lauding the decision. "Liberal democracy, which Robinson holds in contempt, is about free speech and giving the people we despise the rights that we cherish," Adam Wagner, a human-rights lawyer, said on Twitter on Wednesday shortly after the judgment was announced. "That means institutions must be able to admit and correct errors. It is a tribute to the courts that they have done that here."
Robinson's fate will ultimately be decided at his rehearing, when a new judge could decide whether to jail Robinson for a second time. A return to prison would almost certainly galvanize his supporters to continue pressing for his release, but it could also spread his global notoriety even further in ways he could try to capitalize on.  
"The reason he works very well as a symbol is because one of the most powerful arguments the radical right can deploy is 'We are the true liberals, we are the ones who are bravely standing up for true liberal values,'" Ford said. "Any other figure could easily slot in as the focal point of that narrative … I don't think he adds a lot of value to any of that. He is just a symbol as part of that narrative."