The 2016 Campaign That Never Ended—In Britain
Former U.K. Independence Party Leader Nigel Farage announced he's "back" to relaunch the Brexit campaign.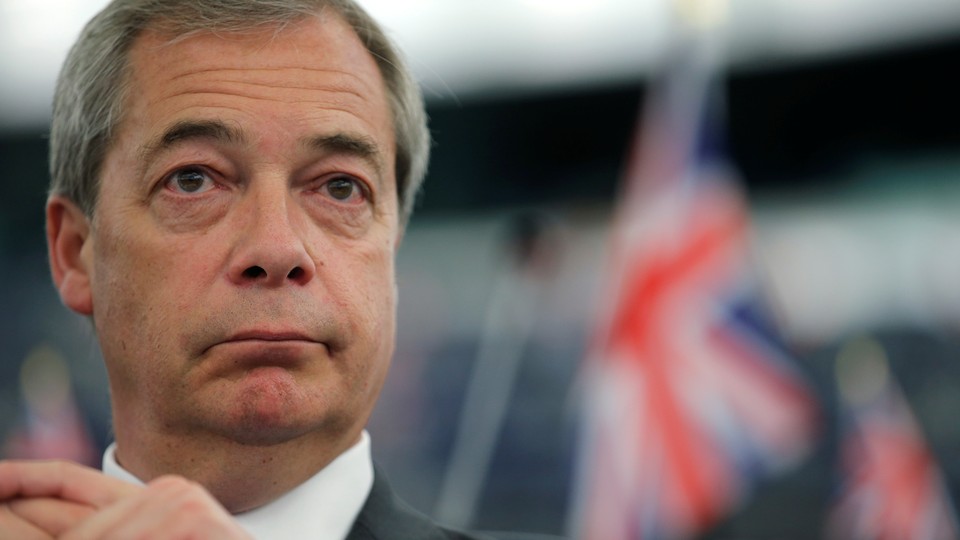 LONDON—It's been called the "perpetual election"—in the United States, the events of 2016, with all the acrimony and partisanship and theatrics that attended them, just seem to keep going. Democrats are still relitigating that year's presidential primary; Russian hacking is still being investigated; Donald Trump is still holding campaign-style rallies.
But across the Atlantic, Britain also seems stuck in the campaign that led to its own seismic vote in 2016. More than two years have passed since Britons voted to leave the European Union, but the politicking won't let up, and neither will the campaigners. This time, they aren't talking about whether the United Kingdom will leave the EU, but about what could happen if they do it in a certain way—not if the U.K. will remain or leave, but how they should exit, who will be affected, and when the deal needs to get done.
Even some of Brexit's original campaigners have returned to reprise their roles. Two years after stepping down as the leader of the U.K. Independence Party (UKIP), the vocal Brexiteer and prominent British populist Nigel Farage announced in a weekend editorial that he's back and ready to pick up where he left off—this time not as the leader of UKIP, but as the vice chairman of a pro-Brexit campaign group dubbed Leave Means Leave."It is now clear to me that if we trust our politicians to deliver Brexit, we will not get what we voted for," Farage told Sky News on Saturday. "So I believe it's time to reengage the public, to restart the Brexit campaign, and that's what I intend to do."
To that end, Farage and Leave Means Leave will travel around the country to raise funds and host events aimed at opposing U.K. Prime Minister Theresa May's Brexit plan—in which Britain would maintain close alignment with the bloc—in what looks a lot like a campaign, except it's not expected to end in any public vote. Farage characterizes May's plan as one that "leaves us half in, half out. In many ways, it leaves us worse off than being a member of the Union." Harkening back to the days of the original Brexit campaign, Leave Means Leave will even be deploying a battle bus. Also similar: Voters are closely divided over which outcome they want.
Farage's return to the Brexit spotlight was predictable—after all, he never really left. Still, John Longworth, the executive director of the Leave Means Leave campaign, promoted Farage's comeback as occurring at a "crucial time" in Brexit negotiations, with a final deal due by the end of the year. "Nigel was absolutely central in securing and winning the EU referendum," he told me. It's true that Farage is regarded as one of Brexit's main architects; like the Leave Means Leave campaign, he supports the U.K. making a clean break from the EU, including its single market and customs union. He has dismissed the government's concerns about the dangers of a hard Brexit—including the potential for food and medicine shortages due to trade disruptions—as fearmongering. Longworth said the government's current Brexit plan is "disastrous" and said the movement aims to "make sure that the government changes its policy."
Raheem Kassam, the former editor in chief of Breitbart News in London who previously served as the chief adviser to Farage when he was the leader of UKIP, told me Farage "has the ability to unite people on all sides of the pro-Brexit debate," and indeed he is popular among Brexiteers, if deeply unpopular among the nearly half of the country that voted to remain. As for the practical implications of Leave Means Leave, he said: "I imagine this is going to lead to lots of public events, lots of meetings, lots of rallies up and down the country to show people—especially in the Brexit-voting constituencies where they have [members of Parliament] who aren't listening to them—that there is an electoral consequence to not doing what your electorate wants you to do." May's Conservatives have indeed experienced a drop in recent polls since she announced the Brexit plan she and her cabinet struck at her country residence in Chequers. One such survey, conducted by the U.K.-based pollster YouGov, found that just 23 percent of those surveyed think the government's plan would respect the results of the Brexit referendum, compared with 39 percent who oppose it.
Farage and the Leave Means Leave campaign aren't the only ones applying pressure on the British government in the final stretch of the Brexit negotiations. In Brussels and within her own party, May faces pushback over her proposal, as well as a hard deadline: EU and British negotiators gave themselves until October to reach a final Brexit deal—a cutoff point some fear they will almost certainly miss. That pressure is further compounded by growing calls for a second Brexit vote. Although British lawmakers will have a final say on the deal negotiated between the U.K. and the EU, some lawmakers and activists have called for a vote to be extended to the public, too. Farage, at one point, appeared to support the idea. Longworth told me that Leave Means Leave does not.
Irrespective of his views on a second vote now, Farage's return to the Brexit debate may buoy those determined to keep haggling over the terms. "He himself says the path the government is currently pursuing on Brexit is not one that satisfies his view of what Brexit should be," Barney Scholes, the press officer for the People's Vote, a campaign advocating for a second referendum on the final Brexit deal, told me. "That just reinforces the point we've been making that there is no clear vision for Brexit, that there is no mandate for a bad Brexit deal or a no-deal Brexit, and that therefore we need a people's vote."
But even if this period does mark the second iteration of the Brexit debate, there doesn't seem to be an overwhelming desire among Britons to undergo more campaigning—let alone another vote. According to a recent survey by the London-based pollster Deltapoll, 31 percent of those polled say there should be a second referendum on whether the U.K. leaves the EU; 15 percent think there should be a second referendum, but only on the terms of the final negotiated agreement. Forty percent say the U.K. should leave the EU in March as planned without a vote, whether or not there is a deal.
"My impression of public opinion is that most people would like this all to be gone—to not to have to think about it anymore, to not have any more boring news articles and TV programs and people banging on about it all the time," Simon Usherwood, the deputy director of U.K. in a Changing Europe, a London-based research institute, told me. He noted that even without Brexit fatigue, there may be limits to the extent figures like Farage can sway public opinion a second time around. "In terms of how to focus people's attention, to say, 'This is a thing and it's going to be going on for some months and we're not really sure when it ends' is a much harder sell than saying, 'There's a vote on this date, get out the vote, vote this way.'"
Kassam agrees that there is a sense of Brexit fatigue, but says it has nothing to do with people's desire to leave the EU. "It's not with Brexit as an idea—it's with Brexit as a process," he said. "That's what we need to fight back against and get our heads around—how we message it back to being a rebellious phase rather than a process."
This process is perhaps what prompted the former foreign secretary Boris Johnson to proclaim that the Brexit "dream is dying" in his resignation letter. What's unclear, however, is what Leave Means Leave can do to save it. While the campaign defines itself as supporting a hard Brexit, there is little expectation Farage or anyone else is prepared to put forward more than slogans to counter the government's plan—particularly the parts that address some of the more technical issues of the negotiations, like how to maintain an open Irish border.
"All of this is really about trying to apply pressure in that final phase of negotiations to get more of the kinds of things that Leave Means Leave wants out of the negotiations," Usherwood said. To do that, however, he said its efforts may be better focused elsewhere. "Public opinion matters, but at the moment what matters more is what is happening in Parliament—and nothing is happening in Parliament at the moment."