Steve Bannon May Be Too Late to the Populist Party
The former White House chief strategist wants to work with Europe's right-wing parties—but some say they aren't interested.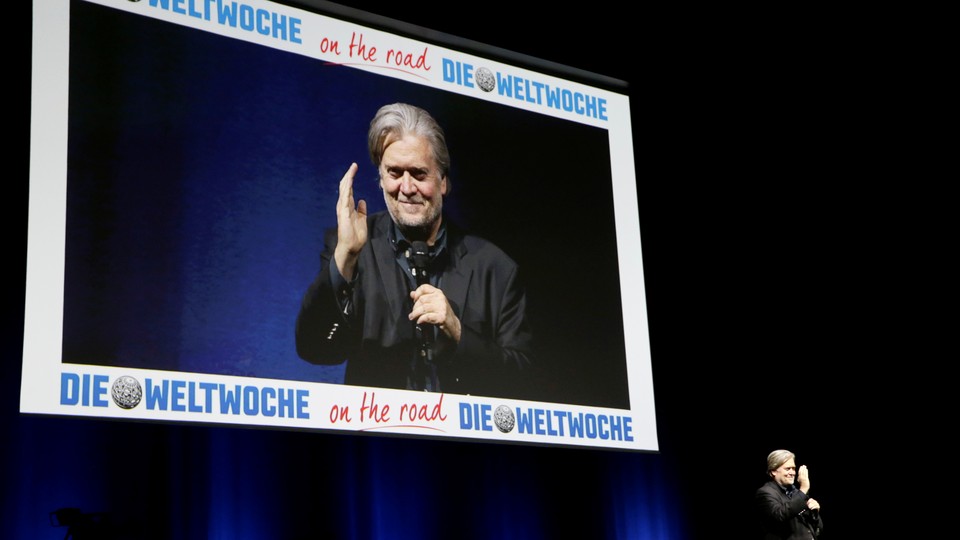 It's no secret Steve Bannon has his sights set on Europe. The former White House chief strategist announced last month that he would be moving to Brussels to start a new movement—a think tank called The Movement—to support Europe's right-wing populist parties ahead of the European Parliament's elections next spring. His goal, Bannon told the Daily Beast at the time, is to create a "supergroup" of united right-wing populist lawmakers within the chamber—a feat that will require the involvement of at least 25 lawmakers representing at least seven European Union member states.
But Europe's right-wing populist parties may not share his grand ambitions. Alexander Gauland, the co-leader of Germany's far-right Alternative for Germany (AfD) party, revealed in a weekend interview that his party wouldn't be involved with Bannon's efforts to unite European populist parties—and appeared to question whether anyone really could unite them. "Mr. Bannon will not succeed in forging an alliance of the like-minded for the European elections," he said, noting that the interests of these parties "are quite divergent."
Gauland isn't wrong. Though many of Europe's right-wing populist parties share similar views on issues such as immigration and the economy—which fueled the electoral rise of parties like the AfD in Germany, the Five Star Movement in Italy, and the Fidesz party in Hungary—it doesn't necessarily mean they have the same political goals. Indeed, Germany's latest immigration scandal proved just how tenuous such political connections can be when they're put to the test: Though populist ruling parties in Italy, Austria, and Hungary boast hard-line anti-immigration policies, all three were quick to oppose Germany's efforts to turn away immigrants at its border, citing the impact it would have on their own borders. National politics, not European politics, took precedence in that case.
AfD isn't the only party that has called into question Bannon's efforts. In France, a spokesman for Marine Le Pen's National Rally said The Movement would be no more than "a good, non-partisan tool box" for Europeans. "Bannon is an American and has no place in a European political party," Jérôme Rivière, the National Rally's international spokesman, told Politico last month. "We reject any supra-national entity and are not participating in the creating of anything with Bannon."
This disinterest on the part of some European parties contrasts sharply with the embrace that at least one of those same parties extended to Bannon just months ago. In March, Le Pen invited Bannon to address her party's two-day Congress in Lille, during which he urged her party faithful to "let them call you racist … because every day we get stronger, and they get weaker." Bannon has made similar appearances across his tour of the continent, making stops in Rome, Prague, and, more recently, the United Kingdom.
But there's a reason some of these parties may want to keep Bannon at arm's length. In France, Le Pen has long struggled to rebrand her party (formerly known as the National Front) and dissociate it from the more extreme elements of its past—a legacy defined by a nationalist, anti-immigration platform, and tainted by anti-Semitism, homophobia, and xenophobia. By inviting Bannon, Le Pen seemed to be signaling to her supporters that his success in helping get President Donald Trump's "America First" policy into the White House could be replicated in France. But the invitation also served as a double-edged sword for Le Pen: By having a controversial figure like Bannon at her side, she seemed to be setting back her own "de-demonization" efforts.
The AfD would have similar reasons for rejecting Bannon's advances. Though the party has enjoyed record popularity in recent weeks, it still has to demonstrate that it can go toe to toe with its national rivals—something that, as Emily Schultheis reported, the AfD has thus far struggled to prove. Cozying up to a figure like Bannon, who has long been associated with the political margins, may do the party more harm than good. "Trump is incredibly unpopular in Germany among ordinary Germans," Matthew Goodwin, a professor of politics at the University of Kent and a co-author of the forthcoming book National Populism: The Revolt Against Liberal Democracy, told me. "So any association with anyone who might look to be Trumpian—anybody who may look too close to the Trump camp—may be seen as problematic."
Goodwin explained that there is another, perhaps bigger, reason right-wing populist parties in Europe may be less inclined to partner with Bannon: He's simply too late. "It's incredibly important if we're trying to make sense of Europe to understand that Bannon and Trump are actually late arrivals to the populist party," he said. "The Movement will not necessarily be as significant as the movements that Europe already has. Many of these populist parties have tens of thousands of members, they are already established, they already have a brand within their respective political systems … They don't necessarily believe the Trump playbook is something they need in order to find success."
Raheem Kassam, a spokesman for The Movement, said in response to Gauland's comments that the think tank has no intention of shaping individual European countries' national policies. "The Movement is a clearing house of ideas, not a campaigning organization that would seek to have anything to do with AfD's national policy or election campaigns," he told Reuters.
It's within this framework that Goodwin says Bannon might still be able to make an impact—albeit a limited one. "One of the historic problems within this political tradition is they often argue among themselves and they have never really been able to project unity at the European level," he said. "Where Bannon may become significant is not so much in his strategic influence, but rather [by] encouraging platforms through which these organizations can integrate and actually become closer at the international level."