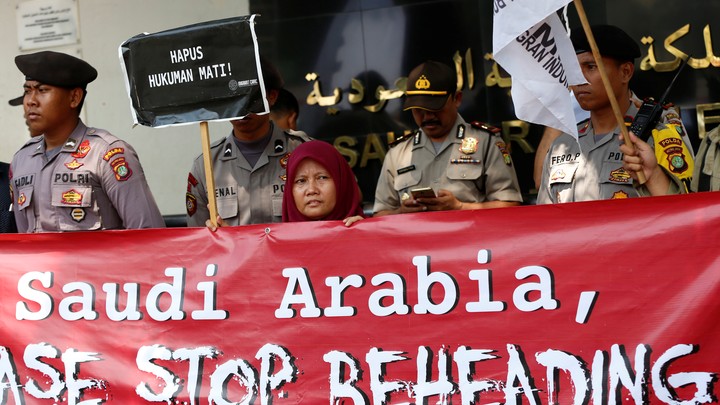 Even as it excoriated Canada for scolding it over human rights, Saudi Arabia beheaded a man Wednesday in Mecca, then put his body on public display, for allegedly stabbing a woman to death. The method of punishment is known in Saudi Arabia as a crucifixion, which the government says is sanctioned by Islamic law, and is reserved for only the most severe crimes in the kingdom.
The suspect in this case was a man from Myanmar who was accused of breaking into the home of a Burmese woman and repeatedly stabbing her until she died, according to Bloomberg. He was also charged with weapons theft, the attempted murder of another man, and the attempted rape of another woman. King Salman endorsed the execution. The crucifixion practice is a gruesome one and is employed sparingly; most capital crimes in Saudi Arabia are punished through beheadings alone.
But as recently as 2013, Amnesty International reported that Saudi authorities executed and crucified five Yemenis in the city of Jizan after they were found guilty of armed robbery and the murder of a Saudi man.
"Pictures emerged on social media appearing to show five decapitated bodies hanging from a horizontal pole with their heads wrapped in bags," Amnesty International said in a statement at the time. "In Saudi Arabia, the practice of 'crucifixion' refers to the court-ordered public display of the body after execution, along with the separated head if beheaded. It takes place in a public square to allegedly act as a deterrent."
The two words that made Saudi Arabia furious at Canada
Saudi Arabia, which became a country in the 1930s, has employed beheading as a means of execution for decades—though the practice itself is centuries old and was once widely employed throughout the Muslim world and beyond. The legal rationale for it comes from Islamic law. Crucifixion, though rarer, is endorsed in the Koran in Sura 5:32-34:
Those who wage war against God and His Messenger and strive to spread corruption in the land should be punished by death, crucifixion, the amputation of an alternate hand and foot or banishment from the land: a disgrace for them in this world, and then a terrible punishment in the Hereafter, unless they repent before you overpower them: in that case bear in mind that God is forgiving and merciful.
Differing interpretations of this verse would explain why some Islamic countries follow such practices while others don't. Saudi Arabia executes more people than any country except China and Iran—and it does so for a variety of crimes.
News of the latest execution came amid a bitter diplomatic dispute between Saudi Arabia and Canada over a Canadian government statement that called on Saudi authorities to "immediately release" civil-society and women's-rights activists detained in recent days and weeks. As my colleague Sigal Samuel wrote in response, Saudi Arabia declared the Canadian ambassador persona non grata and recalled its envoy to Ottawa. It froze all trade and investment deals, canceled educational-exchange programs, and suspended flights to and from Canada.
The flare-up occurred at a pivotal time for Saudi Arabia. Its crown prince, Mohammed bin Salman, or MbS, has cast himself as a reformer who is seeking to wean the Saudi economy away from its long overreliance on cheap oil and foreign labor. There have been other developments as well, which may look normal for the rest of the world but are potentially transformative for the kingdom—most significant among them, the government granting women the right to drive last September; the origins of the ban, as I noted at the time of the announcement, were murky, but the restriction appeared to be more cultural and religious than legal. But, as Samuel noted, "that win has been bookended by losses." Women's activists and human-rights campaigners continue to be detained. Torture remains rife in Saudi prisons, and executions continue apace.
The European Saudi Organization for Human Rights, a human-rights group, said 146 people were executed in 2017, slightly less than the 154 executed in 2016. "Such a level of executions has not been witnessed since the mid 1990s," the group said in a report released this week. The group said that as of April 2018, Saudi authorities had executed 47 people and were on pace to meet last year's figure. Dozens more, it said, continue to face the death penalty, including some under the age of 18.
When beheading won't do the job, the Saudis resort to crucifixion
Jeffrey Goldberg, now The Atlantic's editor in chief, wrote about one of these people, Ali al-Nimr, in 2015. Al-Nimr, the nephew of a prominent Shia leader in Sunni Saudi Arabia (who himself was executed), was sentenced to death by beheading and crucifixion, and, despite international appeals, is still awaiting execution for alleged crimes committed when he was a minor during the Arab Spring protests that rocked the region.
Saudi Arabia employs the death penalty, which sometimes is carried out by gunfire, and usually in public, in response to a wide variety of transgressions, including murder, adultery, atheism, and sorcery and witchcraft. Despite this, it has in recent years found itself on various UN panels that oversee human rights and women's rights around the world. (The country is hardly alone in its punitive practices—or its membership on elite UN panels. Iran, its main regional rival, executes more people per capita than anyone else in the world, also citing shariah as justification; techniques include stoning, hanging, and being thrown off a cliff. The United States is among the few Western nations that conducts executions, though it is mostly carried out by lethal injection.)
Saudi Arabia's practices have been widely condemned by the international community and human-rights groups, but given its angry response to Canada's alleged "interference" in its internal affairs, the kingdom looks unlikely to change the way it metes out its punishments. Saad al-Beshi, a Saudi executioner, said in a 2003 interview that he was "very proud to do God's work."
"It doesn't matter to me: two, four, 10—as long as I'm doing God's will, it doesn't matter how many people I execute," he said, according to the BBC. He added: "No one is afraid of me. I have a lot of relatives, and many friends at the mosque, and I live a normal life like everyone else. There are no drawbacks for my social life."
We want to hear what you think about this article. Submit a letter to the editor or write to letters@theatlantic.com.