My Colleagues Died Reporting in Afghanistan This Year
And yet the work must be done.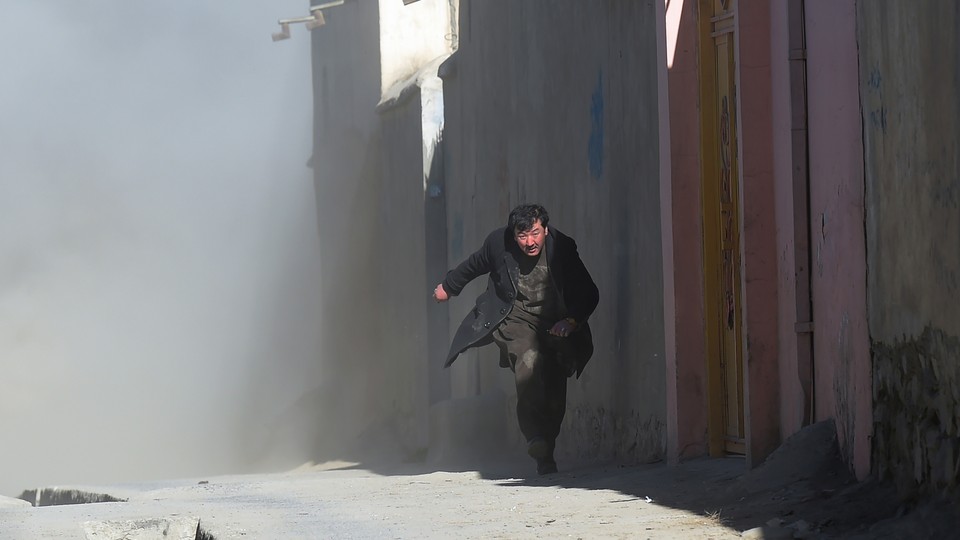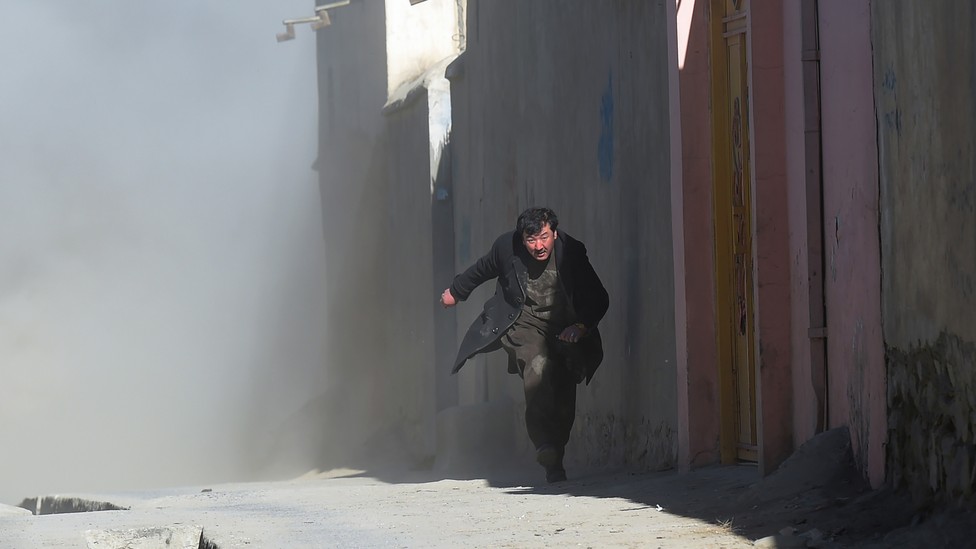 On a golden summer day last year, Afghanistan's forever war crept up to our front door. A powerful bomb hidden in a sewage tanker tore through our Kabul neighborhood, bringing blood-soaked carnage to an area brimming with birdsong and fresh blooms. We would later learn that more than 150 people were killed just outside the office and residence of Agence France-Presse, where I was bureau chief, many burning to death while trapped in their cars.
In the early haze of terror, we thought that we ourselves were under attack after the ear-splitting explosion blew out our windows and sent charred rubble and tangled rebar raining down on our house. We feared armed attackers may have snuck into our compound after the blast, replicating a grisly war tactic seen on distant war fronts. My colleagues and I dashed for cover to our underground safe room. Hunkering down with my colleagues in that dingy room, something quieted my nerves: Our chief photographer, Shah Marai, 41, was whispering words of comfort to a trembling, sobbing member of our cleaning staff. Marai consoled her calmly, with not a hint of alarm in his voice.

When the haze lifted, we resurfaced, carefully skirting the broken glass. Marai immediately dove for his camera to do what he had done for more than two decades: bear witness to the recursive horrors of war. With a bulky Nikon camera dangling on each shoulder, Marai was typically the first journalist to arrive at the scene of an attack, sometimes to the annoyance of rattled security officials. Photos were his life.

In April, Marai was murdered in a double bombing—by an attacker posing as a photographer—with eight other journalists who had rushed to cover the first explosion. It was the deadliest assault on the media since the U.S.-led invasion of 2001 that booted the Taliban out of power. His death dealt a devastating blow, particularly to his colleagues: He was a brother, a friend, a powerful chronicler of the cataclysm of war. He was the second journalist AFP had lost in Kabul since the reporter Sardar Ahmad was killed with most of his family in 2014. Then, less than three months after Marai died, we lost another beloved colleague: Our driver Mohammad Akhtar, a 31-year-old father of four, was killed in another suicide bombing in Kabul. The grief of losing Afghan colleagues was aggravated by another bereavement. Earlier this year, our Yemeni photo stringer Abdullah al-Qadry was killed in shelling, just weeks after I traveled with him on assignment for the first time near the rebel-held capital Sanaa.
There is perhaps no greater challenge in conflict journalism than dealing with the traumatic death of a colleague. Here we are dealing with three in quick succession. It's hard to make sense of senseless killings. It feels unbearable. And yet we bear it.
As Afghanistan's 17-year war grinds on, a large number of Western media organizations have pared back operations or pulled out of the country all together. The Kabul press corps has dwindled from a few hundred a few years ago to just a handful now. The world is so fatigued by America's longest war that it's hardly news anymore when hundreds die in a single day. As the conflict slips into a downward spiral, devouring more civilian lives than ever before, more coverage is warranted—not less. Only a few global-news organizations, including AFP, remain invested in reporting from Afghanistan despite the rising dangers, a huge financial cost, and a heavy emotional toll when we lose colleagues. We are the last remaining hurdle to the war becoming what it must never be—forgotten. For that reason, our fallen colleagues deserve to be celebrated.
---
I came to know of Marai even before I started my two-and-a-half year stint as AFP's Kabul bureau chief in the spring of 2015. "Don't ever invite him to dinner—he will eat up all your food," an editor who had worked with him joked. Marai lived up to that reputation. Some of us adoringly called him the tribal elder of the newsroom because of his streetwise demeanor. The Marai I came to know was a friend notorious for banter, a doting father of six—his youngest daughter was born just days before he was killed—and, of course, a masterful photographer.
Marai represented the bravest of Afghan shoe-leather journalism. The AFP hired him as a driver and fixer in the mid-1990s during the rise of the puritanical Taliban, which had banned photography. Through sheer industriousness, he rose through the ranks to become the agency's chief photographer in Kabul. With nonchalance, he would often recount how he gradually began taking photos, often in secret, hiding his camera beneath his shawl. Shooting from the hip was often the only way to capture reality—looking through his lens could have been fatal.
Over the next two decades, Marai's photos were regularly splashed across newspapers around the world. He produced a catalog of haunting images that were a stinging indictment of thoughtless inhumanity. My favorite is one from our trip together to central Afghanistan—of a soccer game near the famous empty cliffside cavities of Bamiyan, once home to ancient Buddha statues blown up by the Taliban, in what was condemned globally as an act of cultural terrorism.
The image portrayed Afghanistan's fabled resilience in a single frame. In journalism speak, Marai nailed the shot.

Marai's images also captured the aching beauty of Afghanistan—its unexpected heroes, its tragedies, its absurdities. Once while white-knuckling through the badlands of Afghanistan's northern Kunduz province while reporting on anti-Taliban militias, we wound up in the lair of a local militiaman. Accosted by his guard, we caught him in an embarrassing situation: Prayer beads curled around his fingers, the warlord sat alone in his room watching a semi-naked singer cavorting on television. He panicked when he saw us, and fumbled with the remote to flip the channel. We suppressed our laughter behind pursed lips, mindful not to embarrass him further. We both wanted to walk out of there alive.
The seemingly endless conflict and the constant stream of searing images leave many journalists jaded and cynical. But not Marai, even though he grew up in war. He had the heart for a good story—even when covering the rising bloodshed became a depressing routine.

The good-humored banter with Marai never stopped, even as the risks grew. Once during a militant attack in Kabul, he rushed to the scene with Wakil Kohsar, another talented bureau photographer. It was dark and freezing cold. As they approached the site in a dense, blast-walled neighborhood riven by a maze of tangled lanes, they expected to encounter a security cordon. But there was none when they arrived, and security officials were themselves scrambling to pin down the target. Fresh gunfire suddenly erupted, forcing them to duck into a dead-end alley.
"Me and wakil [stuck] in a road near the site of explosion we cannot move," he wrote in a hasty, typo-ridden email. I began calling officials for help. It looked like a reasonably safe bet to stay put in the secure alley until security forces could escort them out. "Stay strong. AND stay where you are," I messaged him. "Think about happy things - sex, for example." Marai's reply: "Thanks a lot Anuj sure we are talking about sex … Will keep you [informed] when we get out." They got out shortly afterwards.
---
I spent my final year in Kabul reporting a series of stories on the dark subject of bacha bazi—the sexual enslavement of young Afghan boys by powerful elites, including local policemen bankrolled by the West. Afghanistan's Western allies appeared to be looking the other way. The assignment broke me. At night, the swamp and darkness surrounding me evoked an immense loneliness, a dread, a sense of hopelessness.
While my posting in Afghanistan was a brutal, scarring experience, I was also blown away by the country's beauty, its rich cultural tapestry. The country has so much history, so much pain, so many untold stories. The war that has vexed three U.S. presidents shows no sign of abating. Some of my Afghan friends believe peace might always elude Afghanistan, forever a country turned into a proxy chessboard for more powerful countries. Rebel groups bankroll their brutality with opium and stolen minerals. Body bags are treated as a metric of success.
Marai's murder—the deliberate targeting of journalists must never be dignified as anything else—is a jolt to one of the few glimmers of hope in the conflict-scarred country: a feisty, uncensored media in a wider region notorious for squelching free speech. Marai's stunning career trajectory mirrored the evolution of the media in post-Taliban Afghanistan into an aggressive watchdog, despite the ever-growing threat of violence. From virtually no free media under the Taliban, dozens of television broadcasters, radio stations, and print publications have come up in recent years, many unafraid of riling authorities with hard-nosed accountability journalism. Some dare to poke the bear in the eye. To them, journalism is not some banal quest to make a living.
At the end of my posting in Kabul, just a month after last summer's bombing, I saw a PTSD specialist in India who suggested I may be suffering from "moral injury," and he suggested writing as therapy. Different from post-traumatic stress, moral injury is a feeling of existential disorientation that results from exposure to events that violate your personal moral code, your own sense of right or wrong. The bacha bazi series colored my entire experience of reporting on a war seemingly with no end. It showed me that to keep going as a reporter, to doggedly excavate unsavory realities, perhaps requires developing a strong immunity to heartbreak.
As I departed Kabul for a new posting in Riyadh, I took comfort in something Marai had told me. Using an idiomatic Afghan expression, he said what we had achieved from that series was akin to extracting oil from stone. We should be proud of the work we do.