U.K. Police Are Investigating a Crash Near Parliament as Terrorism
Two people were injured in the suspected attack.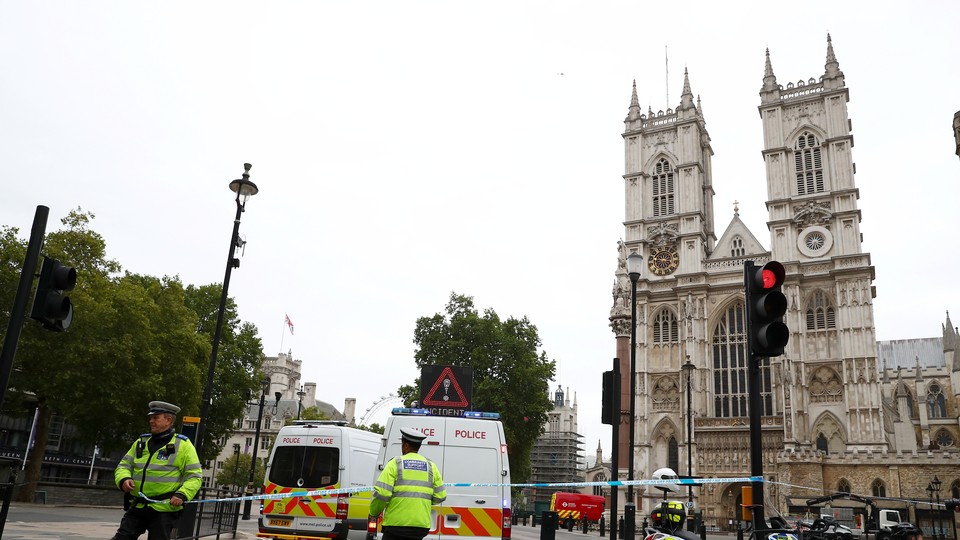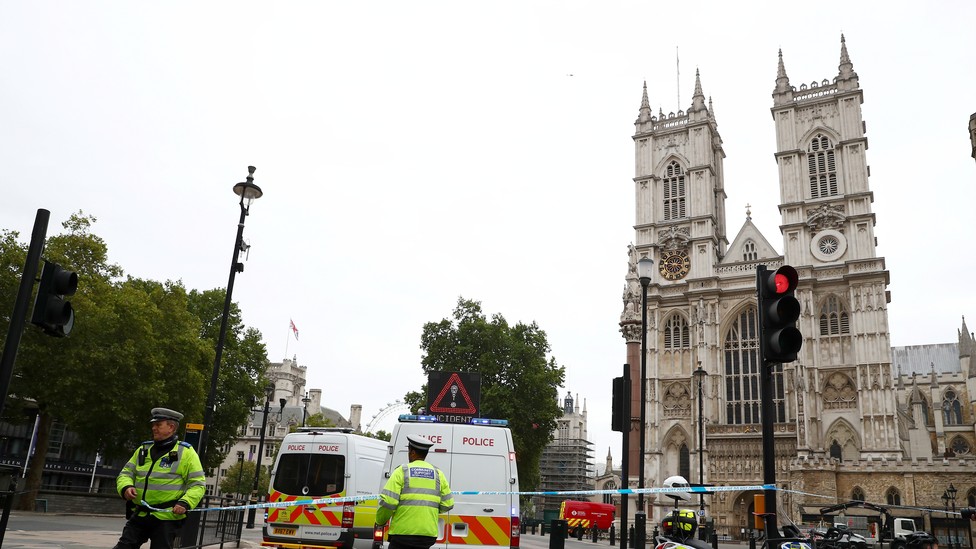 A car plowed into the gates of the United Kingdom's Parliament on Tuesday, injuring two people in what London's Metropolitan Police are investigating as a possible act of terrorism. It's at least the fourth vehicular attack to take place in London since March 2017, and the second outside the U.K.'s Houses of Parliament since then.
"Given that this appears to be a deliberate act, the method, and this being an iconic site, we are treating it as a terrorist incident," Neil Basu, the Metropolitan Police's counterterrorism chief, told reporters Tuesday outside Scotland Yard, the police headquarters. Basu noted that there were no other people or weapons found inside the car, and that authorities are now working to establish the identity and possible motivation of the driver, described as a man in his late 20s, who was arrested by police on suspicion of terrorism offenses. He "is currently not cooperating," Basu said.
If the incident is determined to be terrorism-related, it will be the second in London in 11 months, following a nonfatal explosion on the London Tube in September. More significantly, it has striking parallels to the fatal attack in March 2017: Not only was it in the same area, but it was also carried out using a vehicle. Attackers also drove vehicles into pedestrians on London Bridge in June 2017, killing at least eight people; and weeks later into pedestrians near Finsbury Park Mosque, killing one person. The first two of those attacks were attributed to Islamist militants; the third to an anti-Muslim activist.
Vehicular attacks have also been used in Quebec; Jerusalem; Nice; Berlin; Columbus, Ohio; and Stockholm. As Colin P. Clark and Louis Klarevas wrote in The Atlantic after the previous Westminster attack, the trend is worrisome.
"After authorities made it much more difficult to hijack planes and obtain weapons of mass destruction following 9/11—depriving terrorists of the means to launch spectacular attacks—extremists shifted to simple, easy-to-execute acts of violence like mass shootings and automobile rammings," they wrote. "The unsophisticated and omnipresent threat posed by vehicular terrorism is now forcing those entrusted with security to rethink their paradigms."
The circumstances behind Tuesday's incident are similar to last year's crash outside the U.K.'s Houses of Parliament that resulted in the deaths of five people. In that incident, a 52-year-old British national drove his car into pedestrians along Westminster Bridge before crashing his car into the Westminster Palace fence and fatally stabbing an unarmed officer. He was later shot dead at the scene. Tuesday's crash also involved a seemingly deliberate collision into one of the U.K.'s most iconic—and therefore heavily fortified—sites. It also resulted in the injury of pedestrians and cyclists who were hit by the car.
But there were also notable differences. Whereas the 2017 attack took place at about 2:40 p.m. (a time when the area would likely be filled with tourists and lawmakers), Tuesday's incident took place at around 7:30 a.m., well before most people would be around. It also took place during Parliament's summer recess, during which Westminster is less busy than usual.
The British government announced it will hold an emergency COBRA committee meeting—as is customary in the aftermath of national emergencies—Tuesday afternoon to address the incident. In a statement, London Mayor Sadiq Khan urged vigilance. "All Londoners, like me, utterly condemn all acts of terrorism on our city," he said. "The response of Londoners today shows that we will never be cowed, intimidated, or divided by any terrorist attack."
President Donald Trump, who has previously clashed with Khan on the response to terrorists attacks in London, said on Twitter: "Another terrorist attack in London … These animals are crazy and must be dealt with through toughness and strength!"