The Populist's Guide to Scandal, Jeremy Corbyn Edition
Labour's leader is facing a growing anti-Semitism scandal, but his base looks ready to weather it.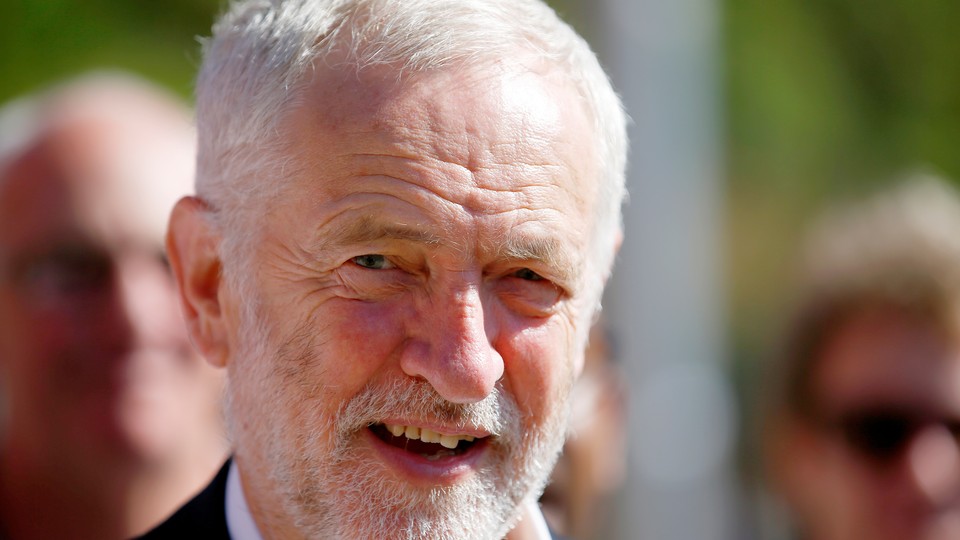 LONDON—It's the scandal that keeps going—and so, somehow, does the man at its center. When allegations of anti-Semitism within Britain's Labour Party burst into full-on political crisis in March, the Labour leader Jeremy Corbyn and his supporters insisted anti-Semitism was not tolerated in the party and vowed to root it out. But the hits kept coming. There were revelations that Corbyn had likened Israel to the Nazis, and that he had attended a controversial wreath-laying ceremony at the grave of a terrorist behind the massacre of Israeli athletes in Munich. Most recently there was the emergence of a 2013 video, in which Corbyn at a conference had dismissively referred to "Zionists"—a term referring to those who support Israel's right to exist as a Jewish state, but which has also been appropriated by some anti-Semites as a slur for Jews—and declared they had no sense of English irony.
It's unclear what irony Corbyn was referring to, though it hardly seems to matter. What stands out is that the Labour leader was openly singling out Britain's Jews—90 percent of whom identify as supporters of Israel (though not necessarily its government's policies)—for in his view not being British enough. The remarks elicited another wave of backlash against Corbyn, including from members of his own party. The Labour lawmaker David Lammy called the comments "insidious." Luciana Berger, another Labour lawmaker, said the video "makes me as a proud British Jew feel unwelcome in my own party."
Corbyn's remarks have made him the subject of an official complaint by the Labour Against Anti-Semitism group, which over the weekend called for his suspension, as well as a full investigation into his conduct. But despite the growing scandal, Corbyn's most ardent supporters appear to be unwavering. In response to the backlash on Friday, Labour's Shadow Chancellor John McDonnell accused Corbyn's critics of "exacerbating the issue" by taking the Labour leader's comments "out of context." Moreover, a recent poll by YouGov found that most of the Britons who are following the latest controversies within the anti-Semitism scandal haven't changed their opinions of Corbyn as a result. This was especially true for Labour voters. "Only 13 percent of 2017 Labour voters said they think worse of Corbyn as a result of the news stories, compared to 20 percent of Conservative voters and 23 percent of Lib Dems," the pollster reported. "By contrast, 46 percent of Labour voters say the scandal has made no difference to their already positive opinion of the party leader."
It's still unclear exactly what impact, if any, Corbyn's newly disclosed comments will have on his supporters. But if his critics expect him to lose substantial support as a result, an example across the Atlantic may be instructive. In the United States, Donald Trump maintains widespread support from his most ardent fans despite facing his own accusations of much more overt forms of bigotry, from his early campaign calls for a "total and complete shutdown" of Muslims entering the U.S. and his disparagement of Mexican immigrants as drug dealers, criminals, and rapists, to his refusal to condemn white supremacists in Charlottesville. Throughout, many of Trump's fans have refused to turn on him—his approval rating among Republicans has remained at 90 percent—and have often dismissed criticism of such remarks as exaggerated, partisan, or simply fake.
Trump and Corbyn are by no means ideologically similar. Whereas Trump is a capitalist nationalist who wants to put "America First," Corbyn is an anti-capitalist internationalist whose policies seek to advocate "for the many, not the few." Nor has Corbyn employed the same kind of crude stereotypes Trump debuted in his campaign—he has denied charges of anti-Semitism and insisted he means only to criticize Israeli policies, though his characterization of "Zionists" in Britain makes this more difficult to defend. But Trump and Corbyn share tactical similarities, both in the populist politics they embrace and in the way they dismiss criticism. Just as Trump blames what he calls "fake news," Corbyn has expressed similar frustration with his treatment in the media. "We have greater hostility from the mainstream media than we've probably ever had before," he said in Edinburgh last week. His envisaged solution was a populist one Trump might partly be proud of: He proposed a media reform that would rid news outlets of "elite control" and enable journalists to elect their own editors.
All this occurs in the context of a long-running anti-Semitism scandal within the Labour Party, which was recently exacerbated by criticism that the party's new code of conduct on anti-Semitism doesn't go far enough to include certain criticisms of Israel—such as calling the state's existence a "racist endeavor"—as examples of contemporary anti-Semitism. Jon Lansman, a member of Labour's national executive committee, wrote in defense of the new code that it ensures that "people are able to make legitimate criticisms of Israel, while prohibiting comments that discriminate against Jewish people, deny their right to self-determination or treat Israel differently to the universal standards that apply to all countries."
While the backlash has prompted Corbyn to apologize or at least attempt to distance himself from the events in question, the true fans aren't going anywhere. "There is a section of his support base who come from a very hard-left tradition whereby for them Jeremy can do no wrong," Adam Langleben, a former Labour councillor and an executive member of the Jewish Labour Movement, told me. When the party or its leader denies allegations or fails to confront them openly, he said "it allows his hard-core group [of supporters] to believe what they want about Jeremy, to perhaps indulge in their own anti-Semitic conspiratorial ideas because Jeremy is so unclear, and because there is that vacuum and that silence."
Left-wing news sites such as Skwakbox and The Canary offer prime examples. Known for defending the Labour leader against negative media coverage, both websites have been at the forefront of Corbyn's defense throughout the anti-Semitism scandal, publishing posts that have dubbed the accusations against Corbyn as "fiction," a "cynical manipulation" by the right-wing press, or attempted smears by the political establishment. In this way too, Trump and Corbyn are similar: They benefit from the presence of a political scapegoat—be it the "establishment" figures who they claim ignore or dismiss them, or the "mainstream media" who they claim work against them.
In a statement Friday night, Corbyn said that, in the 2013 video, he had "described those pro-Israel activists as Zionists in the accurate political sense and not as a euphemism for Jewish people." He added that he would be "more careful" when using the term in the future, acknowledging that it has been "increasingly hijacked by anti-Semites."
Just as the video is unlikely to change many Corbyn supporters' minds, his clarification is unlikely to mollify his critics. But the video has caused at least some former supporters to abandon their defenses of Corbyn, including Lengleben. "He may not have used the word 'Jew,' he may have exchanged it to the term 'Zionist,' but for any Jewish person watching the video we will have heard 'Jew,' because most Jews in Britain subscribe to being a Zionist or supportive of the state of Israel—not the policies, but the existence," he said. As a lifelong member of the Labour Party, Langleben told me he has long pushed back against allegations that Corbyn himself is anti-Semitic. "My position has always been that Jeremy Corbyn, in his 25 years of righteous advocacy for a Palestinian state, had often ended up getting too close to anti-Semites who use the Palestinians to pursue their hatred or dislike of Jewish people." Indeed, Corbyn came under fire for once referring to members of Hamas and Hezbollah as "friends," a characterization he has since said he regrets. "I always thought it was a blind spot."
The new video, he said, has changed his position. "I've been a member of the Labour Party now for 13 years—my whole adult life. I'm reaching a point where I don't think I can stay," he said. "This is a matter of conscience … Jeremy could be the world's global fighter on anti-Semitism if he took this seriously. No one would command more respect than him if he finally understood this issue. But at the moment it doesn't look like that's going to happen."