Iran's Economy Is Struggling Even Without U.S. Sanctions
But the new restrictions that go into place Monday will almost certainly make it worse.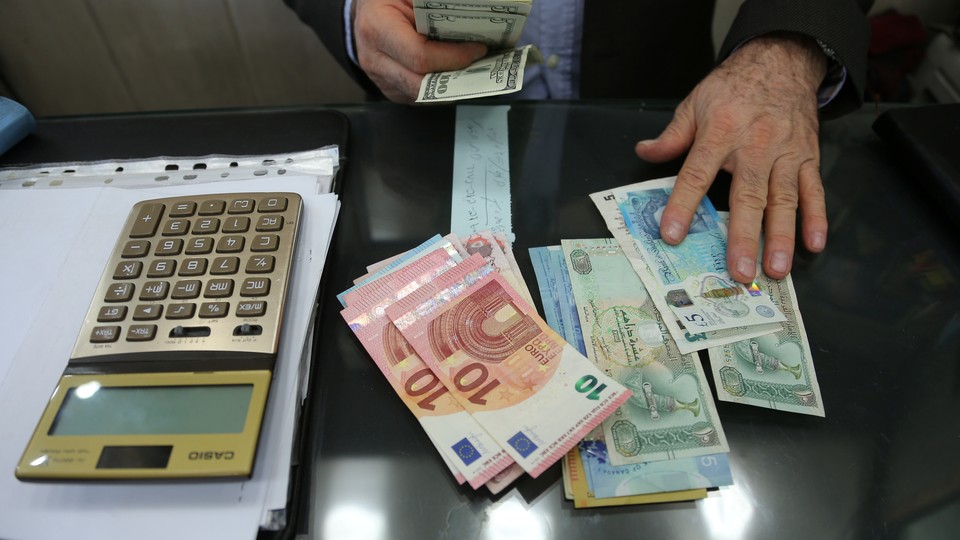 Updated at 10:30 a.m. ET
The first set of U.S. sanctions on Iran prompted by the Trump administration's withdrawal last May from the nuclear agreement goes into effect Monday, adding to pressure on the already hobbled Iranian economy.
The sanctions target important elements of Iran's economy, but they are comparatively less severe than the restrictions that go into effect on November 4. Those sanctions target the Islamic Republic's oil industry, on which Iran's economy is heavily dependent.
The reimposition of sanctions formalizes America's withdrawal from the Iran deal, under which Iran agreed to curb elements of its nuclear program in exchange for sanctions relief. But if sanctions relief was supposed to help cure Iran's economy, it didn't work out that way. The country has been under severe economic strain even without the sanctions—which are sure to make it worse.
"The Iranian economy was already on a downward spiral before the president made his decision and that's the result of the policies that Iran has espoused for quite some time," a senior administration official said Monday in a conference call with reporters. "But there's no question that these financial sanctions are going to continue to bring significant financial pressure."
Monday's sanctions cover Iranian transactions with U.S. dollars, its trade in gold and other precious metals, and some industrial equipment. More significantly, they will also target transactions involving the Iranian rial and the issuance of Iranian sovereign debt, further destabilizing the rial, which has lost more than half its value against the U.S. dollar in recent months. Iran's multibillion dollar agreements with Boeing and Airbus to buy aircraft for its national airline's aging fleet will have to be completed by Monday or face sanctions. Both companies say they will comply.
But it is Iran's automobile sector that will be most affected by Monday's sanctions. Richard Nephew, the former deputy coordinator for sanctions policy at the U.S. State Department who was on the U.S. team that negotiated the deal, said in a conference call that "the automotive sector is one of Iran's larger manufacturing sectors and one that they had ambitions would become a significant export sector for the Iranian economy." European carmakers such as Renault that operate in Iran say they are are looking at other alternatives to "offset the missed opportunities in Iran."
Nephew said Monday's sanctions "will serve as a clearer demonstration to market actors, to the Iranian economy, to Europe, and others that this administration is intending to go through with the … decision" to withdraw from the Joint Comprehensive Plan of Action, or JCPOA, as the Iran deal is formally known.
"One of the things I've heard an awful lot of over the course of the last couple of months is whether or not this is still all a feint, and all intended to rejuvenate the diplomatic process that had otherwise been stalled," he said. "I think that come Monday, a lot of that speculation, a lot of that wishful thinking will have been put to rest when those sanctions are back in place."
And when those sanctions are back in place, the impact on Iran's economy, and on the bottom line of any international company that defies the sanctions, will be palpable. This is not to say the Islamic Republic's economy was flying high until now—far from it. Its economic troubles have been compounded by the loss in value of its currency, the rial. It is now trading at about 110,000 rials to the dollar on the unofficial market. When I wrote in June about Iran's economy, the rial was trading at about 85,000 to the dollar. In late 2017, $1 was worth about 43,000 rials.
Iran's central bank blamed "a conspiracy by enemies with the aim of exacerbating economic problems and causing public anxiety" for its problems. But the troubles are hardly the fault of outside actors. Iran's own actions since the JCPOA was signed in July 2015 haven't helped: It is engaged in an expensive war in Syria, a proxy war in Yemen, and arms and funds Hezbollah, the Lebanese Shia militia group, as well as Hamas and other militant groups across the Middle East. Such activity does not come cheap. Iran is estimated to have spent tens of billions of dollars on these efforts—an expenditure that has led anti-government protesters to recently chant: "Not Gaza, not Lebanon, my life for Iran."
Iran's own economic mismanagement, widespread corruption, and soaring inflation have resulted in regular, nationwide protests against the government as well as the religious establishment of Shia clerics who hold ultimate authority in the country.
"The regime's systematic mismanagement of its economy, and its decision to prioritize a revolutionary agenda over the welfare of its people has put Iran into a long-term economic tailspin," another senior administration official said on the same conference call. "Widespread government corruption and extensive government interference in the economy by the Iran Revolutionary Guard Corps make doing business in Iran a losing proposition. Foreign direct investors in Iran never know whether they are facilitating commerce or terrorism."
It needn't have been this way. Iran signed the JCPOA with China, which is the top buyer of Iran's oil; France; Russia; the United Kingdom; the United States; Germany; and the EU because Obama-era sanctions that were joined by the international community crippled its economy. In exchange for tangible political and economic benefits, Iran agreed to renounce its nuclear program. The results were mixed. Oil exports surged in the aftermath of the nuclear agreement, but the uncertainty created by Donald Trump's reluctance to regularly certify the agreement meant that actual economic growth fell well short of Iran's own projected growth rate of 8 percent. Monday's U.S. sanctions, as well as the measures that go into effect in November, are unilateral, but the largest firms in the world will go along with them even if the parties to the JCPOA are staying in the agreement.
The other parties are staying in because Iran is continuing to comply with the conditions of the deal. But Tehran says it will continue to abide by the agreement only as long as it receives economic benefits from the JCPOA. What the Europeans and others could offer Iran in the absence of the United States will not be enough to offset any adverse economic impact on Iran, said Jarrett Blanc, the State Department coordinator for the nuclear deal, on the same conference call. At best, they may be able to limit the impact on Iran's economy so it is not as badly affected as it was before the agreement was signed. Blanc said the other parties to the JCPOA can also continue to deliver political benefits to Iran; continue civilian nuclear cooperation with Iran; and provide some economic benefits.
"I think it really boils down to, is Iran able to sustain enough commerce to stay out of a recession?" he said, adding that while "big companies with connections to the United States just don't see the value in running the risks here … it's a much sort of smaller category, it's a much smaller set of questions about how much oil is Iran able to sell and what kind of financial relationships are they able to sustain with the outside world. And they're questions that have much more to do with Iran's non-European trading partners."
China, which is engaged in a trade dispute with the United States, is reportedly saying it won't reduce the amount of oil it imports from Iran. That itself may be enough to offset the most severe effects of the sanctions.