How to Discuss the Far Right Without Empowering It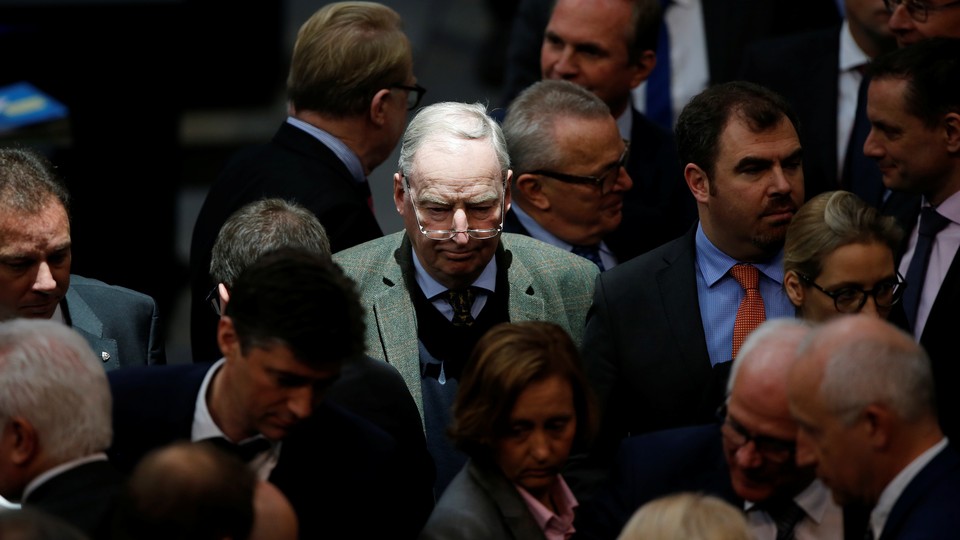 BERLIN—What happens when you do a prime-time interview with a far-right leader—but don't ask them anything about refugees?
German television viewers found out Sunday night when the broadcaster ZDF ran a major interview with Alexander Gauland, a co-leader of the far-right Alternative for Germany (AfD) party, which capitalized on anti-refugee sentiment to earn its first-ever seats in the German Parliament last fall. Ahead of the interview, ZDF's Twitter feed teased the interview as dealing with "climate change, retirement, digitalization—and without refugees."
The resulting 19-minute interview, in which Gauland struggles to answer basic questions about his party's positions on such issues, has been lauded by opponents of the AfD as masterful. Supporters of the AfD and Gauland himself panned it as biased. The ZDF journalist Thomas Walde, who conducted the interview, repeatedly pushed Gauland to clarify or explain statements made by his fellow party members—and asked more than once about proposed policy "alternatives" from a party that counts the word alternative as part of its name.
It's no secret that journalists have struggled to figure out how best to cover the far right and its signature issues here in Europe and, of course, across the Atlantic. A political party with 92 seats in the German Bundestag is inherently newsworthy, as are the issues it advocates. At the same time, the German (and European) media has been criticized for an overly sensational focus on refugee and migration issues here; constant media focus on such issues helps keep them on people's minds even after the flow of immigrants has slowed significantly.
American journalists faced the same issue on Sunday when they were presented with the white-supremacist "Unite the Right" gathering just steps away from the White House—and turned out in force for what ultimately ended up being two dozen rallygoers.
But Walde's interview with Gauland on Sunday was a study in contrasts with how American media handled the scene in Washington, D.C. At around the same time hordes of journalists were descending on Lafayette Square for wall-to-wall coverage, far outnumbering the white supremacists in attendance, German television viewers were watching an interview in which a journalist presented a far-right leader with actual policy questions that resembled what he would ask leaders in any other political party.
Asked about the party's position on Germany's retirement system and his AfD colleague Jörg Meuthen's suggestion that there should be a "system change," Gauland said his party had not voted on or released any specific plan for reforms. "We're discussing this and have no determined concept," he said. (Asked whether this meant that his party had, in fact, no "alternative" for Germany on this topic, Gauland replied that there would be one after the next major party meeting, "not now.") Referring to the party's frequent rhetoric about wanting to "protect" the German people (presumably from immigrants and increasing immigration), Walde then asked Gauland for the AfD's position on "protecting" local renters from big international vacation-rental companies like Airbnb—a major theme in Berlin, where previously low rents are rising rapidly. "At the moment I can't give you an answer on that," Gauland said. "That has not been voted on in our party program." On digitalization, which is a major topic of discussion among other political parties here, Gauland was asked to expand on an AfD colleague's brief comments on the topic's importance on the floor of the Bundestag. "I can't explain that, and you'd need to ask an MP," Gauland said, adding that he personally has "no close relationship to the internet."
At the end of the interview, Walde asked whether the AfD is "overwhelmed" by some of the major non-refugee and non-Euro questions facing Germany's future. They are not, Gauland argued—they just have particular issues on which their strong support has been based and they focus primarily on those. "As a party, we grew strong, or stronger, because we stand in opposition to specific developments that … went wrong in this country," he said, specifically naming those two subjects.
After the interview aired, Gauland told the conservative-leaning German newspaper Frankfurter Allgemeine Zeitung that it was "excessively one-sided" and "absolutely unjournalistic." Supporters flocked to social media to criticize Walde.
There is a legitimate question to be asked about whether, insofar as it avoided asking a far-right leader about what is clearly his party's signature issue, Walde's interview was journalistically problematic. Given how big a role the issue plays in the AfD's overall messaging, is it irresponsible not to bring it up? At the same time, it's also true that the AfD's position on refugee issues is well known—to the point that other parties, such as the Bavarian conservative Christian Social Union, have attempted to co-opt it to boost their own electoral prospects. ZDF defended Walde's line of questioning in a statement following the interview's airing, saying Walde "addressed topics that have great meaning for the people of this country."
Recent polling among the German electorate bears out ZDF's point: In an early August DeutschlandTrend survey released by the German broadcaster ARD, 39 percent named refugee issues as an important political topic—far below health care (69 percent) or social and retirement policies (64 percent). "What you saw is that the German far right doesn't have any answers to a lot of the questions that really concern people," said Marcel Dirsus, a political scientist at the University of Kiel. "Because people are not just concerned about immigration or crime or security, they're also concerned about pension and climate change and digitalization. And [AfD leaders] have nothing."
The interview was part of Berlin Direkt Sommerinterviews, a series ZDF runs every summer featuring big-name leaders from all of Germany's major political parties. In early July, Chancellor Angela Merkel appeared in the series; since then, President Frank-Walter Steinmeier, the liberal Free Democrats leader Christian Lindner, the Left Party leader Bernd Riexinger, and the Greens leader Annalena Baerbock have all participated. In other words, the format of these interviews isn't new—politicians know they'll be asked policy questions, and many policy questions that are especially difficult or uncomfortable for their respective parties.
Ultimately, the interview also highlighted the strategy some German politicians have told me they see as the most effective one against the AfD: to hold them to the same standards as other politicians, and watch them fail to deliver anything substantive. When I spoke with MPs from all the major political parties earlier this year, they were divided on whether to ignore or engage their far-right counterparts; however, most agreed that the AfD would either have to step up on political substance or else stand to lose credibility. "These should be questions that should be easy to answer for any political leader, because they are so important for the future of Germany," Dirsus said. "The AfD wants to talk about refugees, because this is where they can score points, but they clearly don't have answers on any of the other topics."