Germany's Foreign Minister Just Proposed a Way to Skirt U.S. Sanctions
It's not clear Angela Merkel agrees—but she's also worried about America.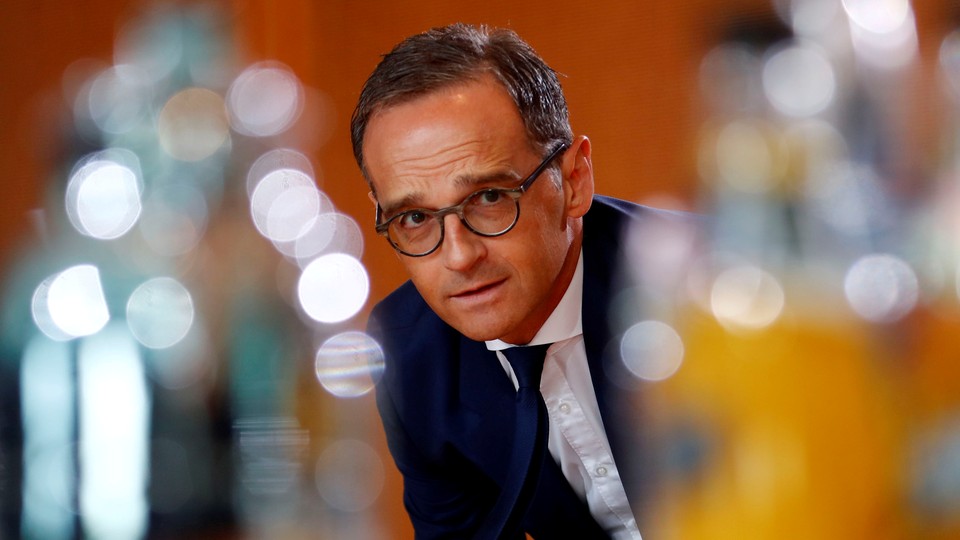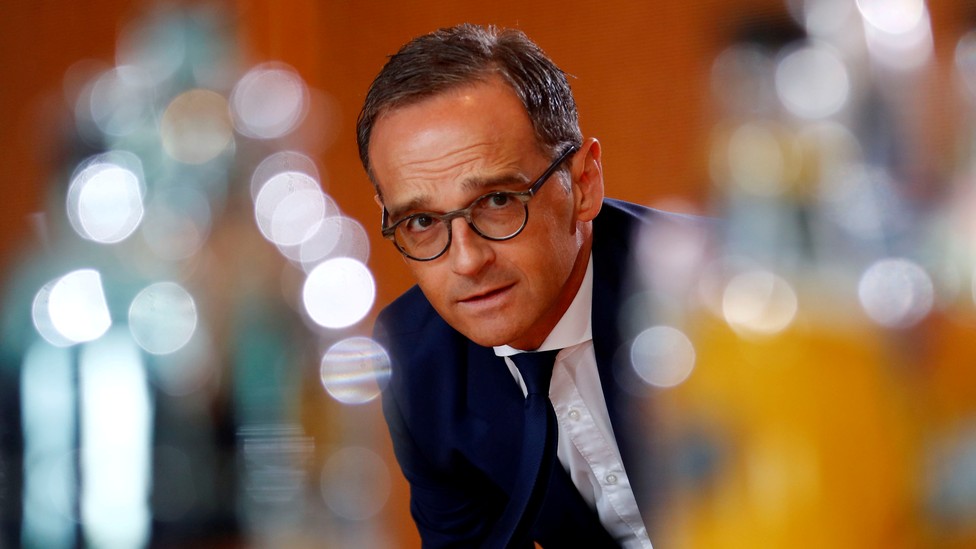 German officials agree something must be done about America; they just can't seem to agree on what.
Consider Foreign Minister Heiko Maas's op-ed in  Handensblatt, the German business newspaper, in which he said Europe and the U.S. "have been drifting apart for years" and urged Europe to "assume our equal share of responsibility" in order to "form a counterweight when the U.S. crosses the line," pull "our weight when America retreats …  [and] start a new conversation."Among his bolder suggestions on how to do this: an independent system of financial transactions that would protect European companies seeking to do business with Iran. U.S. sanctions on the Islamic Republic, reimposed this month in the wake of President Donald Trump's withdrawal from the nuclear accord with Iran, would target any company that has commercial interests in Iran and that also works with U.S. banks and U.S. dollars. The pact's European signatories (France, Germany, and the U.K.), who tried in vain to save the agreement, are staying in it (along with China, Russia, and, of course, Iran).
In the op-ed, Maas defended the European Union's (most likely  Sisyphean) attempt to circumvent U.S. sanctions through a so-called blocking mechanism that would penalize European companies that comply with U.S. sanctions on Iran.
"It is therefore essential that we strengthen European autonomy by establishing payment channels independent of the U.S., a European monetary fund and an independent SWIFT system," he wrote of the payment system that facilitates international banking transactions. "The devil is in thousands of details. But every day that the Iran agreement lasts, is better than the potentially explosive crisis that threatens the Middle East otherwise."
If Maas's remarks looked like the germ of an idea that would carve out a more independent European foreign policy, the message from the German Chancellery was: Not so fast. Steffen Seibert, Chancellor Angela Merkel's spokesman, characterized Maas's op-ed as his "personal article," rather than as the government's position. Still, he told reporters that Maas had also "presented observations that are preoccupying the government."
Merkel, speaking to reporters alongside the visiting Angolan president in Berlin, said Maas's op-ed "expresses in other words what I have said, that the trans-Atlantic relationship is changing, we need to take more responsibility, Europe has to take its fate into its own hands." But she added that security cooperation with the U.S. was an important element of trans-Atlantic relations.
"On the question of independent payment systems, we have some problems in our dealings with Iran, no question," she said. "On the other hand, we know that on questions of terrorist financing, for example, SWIFT is very important."
The German chancellor and her foreign minister might be from different parties (she's with the center-right Christian Democratic Union; he is with the center-left Social Democratic Party), and she may differ on the wisdom of an independent financial system, but, as she pointed out, they do share a common vision about a stronger Europe. As Maas wrote in his op-ed, Germany was "striving for a multilateral alliance, a network of partners who, like us, are committed to sticking to the rules and to fair competition." He said he would visit Japan, Canada, and South Korea to discuss this partnership, adding that "more are to follow." He said he wanted an association of states that believed in multilateralism, international cooperation, and the rule of the law in order to tackle challenges no one country can tackle alone, including climate change and fair trade—an implicit rebuke to the United States, which pulled out of the Paris climate agreement and has initiated a trade war with Europe.
"I have no illusions that such an alliance can solve all the world's problems," Maas wrote. "But it is not enough just to complain about the destruction of the multilateral order. We have to fight for it, especially because of the current trans-Atlantic situation."
Divisions between the U.S. and its European allies were apparent well before Donald Trump entered the White House, and Maas acknowledged as much. The two sides clashed over the Iraq War (which the U.S. initiated and France and Germany opposed), the International Criminal Court (which European states have endorsed while the U.S. has declined to participate), and mass surveillance (France and Germany were livid at disclosures that the U.S. was tapping their leaders' phones), among other things. But the trans-Atlantic divide has deepened in the Trump era: The president pulled out of the Paris climate agreement, appeared to make U.S. military support for NATO conditional on increased defense spending by its members, and slapped tariffs on European steel and aluminum imports to the U.S. He also pulled the U.S. out of the nuclear accord with Iran, an agreement that the pact's European signatories held up as a triumph of multilateral diplomacy.
Even if the Europeans do not act immediately to forge their own diplomatic path, these growing divisions could ultimately compel them to do so. Richard Nephew, the former deputy coordinator for sanctions policy at the U.S. State Department who was on the U.S. team that negotiated the Iran deal, said in a recent conference call with reporters that  he feared that U.S. allies would ultimately develop "alternative systems" in order to bypass U.S. tariffs and sanctions.
"If that starts to happen, then the real problem that we've got is not just that we're going to be limiting our own national-security use of these tools in the future, although that's pretty big, but we're also going to be limiting our economic benefits from being the center of the international economic universe," he said. "And I don't think we fully understand yet what that looks like and what happens to the U.S. banking system without having people wanting to put money here … I think it's a longer-term problem, but I think it's definitely one that's becoming an increasingly dangerous one with the kinds of diversion policies that have been taken by this administration."