Putin's Weekend of Trolling
It's always awkward when he meets with Angela Merkel.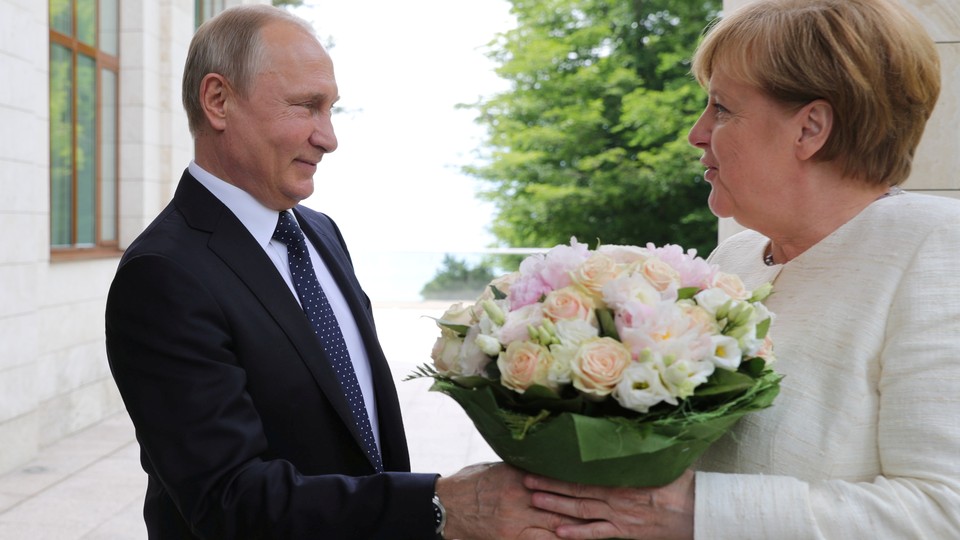 BERLIN—Russian President Vladimir Putin is coming to Germany Saturday to meet with Chancellor Angela Merkel just outside Berlin at Meseberg Castle, Germany's version of Camp David. It's the second time the pair has met in just over three months; they last held meetings in May in the Black Sea city of Sochi.
But before Putin travels to Meseberg, he will make a social call next door in Austria: He'll "drop by" to pay his respects at the wedding of Austrian Foreign Minister Karin Kneissl, who represents the far-right populist Freedom Party (FPÖ). Besides Kneissl, a cadre of top Austrian officials, including Chancellor Sebastian Kurz and Vice Chancellor Heinz-Christian Strache, is expected to attend the festivities, which will take place in the country's Styria region.
As Putin looks to sow disunity across Europe, the juxtaposition of his two stops serves as a reminder of the increasingly divergent political paths the two German-speaking neighbors are taking, on Russia and otherwise. The rise of the 31-year-old immigration hard-liner Kurz and his coalition government with the far-right, anti-refugee FPÖ have brought Austria into stark contrast with Germany on migration issues, inching Austria closer, at least rhetorically, toward illiberal neighbors like Hungary's Viktor Orbán. "You can consider both visits strategic investments," Jan Techau, the head of the German Marshall Fund's Europe program, told me. "One is a strategic investment of convenience that Putin does with the Austrians, and the other is a strategic investment of necessity which he does with Merkel because he understands that Merkel is a powerful player."
Putin, ever conscious of both subtle and not-so-subtle symbolism, seems to be sending a message with these dual visits. One is billed as personal, the other official; one is on friendly territory, while the other will take place on decidedly chillier terrain. (An article on the German-language version of Sputnik, the Kremlin-aligned propaganda site, underscored that with its take on the two meetings: "Putin's Quick Visit: First Pleasure, Then Work.")
The Russian leader's visit to Berlin, announced Monday, comes amid increasingly tense relations between the two countries. The Merkel spokesman Steffen Seibert named the ongoing conflict in Syria, violence in eastern Ukraine, and the progress of the Nord Stream 2 gas pipeline as the primary three topics the two leaders will discuss. These are all issues on which both sides have clearly defined positions, and on which foreign-policy observers in Berlin see little chance for significant progress. Russia remains Syrian President Bashar al-Assad's strongest ally on the world stage; Germany has strongly condemned Assad's alleged use of chemical weapons and Merkel has said her country would stand with its Western allies (non-militarily) should they choose to take action against him. In eastern Ukraine, Putin supports pro-Russian rebels; Germany has worked with France to coordinate a cease-fire there, though the violence has continued. And while Russia is on board for Nord Stream 2, the pipeline's construction remains controversial in Germany.
With U.S. President Donald Trump's tariffs on steel and aluminum, as well as his "America First" foreign policy, Merkel and Putin have been forced into an awkward collaboration on some issues. That includes deciding how best to respond to Trump's protectionist trade measures, as well as his withdrawal from the Iran nuclear deal, a subject that came up when the leaders met in May. Still, none of that changes the fact that the two embody opposing worldviews and visions of the future of Europe, Gustav Gressel, a senior policy fellow at the European Council on Foreign Relations in Berlin, told me. Merkel has always viewed Putin as "this classical KGB conspiracy-minded operative" who "lives in his own sort of Russian-intelligence world," Gressel said—a view no doubt informed and aided by Merkel's own upbringing in former East Germany. "That is part of what she feels is her response: to be one of the counterparts that can't be manipulated, that pushes against him," Gressel added. "Most of her [strategy] is just to tell Putin that he won't get away with this stuff and that the rest of the world doesn't share his vision."
Austria, however, is another story. Unlike Germany, which under Merkel has positioned itself as a counterweight to Putin and his attempts to influence Europe, Austria has long regarded itself as a "bridge builder" between East and West. And the new government, run by Kurz and the far-right FPÖ, has positioned itself as Russia-friendly. Where previous governments have been more subtly tolerant of Russia, the FPÖ, at least, is not quiet about its pro-Russia views: The party leader, Strache, traveled to Moscow back in 2016 to sign a cooperation agreement with Putin's United Russia party. The idea that the Russian president would attend the wedding of Austria's foreign minister, even given the ties between her party and the Kremlin, sends a strong message about how close the FPÖ wants that relationship to be.
The closer Austria gets to Russia, though, the more difficult it will be for the Kurz government to credibly bill itself as an impartial go-between—and on that front, at least, Putin's presence on the guest list Saturday is already causing problems. Hanna Hopko, who chairs the foreign-relations committee in Ukraine's Parliament, said the wedding is proof Austria can't be objective on Ukraine. "Wedding is a private thing. However it goes without saying: if you invite Vladimir Putin to your wedding, you are not neutral anymore," she tweeted. "From now on, Austria can't be a mediator in Ukraine. Period."
Relations with Russia are not, of course, the only area where Germany and Austria diverge. The eight months since Kurz took office have further intensified the differences between these two countries. His hard-line immigration policies have also put him at odds with Merkel, while endearing him to the anti-refugee wing of her conservative party. The message sent by Putin's itinerary will surely not be lost on Merkel, whose relationship with Putin extends back even beyond her 13-year tenure leading Germany. Putin's "interest is in dividing the Europeans and this comes through very subtle messages," Techau added. "He likes to send those kind of signals and it will of course be duly noted by Merkel, who knows exactly what Putin is up to."