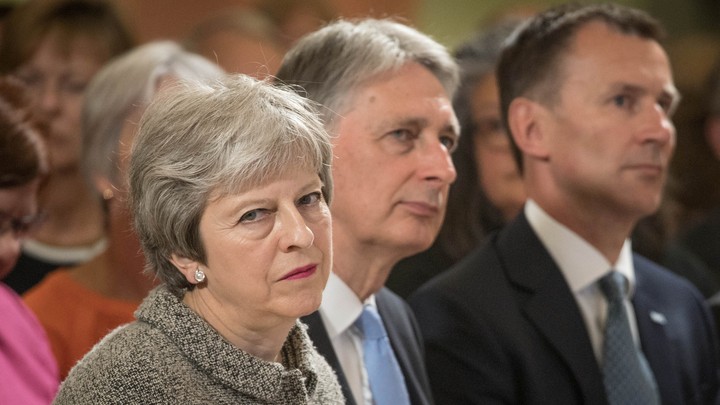 LONDON—For more than a year, the British government has insisted that the only thing worse than leaving the European Union with no deal would be to leave it with a bad one. Implicit in this proclamation was that Britons would have nothing to fear if negotiations between the United Kingdom and the EU went sour; that while every effort would be made to get the best deal for Britain, Britons would never have to bow to European demands U.K. voters thought unreasonable.
But nearly two years on, the forecast for a "no deal" Brexit—in which the U.K. would leave the EU without an agreement on the terms of its withdrawal or their future trading relationship—has started to look grim. Recent concerns over potential food shortages prompted the newly appointed Brexit Secretary Dominic Raab to offer what for a wealthy nation was the remarkable assurance that the government will "make sure that there is adequate food supplies." Health Secretary Matt Hancock, facing similar anxieties over the possibility of medicine shortages, confirmed that the National Health Service would prepare to stockpile essential materials, including vaccines and blood products.
These concerns seemed to be even further amplified Thursday, when Foreign Secretary Jeremy Hunt told ITV News that the U.K. leaving without a deal would be "a huge geostrategic mistake," the likes of which he said "we would regret for generations."
The end of the Brexit illusion
The comments, which coincided with the resumption of Brexit talks in Brussels this week, marked one of the most pronounced admissions yet from a senior British government official about the prospect of a no-deal Brexit—a scenario British Prime Minister Theresa May famously said would be "better than a bad deal for Britain" in a 2017 speech. Though many within the government have insisted that an agreement with the EU is still within reach, virtually no one has admitted that failure could be seriously costly for both sides. Indeed, Hunt's predecessor, Boris Johnson, said such a scenario would be "perfectly okay."
Hunt instantly came under fire for his comments, and in an attempt to walk them back Friday tweeted that "Britain WOULD survive and prosper without a deal … but it would be a big mistake for Europe because of the inevitable impact on long term partnerships with [the] U.K. We will only sign up to [a] deal that respects referendum result."
Hunt wasn't wrong about no deal. Indeed, the potential consequences of failing to reach an agreement have been widely documented. In addition to both the legal and financial challenges the U.K. would face, there are also questions surrounding the impact it could have on the country's ports, its borders, and the legal standing of its more than 3 million EU residents—just to name a few.
Brexit could cripple Britain's ports
"What Jeremy Hunt was trying to allude to was the political damage that would ensue from … no deal," Georgina Wright, a researcher with the European Program at Chatham House, told me. "Putting aside the economic damage and the bureaucratic and logistical nightmare of disruption to supply chains and all of that, there is also fundamentally a political damage that will be equally significant. It would be much harder for the U.K. and the EU to come back to the negotiating table, trust would be at an all-time low, and any lingering goodwill would be completely squandered."
Hunt isn't necessarily alone in these views. The British government has already begun to tone down expressions of its willingness to accept a no-deal Brexit, even going as far as to begin preparing papers outlining how disruptive it would be. Although the papers may be intended to demonstrate the U.K.'s preparedness for any outcome, they will also invariably highlight some of the most challenging issues that could come from failing to reach an agreement. As BuzzFeed News reports, the list is expected to cover more than 80 topics related to British life, from food labeling to pet travel.
"It's about trying to step back from what was not very helpful language for negotiations and also just about trying to move toward getting a deal," Simon Usherwood, the deputy director of U.K. in a Changing Europe, a London-based research institute, told me. "Now having a deal is very much the priority. No deal is not seriously discussed in the way that you saw in late 2016, early 2017. That's really fallen to the sidelines of the debate."
But if the government is convinced that no deal is in fact not better than a bad deal after all, it has yet to say that clearly, as Hunt's backtracking demonstrates. Wright said that while the no-deal papers do signal the government's desire to be prepared for any outcome, "it's not an outward rejection of 'No deal is better than a bad deal,' because I think they are still convinced that perhaps the EU's proposal for what a final deal would look like is not acceptable for various reasons," she said. "But I think they absolutely realize that not planning for a no-deal [Brexit] would be catastrophic."
We want to hear what you think about this article. Submit a letter to the editor or write to letters@theatlantic.com.