Boris Johnson Would Like Your Attention Again
The former British foreign secretary kicks off another gaffe cycle—and injects himself back into the news.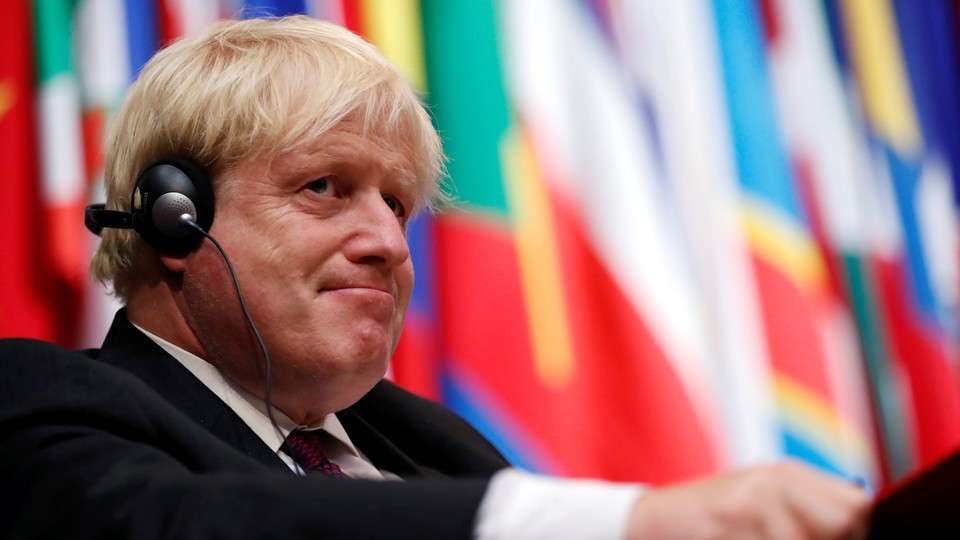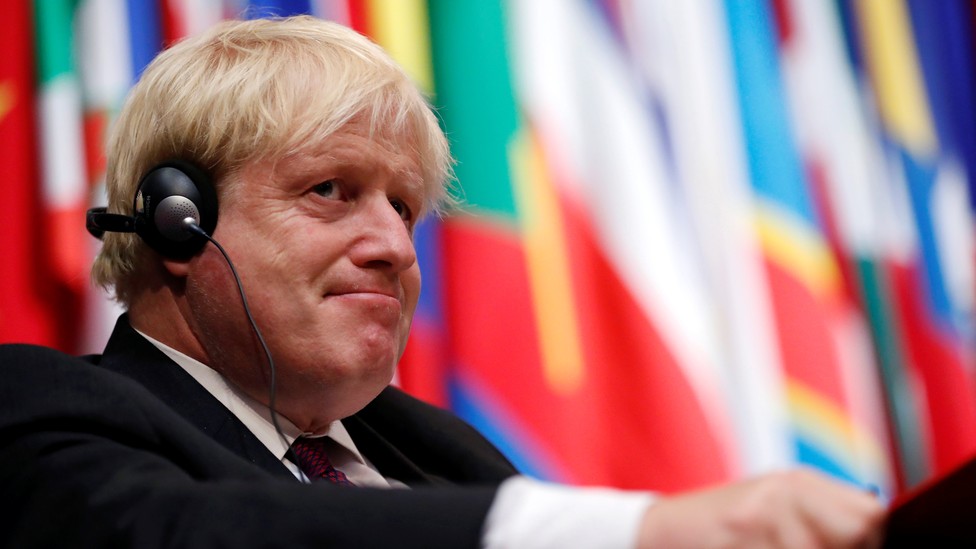 After a month-long sabbatical from the public eye following his high-profile resignation from Prime Minister Theresa May's cabinet, Boris Johnson is back. The ex–British foreign secretary's decision to quit May's government came as a form of protest to her so-called Chequers plan: a softening of Brexit that would see the United Kingdom maintain a close relationship with the European Union after it leaves the bloc. For a short while, it seemed like we'd heard the last of Johnson—at least until Parliament returns from its summer recess next month.
But only a short while. Within a week of quitting his cabinet position, Johnson reprised his role as a columnist for the British newspaper The Daily Telegraph. Then on Monday, Johnson weighed in on Denmark's recent decision to ban face-covering Islamic veils such as the burka and the niqab from being worn in public. It was a path the former foreign secretary ultimately said the U.K. should not follow, though not before expressing his sympathy for the Danish position. "It is absolutely ridiculous that people should choose to go around looking like letter boxes," Johnson wrote of women who wear the burka, who he said end up "looking like a bank robber."
And thus began again the cycle of Boris Johnson. The notoriously gaffe-prone lawmaker says something untoward, only to be widely criticized for it by political friends and foes alike (though never, it seems, by those at the very top). Not one to apologize—save in the rarest of cases—he then goes on to ignore the news cycle he helped create. Pretty soon, everyone forgets about it until the next gaffe. Then the cycle repeats itself. Gaffe, react, repeat.
In this case, the backlash ran thus: The Muslim Council of Britain accused the former foreign secretary of "pandering to the far right," and renewed its call for the Conservatives to launch an inquiry into Islamophobia allegations within the party. The Labour lawmaker Jess Phillips said she would report Johnson to Britain's Equality and Human Rights Commission. And while a handful of Conservative lawmakers derided the comments and called on Johnson to apologize, the most muted response came from the prime minister's office. A spokesman for May would not explicitly comment on Johnson's remarks, noting only that they "do not support a ban" on the burka.
The deeper pattern is Johnson's ability to keep injecting himself into the news. Perhaps not coincidentally, he is believed to be seeking the leadership of the Conservative Party. "It's classic Boris Johnson," Anand Menon, the director of U.K. in a Changing Europe, a London-based research institute, told me. "He likes attention—there's no secret about that. And as ever, he wants to play both sides against the middle. So there's the offensive stuff that will appeal to Tory right-wingers and potential [U.K. Independence Party] voters … And at the same time, the fundamental message is, 'I'm a liberal, we shouldn't ban things.' So again, he's trying to be all things for all men."
In this way, he maintains his influence, even from the backbench of Parliament, where he currently resides. It's this level of influence some of his opponents fear he might use to position himself for his next job. After all, a recent poll by ConservativeHome found Johnson to be most favored to succeed May as head of the party.
But it's not necessarily the case that all publicity is good publicity. British politics has an anti-Semitism scandal plaguing the left and a burgeoning Islamophobia scandal on the right. If there's short-term political gain to be had from stoking religious tensions, it will be to the long-term detriment of Britain as a whole.