Pro-Abortion-Rights Activists Won in Ireland, But Not Argentina
Efforts to loosen restrictive laws in the two Catholic-majority countries resulted in two very different outcomes.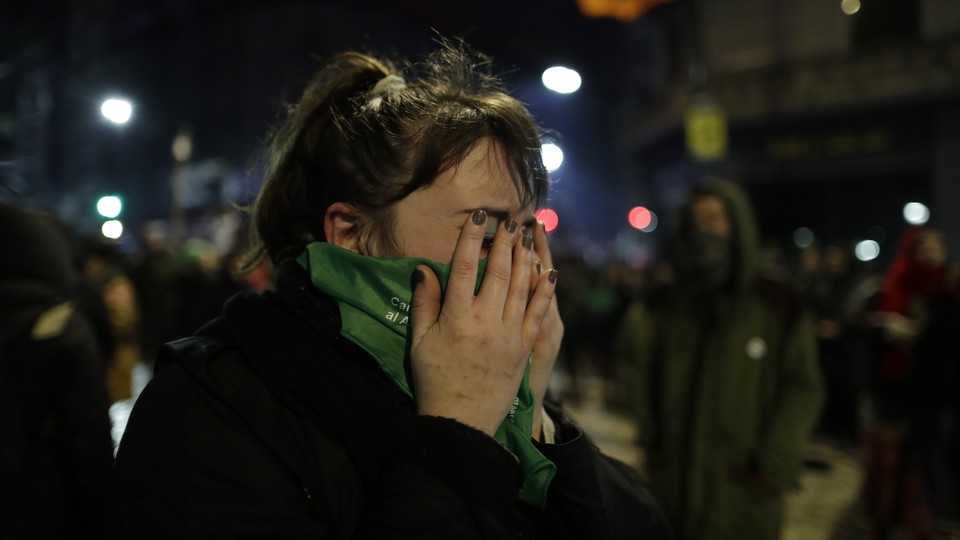 When Ireland voted in its historic referendum in May to overturn its decades-old ban on abortion, it looked as if more change could follow. If Ireland voted to liberalize abortion access, maybe Northern Ireland would be next. And after that, who knows? The Irish referendum proved that even a Catholic-majority country was ready to have the debate. Perhaps it wouldn't be long before others would do the same.
Another vote on abortion did come three months later, this time to Argentina. But this Catholic-majority country decided differently. On Thursday, Argentina's Senate voted down a bill to decriminalize abortion access in the country, where terminations are legal only in cases of rape or if the pregnancy poses a risk to the life of the woman. The proposed legislation, which would have allowed women to seek an abortion within the first 14 weeks of pregnancy, was supported by 31 lawmakers but rejected by 38. Two abstained.
The outcome is a blow to abortion-rights activists in Argentina who came together in 2015 under the banner of "Ni Una Menos" (meaning "Not One Less"), a grassroots feminist movement that championed calls for abortion-law reform to raise awareness about the number of women who have died as a result of botched illegal abortions in Argentina. A recent study by the Guttmacher Institute concluded that the likelihood of unsafe abortion is higher in countries that highly restrict the practice—and Argentina is no exception. Among pregnant women and girls who died there in 2016, 17 percent of them died because of illegal abortions, according to statistics from the country's health ministry.
More than 60 Irish lawmakers signed on to a letter urging their counterparts in Argentina to approve the bill, arguing that their own experience in Ireland "illustrates that legislating to safeguard women's access to safe and lawful abortion services is both necessary and possible." The countries are similar in some ways: Both boast Catholic-majority populations and have laws banning elective abortion. Both countries' abortion-rights movements were mobilized by tragedy: In Ireland, the death of 31-year-old Savita Halappanavar, who was denied an abortion during a miscarriage, spurred activists to call for an end to the abortion ban. In Argentina, the 2015 murder of a pregnant 14-year-old girl, whose boyfriend confessed to trying to force an abortion on her, did the same.
And both countries had signaled that they were open to more socially liberal policies—even ones that directly opposed the Catholic Church's teachings. In 2010, Argentina passed a law legalizing same-sex marriage; Ireland did the same by popular vote five years later. When it came to the debate surrounding abortion, people in both countries also looked open to change. Though polls ahead of the vote in Ireland suggested that it would be a tight contest, an overwhelming 66 percent of people voted to overturn the constitutional abortion ban. In Argentina, a survey by Amnesty International found that 60 percent of people support legalizing abortion.
But for all the similarities between Ireland and Argentina, there are also notable differences. While the decision to legalize abortion in Ireland was taken by public referendum, in Argentina the vote was put to the country's lawmakers. In Ireland, the government has proposed allowing women to seek an abortion up to 12 weeks into a pregnancy, whereas in Argentina, the bill would have allowed terminations up to 14 weeks. Before Ireland's vote to legalize abortion, it was an outlier among European Union countries in banning most abortions. Argentina, on the other hand, is part of a region that still largely outlaws abortion (Cuba, Guyana, Mexico City, and Uruguay are the only exceptions).
Finally, whereas the Irish decision on whether to legalize abortion was largely a secular one, the vote in Argentina was not. Catholic Church leaders railed against the bill from the pulpit as well as on the streets, going as far as to host a "Mass for Life" on the eve of the vote at the Buenos Aires Metropolitan Cathedral. The outcome has been regarded as a testament to the enduring influence of the Church in Argentina. After all, Argentina is the birthplace of Pope Francis, who likened abortion to the Nazis' eugenics program. "Last century, the whole world was scandalized by what the Nazis did to purify the race," he said in June. "Today, we do the same thing but with white gloves."
While abortion-rights activists may have lost this week's vote in Argentina, the debate over whether to legalize abortion continues elsewhere in Latin America. Last week, Brazil's supreme court began a public hearing on whether the country should legalize abortion access up to 12 weeks into pregnancy.