Trump Sides With the Kremlin, Against the U.S. Government
The president of the United States took Vladimir Putin's word over findings by several American agencies that Russia interfered with the 2016 election.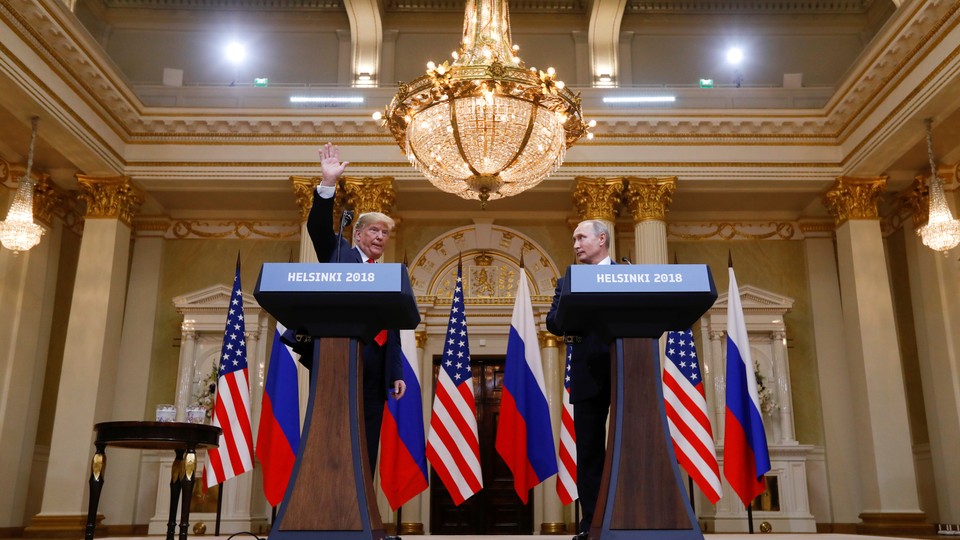 In an astonishing news conference on Monday, Donald Trump, standing next to Vladimir Putin, rejected the overwhelming consensus among U.S. intelligence agencies that Russia interfered in the 2016 presidential election.
"They said, 'I think it is Russia.' I have President Putin. He just said it is not Russia," Trump said in Helsinki after a two-hour private meeting with the Russian leader. "I will say this: I do not see any reason why it would be."
Trump's apparent willingness to take Putin's word on the alleged interference coincides with a decline in U.S. relations with its closest allies around the world. Trump has criticized Canada, Mexico, and Europe on trade, NATO on defense, the U.K. government on its Brexit plan, and Germany and Sweden on immigration and crime. European capitals, especially, will have watched Monday's meeting and the subsequent news conference closely. Trump's meeting last week with NATO allies was marked for its rancor. He called the European Union a "foe" on trade, and criticized British Prime Minister Theresa May for her "soft" approach toward Brexit and suggested it may cost her a free-trade deal with the United States. (He since walked back those remarks.)
Monday's meeting with Putin was marked by far friendlier words. At one point, Putin gave Trump a soccer ball, which the American president playfully tossed to his wife in the audience.
"It seems to me that this is the summit that Putin was waiting for his entire life," Alina Polyakova, an expert on Russia at the Brookings Institution in Washington, D.C., said in a conference call with reporters.
She added: "I think he completely set the agenda at the summit. It was telling that the U.S. president did not mention Ukraine or Crimea once. The U.S. president also didn't mention U.S. sanctions and basically let the Russian president set the agenda on Syria and other items as well."
Trump also deflected direct questions about Russia's role in the 2016 elections, and declined to denounce Russia for interference when asked. Instead, he seemed to praise Putin. "I have great confidence in my intelligence people, but I will tell you that President Putin was extremely strong and powerful in his denial," Trump said. When the Russian president was asked if he supported Trump during the election, he replied: "Yes, I did. Yes, I did. Because he talked about bringing the U.S.–Russia relationship back to normal." He rejected the idea of any interference in the election process, however.
Trump boasted about the margin of his election victory over Hillary Clinton, the Democratic presidential nominee whom polls favored to win; reiterating his claim that the investigation by Special Counsel Robert Mueller into Russia's actions and possible collusion between Trump's presidential campaign and Russia was a "witch hunt" directed at him; and asking why the FBI "never took the [hacked] server" belonging to the Democratic National Committee.
"I really believe that this will probably go on for a while, but I do not think it can go on without finding out what happened to the server," he said, adding: "Where are those servers? They are missing. What happened to Hillary Clinton's emails, 30,000 emails … just gone. In Russia they would not be gone so easily. It is a disgrace we cannot get Hillary Clinton's 33,000 emails."
The news conference capped a week of drama that led up to Monday's summit meeting in Helsinki, the Finnish capital, between Trump and Putin. The meeting occurred just days after the U.S. Justice Department announced indictments against 12 Russian intelligence officers who are alleged to have hacked the emails and computers of senior Democratic Party officials in an attempt to interfere with the 2016 presidential election. The indictments, which are part of Mueller's investigation into Russian hacking of the election, led to calls mainly from Democratic lawmakers for Trump to cancel his summit meeting with Putin.
But the U.S. president pressed ahead, reiterating his goal of improved relations with Russia. "Getting along with Russia is a good thing not a bad thing," he said Monday ahead of his one-on-one meeting with Putin, who was seated beside him. That meeting was scheduled to last 45 minutes, but went on for more than two hours. Putin arrived more than 30 minutes late.
Trump is by no means the only U.S. president who has sought closer relations with Russia. He is following in the footsteps of both Presidents Barack Obama and George W. Bush, whose push for friendlier ties ultimately failed. But Trump, even as a presidential candidate, wanted closer relations with Russia—and a summit meeting with Putin. On Monday, he got it.
"Just meeting with Putin by the U.S. president is not an issue. All U.S. presidents have met with the Russian president," Polyakova said. "The problem here is that this administration has done this in reverse: Usually there's a long period of process, of prep work and negotiations … The meeting between the leaders happens last to affirm the negotiating process."
Unlike U.S. allies, especially those in Europe, Russia is not an economic equal, and, consequently, an economic competitor, to the United States, but it remains a nuclear superpower.
"So I could see—I'm not saying I'm subscribing to this view—from Trump's perspective, that this is an important relationship that has gone a little bit off the rails … and that he needs to fix it," Polyakova said. "And, of course, every single U.S. president has come into office thinking he could fix it because of his charisma and persona, and it was … the last guy who got it wrong, and in that way Trump is not that different from Obama, or even Bush."
Trump said Monday that he and Putin discussed a "wide range of critical issues," including Russia's alleged interference, and he bemoaned the poor state of U.S.–Russia relations, which he had blamed earlier in the day on "U.S. foolishness and stupidity and now, the Rigged Witch Hunt!" Russia's Foreign Ministry concurred with that assessment on Twitter, replying: "We agree."
When asked at the news conference if he believed that Russia played any role in the state of U.S.–Russia relations, Trump replied: "I hold both countries responsible. I think the United States has been foolish. I think we have all been foolish … I think we are all to blame."
"Our relationship has never been worse than it is now," Trump said at the news conference. "However, that changed as of about four hours ago. I really believe that."
Ultimately, though, Trump's desire for a far friendlier relationship with Putin may run into political reality. While his own words toward Russia and Putin have been warm, his senior-most aides, especially Mike Pompeo, his secretary of state, and John Bolton, his national-security adviser, have been skeptical of Russia's intentions. Then, there is Congress, where there is broad bipartisan support for continued sanctions on Russia for its actions in Ukraine and also, though less bipartisan, its alleged election interference. More significant, however, is just how differently the U.S. and Russia view the world. While they both share common ground on fighting terrorism, the U.S. and Russia have sharp differences on a broad range of other issues. Trump might want closer relations with Putin, but it is as yet unclear why. Monday's meeting did little to answer that question.