Trump Blames Bad Relations With Russia on Everything but Russia
In Helsinki, the president preferred to pin the problem on "many years of U.S. foolishness and stupidity."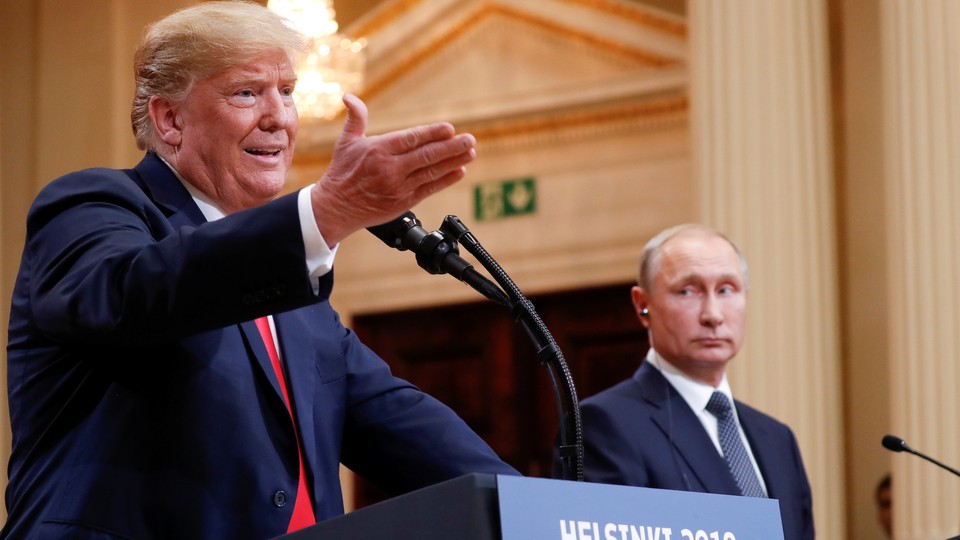 During his press conference with Vladimir Putin in Finland on Monday, Donald Trump was given a chance to walk back his tweet from earlier in the day blaming poor U.S.–Russia relations on past American presidents and Robert Mueller's probe into Russian meddling in U.S. politics. The real culprit, according to Trump, was not Russia's interference in the 2016 U.S. election or illegal annexation of Crimea or support for Syria's murderous dictator, but rather "many years of U.S. foolishness and stupidity and now, the Rigged Witch Hunt!" ("We agree," Russia's Foreign Ministry tweeted in response to the American president.)
"Do you hold Russia at all accountable for anything in particular?" asked Jeff Mason of Reuters. At first it seemed like Trump might: "I hold both countries responsible," the president said. "We have both made some mistakes." But that was essentially the extent of his reflection on Russia's actions. He proceeded to boast about his victory over Hillary Clinton, deny that his campaign colluded with the Russian government, and describe Mueller's probe into the Kremlin's efforts to disrupt the U.S. democratic process—not the efforts themselves—as a "disaster for our country" because it's driving a wedge between the United States and Russia.
In fact, Trump argued, the Russia investigation could be a disaster for the world, worsening "the relationship of the two largest nuclear powers." Trump did not mention that the current nuclear-arms race between Russia and the U.S. isn't helping either. Asked whether he would denounce Putin before the world for intervening in the 2016 election and demand that the Russian president not do it again, Trump suggested that he believed Putin's denials about meddling over the assessments of the U.S. government. "I don't see any reason why it would be" Russia, the president said. Instead, he wondered aloud about the Democratic Party's suspicious servers and Clinton's missing emails.
Trump implied that the U.S. and Russian governments' often opposing stances on everything from the Iranian and North Korean nuclear threats to the conflicts in Syria and Ukraine to the promotion of liberal democracy and proper conduct of international affairs are so minor that they could vanish with the mere shaking of hands. "Our relationship has never been worse than it is now," Trump observed at the press conference. "However, that changed as of about four hours ago. I really believe that." (Putin echoed some of Trump's arguments, noting that there was "no solid reason behind" the current tensions between their countries.)
Trump finds himself alone in the U.S. government in these views, abandoned by even his closest advisers. Last spring, even as the U.S. and Russia nearly came into direct military conflict over Syrian President Bashar al-Assad's use of chemical weapons against civilians, Trump similarly asserted that there was "no reason for" U.S.–Russia relations to deteriorate and that "much of the bad blood with Russia is caused by the Fake & Corrupt Russia Investigation."
This view contradicts what Trump's own secretary of state, Mike Pompeo, said during his Senate confirmation hearing in April. "The historic conflict between the United States and the Soviet Union, now Russia, is caused by Russian bad behavior," he told lawmakers. If Russia has indeed been behaving badly, however, Donald Trump didn't call it out beside Vladimir Putin in Finland.