The French President Had a More American Response to Putin Than Trump Did
In his own news conference with Vladimir Putin, Emmanuel Macron displayed strength and diplomatic agility. President Trump? Not so much.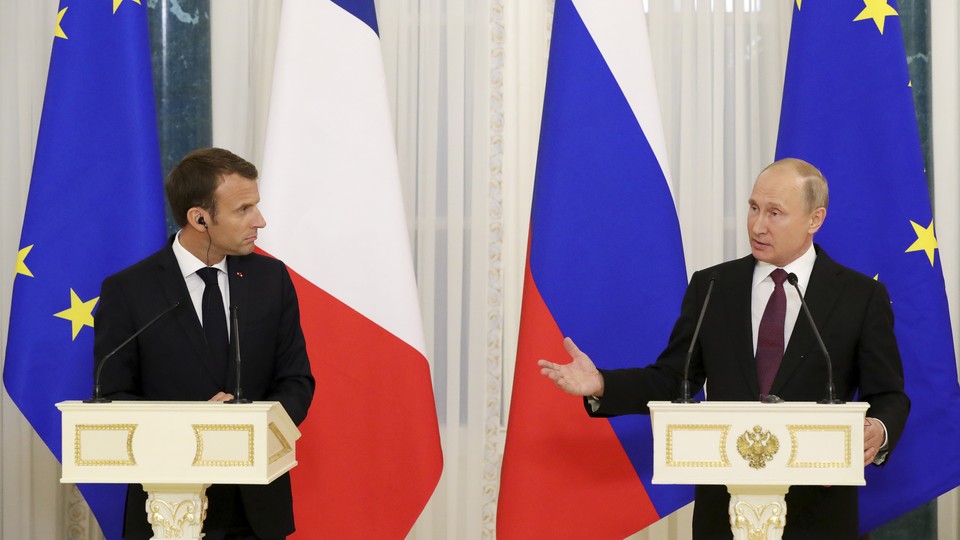 President Trump's astonishing news conference Monday with Vladimir Putin, the Russian leader, was as remarkable for what was said as what wasn't.
"The disagreements between our two countries are well known and President Putin and I discussed them at length today," Trump said in Helsinki, Finland. "But if we're going to solve many of the problems facing our world, then we're going to have to find ways to cooperate in pursuit of shared interests."
Trump spent the rest of the news conference highlighting areas of cooperation between the two countries while lambasting his own FBI and blaming the poor state of U.S.-Russia relations on Special Counsel Robert Mueller's investigation into Russia's alleged interference in the 2016 presidential election, Democrats, and Hillary Clinton. The coup de grâce against American interests came when Trump said he believed Putin's assurances that he didn't interfere in the election—and refused to validate the consensus of U.S. intelligence agencies that say otherwise.
The list of things that Tump didn't bring up publicly was startling in its own right—a list that includes Russia's invasion of Ukraine's Crimea region and its continued support of pro-Moscow rebels in eastern Ukraine; its support of Syrian President Bashar al-Assad in that country's brutal years-long conflict; its alleged use of a nerve agent to target a former Russian spy and his daughter living in the U.K.; its terrible treatment of Russian civil-society groups and news organizations; and its alleged interference in elections across Europe.
"I hold both countries responsible" for the decline in relations, Trump said Monday.
It didn't stop there.
"I think that the United States has been foolish," Trump said. "I think we've all been foolish. We should have had this dialogue a long time ago, a long time frankly before I got to office. And I think we're all to blame."
Disagreements among rival nations are hardly new; neither is dialogue among them at times of tension. Trump's desire for closer relations with Moscow, though, appears to be an end unto itself. The president has not publicly articulated what the U.S. stands to gain from improved relations with Russia. Past administrations have talked to Russia, while publicly emphasizing areas of cooperation as well as differences. Trump, who hasn't shied away from criticizing U.S. allies publicly over differences on trade, security, and other issues, has refrained from doing the same with Russia.
Compare Trump's remarks on Monday with similar news conferences Putin held with French President Emmanuel Macron and German Chancellor Angela Merkel, both Western peers of Trump. Those countries have deeply entrenched economic relations with Russia—and are reliant on Moscow for their energy needs. Their news conferences were held in May in the wake of the U.S. withdrawal from the nuclear deal with Iran, an agreement to which Russia, France, and Germany are also party (along with China, the U.K., and the EU). The French and German leaders sharply criticized Moscow when policies diverged—as they do on several fronts.
"I am well aware of Russia's indispensable role in solving some international issues, but I believe that Russia, for its part, should also respect our interests, the interests of our sovereignty as well as the interests of our partners," Macron said on May 24. Standing beside Putin, he cited "deep differences" between the two countries on the Assad regime's use of chemical weapons (Syria and Russia deny that such weapons were used, in the face of evidence to the contrary) but added: "I believe that we should coordinate our efforts to create a mechanism for determining responsibility in the event of fresh cases of chemical weapons being used by this or that side."
Macron also defended his meeting with representatives in Russia of NGOs and human-rights organizations, saying he'd spoken with Putin "absolutely transparently about" Russian NGOs and human rights. "I told the president that these two issues are very sensitive for this country because our intellectual elite is very concerned over them," Macron said.
Macron also spoke about Russia's alleged cyberattacks across Europe."This is a real problem today," he said. "It is fueling some of the issues on human rights that exist in our society because cyberattacks have their economic and security aspects." It wasn't the first time Macron had called out Putin this way. In a news conference with Putin soon after his election, Macron singled out Sputnik and RT, the state-funded Russian media organizations, as "being agencies of influence and propaganda, lying propaganda—no more, no less."
Merkel's track record is similar. Her remarks on May 18 about Russia, as Putin stood next to her, were more measured, but they left little doubt as to her views. She cited disagreements over Ukraine, "serious and fundamental differences" over Russia's treatment of civil-society groups, and the Moscow-backed Assad regime's actions in Syria.
Trump had the opportunity on Monday to press Russia on these and other issues. Instead, his remarks were described even by some of his most ardent supporters as "the most serious mistake of his presidency." Americans, meanwhile, are left wondering why.