The Trump Administration Contradicts Itself on Putin's Offer
The White House and U.S. State Department had very different answers to Russia's request to interview 11 Americans.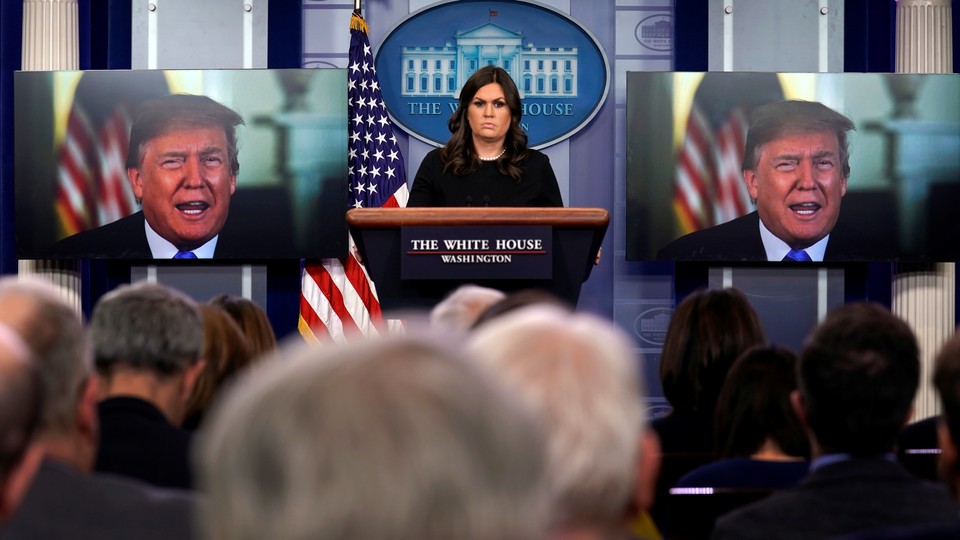 Updated at 1:53 p.m. ET
President Trump's news conference Monday with Russian President Vladimir Putin has quickly become the sort of gift that keeps on giving: The focus, initially, was on Trump saying he believed Putin's assertion that Russia didn't interfere in the 2016 presidential election over U.S. intelligence assessments that it did. Now, the question is just how seriously the Trump administration is considering what the president called an "incredible" offer from Putin.
Putin apparently made that offer during the more than two-hour one-on-one meeting between the two men, who were accompanied only by their translators. According to Putin's own account in a news conference in Helsinki, as well as later Russian accounts, the offer involved allowing Robert Mueller, the special counsel, to interview 12 Russian intelligence officials indicted in the U.S. last week as part of the investigation into Russia's election interference in 2016. In exchange, the U.S. would allow Russian officials to question 11 prominent Americans, including Michael McFaul, the former U.S. ambassador to Russia, for what Putin alleges to have been illegal activities—allegations the U.S. firmly denies. How the Trump administration plans to respond to this "incredible" offer depends, as such things often do, on who you ask—and when.
At the White House, Sarah Sanders, the spokeswoman, said Wednesday: "There was some conversation about it, but there wasn't a commitment made on behalf of the United States. And the president will work with his team, and we'll let you know if there's an announcement on that front." Moments later, at the State Department, Heather Nauert, the spokeswoman there, had an unequivocal response when she was asked about the Russian offer: "The overall assertions that have come out of the Russian Government are absolutely absurd," she said.
At issue in addition to McFaul, whom Russian officials targeted for harassment during his tenure as ambassador, is the case of William Browder, a U.S.-born investor who now lives in the U.K. Browder's lawyer, Sergei Magnitsky, died in a Russian prison under suspicious circumstances after exposing a large-scale tax fraud involving Russian government officials. Browder thereafter became a staunch Kremlin critic and a driving force behind the Magnitsky Act, a U.S. law that sanctions Russian government officials involved in human-rights abuses. Putin, during his news conference in Helsinki with Trump, said Russia has "an interest in questioning" Browder over tax issues. A day later, Tuesday, the Russian Prosecutor General's office released a list of Americans it wanted extradited to Russia: They included McFaul, another Kremlin critic and champion of civil-society institutions in Russia, as well as officials from the U.S. State Department and the Department of Homeland Security.
"We do not stand by those assertions that the Russian government makes," Nauert said Wednesday. "The prosecutor general in Russia is well aware that the United States has rejected Russian allegations in this regard."
Speaking Thursday on MSNBC's Morning Joe, McFaul called the White House's response "lamentable."
"When the White House was given the opportunity to categorically reject this moral equivalency between a legitimate indictment with lots of data and evidence to support it from Mr. Mueller with a crazy, cockamamie scheme with no relationship to facts and reality whatsoever, the White House refused to do that," he said.
On Thursday, Sanders in a statement stated the White House's position: "It is a proposal that was made in sincerity by President Putin, but President Trump disagrees with it. Hopefully President Putin will have the 12 identified Russians come to the United States to prove their innocence or guilt."
The United States does not hand over former or serving government officials for questioning to foreign powers—even if these officials were found guilty of crimes by courts in allied countries (which McFaul was not, and Russia most certainly is not). One reason for this is that what may be legal in the United States may be illegal elsewhere. A relatively recent example of this is the case of more than two dozen CIA officials who were convicted in absentia by an Italian court for their role in the abduction in 2003 of a radical Egyptian cleric in Milan. The abduction was part of the Bush administration's policy of extraordinary rendition employed to seize terrorism suspects in the aftermath of the attacks of September 11, 2001. Those suspects weren't handed over to Italy, where the practice was illegal. The one CIA officer who was arrested had moved to Portugal where she was detained. (She has since been freed. Many others in the case were pardoned.)
By declining to unequivocally rule out granting a foreign country—in this case Russia—access to U.S. officials, the White House sets not only a dangerous precedent, but also a culture of uncertainty for those serving the United States. And this in many ways suits Putin's agenda. Just as Trump berates what he calls "fake news," denies remarks he has made in public, and repeats demonstrably false assertions, one of the Russian leader's most effective tools is to cast doubts in the West about the efficiency of its own governments and institutions.
"Under no circumstances can the US government permit, or even contemplate, making those who have served the US government faithfully available to the spurious 'investigations' of our adversaries," Dan Shapiro, a former U.S. ambassador to Israel, said Wednesday on Twitter when news about McFaul's inclusion on the list became public. "They owe it to past, current, and future US officials to uphold that principle."
If Sanders's initial remarks had been isolated, the fallout from them might have been more limited. But they are part of a broader pattern in this administration, which often contradicts itself on key elements of its own domestic and foreign policy, with the president saying one thing and his Cabinet officials and aides later trying to clarify what he meant. Just this week, Trump said he took Putin's word over that of his own intelligence agencies. Amid the furor, he tried to reverse himself, but his comments only added to questions about what he truly believes.
At first Trump said he'd misspoken in Helsinki when he said: "I have President Putin. He just said it's not Russia. I will say this: I don't see any reason why it would be." In Washington, reading from a printed statement, he said Tuesday: "The sentence should have been, 'I don't see any reason why it wouldn't be Russia,' sort of a double negative. So you can put that in, and I think that probably clarifies things pretty good." And then he added: "I accept our intelligence community's conclusion that Russia's meddling in the 2016 election took place. Could be other people also. There's a lot of people out there."
"We certainly believe that we are taking steps to make sure they can't do it again," Sanders said Wednesday. "Unlike previous administrations, this President is actually taking bold action and reform to make sure it doesn't happen again. But he does believe that they would target, certainly, U.S. elections again."