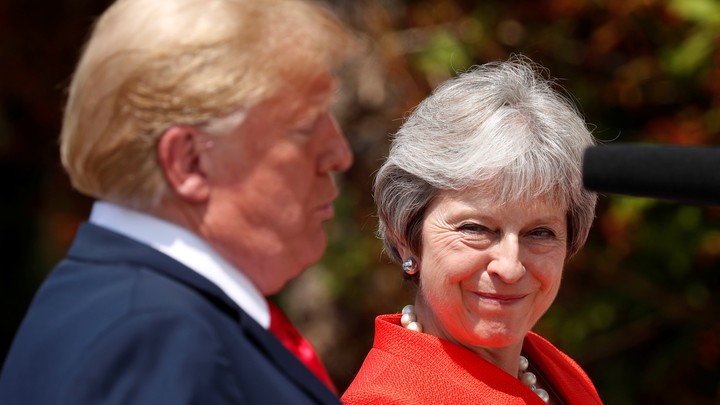 When Donald Trump and Theresa May walked into a joint press conference together on Friday at the British prime minister's country home in Chequers, they did so hand in hand. They sported a matching vibrant red (a tie for him, a blazer for her). And when they spoke, they praised the durability of their countries' long-standing—and special—relationship.
"I give our relationship, in terms of grade, the highest level of special," Trump told reporters during the press conference. "I would give our relationship with the U.K., and now especially after these two days with your prime minister, I would say the highest level of special."
But the relationship hadn't seemed so special less than 24 hours prior, when it was revealed that Trump had granted an explosive interview to a British tabloid in which he widely criticized his host. Taking aim at May's strategy for Britain's exit from the European Union, Trump called her plan to maintain close links to the EU "a much different deal than the one the [British] people voted on," and warned that it would "probably kill" the hopes of a trade deal between their two countries. The president also went on to criticize the U.K.'s immigration policy ("I think you are losing your culture"), London's mayor Sadiq Khan ("You have a mayor who has done a terrible job in London"), and his own icy reception in the British capital ("I used to love London as a city. … But when they make you feel unwelcome, why would I stay there?").
What little praise the president did offer, he reserved for the U.K.'s recently-departed foreign secretary Boris Johnson."I am not pitting one against the other," Trump told The Sun newspaper, referring to May and Johnson. The latter stepped down from May's cabinet Monday, citing disagreements over Brexit. "I am just saying I think he would be a great prime minister. I think he's got what it takes."
The unsolicited criticism from a longtime ally capped an already chaotic week for May. She not only lost her foreign secretary and Brexit secretary in back-to-back resignations, but also had to contend with this week's NATO summit in Brussels and an ongoing murder investigation into the nerve-agent poisoning of a British citizen. That Trump's interview published at roughly the same time she was honoring him with a black-tie gala at Winston Churchill's birthplace merely exemplified a week defined by damage control.
But if Trump's latest comments were meant to kick May while she was already down, they have paradoxically achieved the opposite. For one, Trump is deeply unpopular in the United Kingdom—a fact evidenced not just by polls, but by the widespread protests that have raged on throughout his visit in the country (including, as my colleague Rachel Donadio reported, a blimp of Trump's likeness as a baby floating over Westminister). His efforts to weigh in on British politics in the past—from the country's handling of terrorism to its National Health Service—have backfired, and there's little evidence to suggest his latest comments will be received any differently. In fact, they have already prompted lawmakers on both ends of the political spectrum to come to the prime minister's defense. Sarah Wollaston, a Conservative lawmaker, condemned Trump's comments as "repulsive." The opposition Labour Party's foreign secretary Emily Thornberry said it was "extraordinarily rude of Donald Trump to behave like this."
But beyond rallying support around the prime minister, perhaps the biggest coup for May came when Trump did something he rarely ever does: apologize. Speaking to reporters at the joint press conference Friday, Trump walked back his published criticisms of May, which he downplayed as "fake news" despite his interview being recorded. "When I saw her this morning, I said, 'I want to apologize, because I said such good things about you,'" he said. "She said, 'Don't worry, it's only the press.' I thought that was very professional."
When asked about the possibility of a U.K.-U.S. free-trade agreement, the prime minister was able to confirm that a deal was still in the cards. "The Chequers Agreement reached last week provides the platform for Donald and me to agree [on] an ambitious deal that works for both countries right across our economies," May said. And perhaps more crucially, she got Trump to say the same. "Whatever you're going to do is okay with us," Trump told May in his own remarks, noting that "this is an incredible opportunity for our two countries, and we will seize it fully."
While there's no telling whether Trump's comments on Brexit were sincere, or how long he'll hold to them, for now May can walk away with a win. Not only did she get a turnaround from the American president on his criticisms of her Brexit plans, but she also managed to secure from him an on-the-record statement that a trade deal that coheres with her plans is still within reach—something that will almost certainly shield her from criticism by more hardline Brexiteers, at least for now. "She's a very smart, very tough, very capable person," Trump said of May. "And I would much rather have her as my friend than my enemy, that I can tell you."
We want to hear what you think about this article. Submit a letter to the editor or write to letters@theatlantic.com.