Trump's London Visit Is the Normalization of Abnormality
It's less a triumphant celebration of the "special relationship" between two long-standing allies and more an exercise in damage control.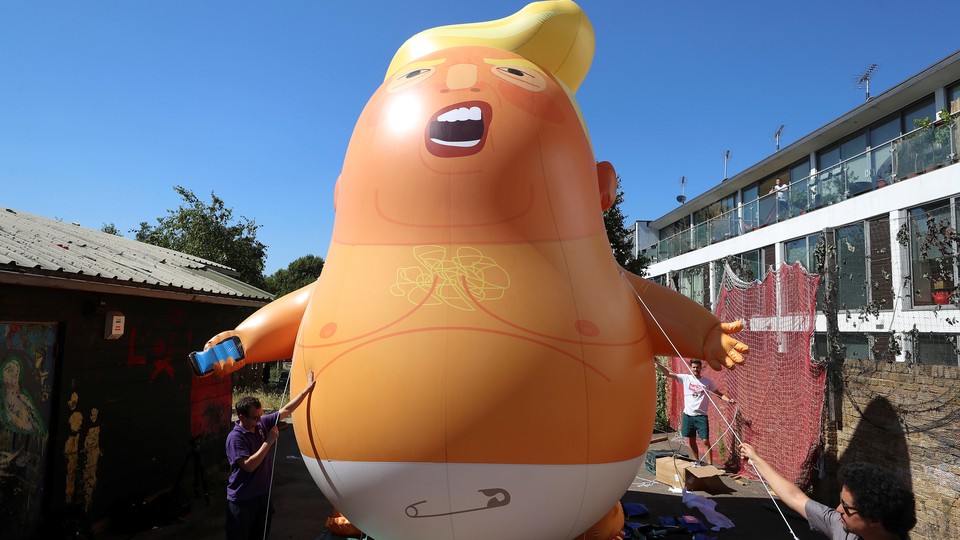 LONDON—Peacetime visits by United States presidents are usually celebratory affairs. They're opportunities for host countries to show off a little, to polish the silver and bring out the marching bands, to assert their place in the world and in the eyes of the United States. President Donald Trump's visit to Britain—which kicked off Thursday afternoon and will include meetings with Prime Minister Theresa May, a gala dinner with business leaders at Winston Churchill's birthplace, and a tea with Queen Elizabeth at Windsor Castle, before the president heads off to one of his golf courses in Scotland for the weekend—could not be more different.
And it could not have come at a worse time. Announced last year and planned so that Trump will largely avoid central London and the big anti-Trump demonstrations expected, the visit is less a triumphant celebration of the "special relationship" between two long-standing allies and more an exercise in damage control. May's conservative government is in turmoil after the resignation this week of two key cabinet members, including Foreign Secretary Boris Johnson, a Trump admirer, over differences in how to handle the colossal mess that is Brexit. Trump has been shaking up NATO and threatening a trade war with Europe. On Wednesday, England flamed out of the World Cup. Last week, a British citizen died after being exposed to the nerve agent Novichok, collateral damage after the assassination attempt on a former Russian spy, which the British government says is the work of Russia. (Trump is to meet Vladimir Putin in Helsinki on Monday.)
What could possibly go wrong?
"Historically, British politicians have basked in the reflected glory of U.S. presidents, going back to Thatcher and Reagan. Obama was such a rock star, particularly with people in government who were all desperate to be seen and look relaxed with him," said Stig Abell, the editor and publisher of The Times Literary Supplement. "With Trump, they just want to finish it without anything too bad happening. The Royal Family want to get it done without it being embarrassing. The government don't want him to be caught in protests. They don't want anything where he'll come back and tweet about how appalled he is about Britain."
Trump's arrival in London on Thursday afternoon interrupted a day of national wallowing. All morning, the BBC, seeming to find a certain morose pleasure in self-flagellation, played images on repeat of England's loss to Croatia and ouster from the World Cup on Wednesday night—England's Harry Kane missing a header over and over; Croatia's Ivan Rakitić's match-winning goal in extra time over and over—with a mournful soundtrack of Oasis's 1996 hit "Don't Look Back in Anger."
Once the anthem of the Cool Britannia of the 1990s—that long-gone era of multilateralism, Third Way Labor, the end of history—the song now triggers instant nostalgia and a whiff of resignation in a country in the throes of a messy and unresolved divorce from Europe. Like so many divorces, it's not clear if the marriage itself was the problem or if the desire for a breakup stemmed from some deep and inchoate unhappiness on the part of Britain—Britain just, you know, wanted more freedom from Europe, but hey, it would be great if that freedom could come without consequences. May is now trying to hash out the details while holding her government together.
If Brexit was a referendum on how Britain sees itself and its place in the world, then a Trump visit was bound to be complicated—a visit by a president who has upended international diplomacy to a country that has upended its relationship with Europe. The lines of support and dissent are entangled. Urban versus rural. Liberalism versus illiberalism. Isolationism versus globalism. Some Brexiteers are enamored of Trump and his "America First" stance, and many in the British establishment admire his pushing back against the European Union, even if they superciliously find his approach rather vulgar.
Cosmopolitans oppose Trump's entire worldview, including what they call out as his racism. Anti-Trump demonstrations are planned in London, Cardiff, Glasgow, and Edinburgh. Sadiq Khan, the first Muslim to be elected mayor of London, wrote in the London Evening Standard why he'd allowed the protests. "Around the world, the far-right and nationalist populism are on the rise. Politics, ideas and views that we thought were rejected and defeated after the Second World War—in large part due to the leadership and sacrifices of the U.S.—have resurfaced and are creeping back into the political mainstream," Khan wrote.
"This includes hatred of those who are different and the deliberate stoking of people's basest fears and insecurities, instead of trying to address them; a constant focus on that which divides us, rather than that which unites us; and the awful scapegoating of some of the most vulnerable people in our societies. This offends many Londoners," he added, mentioning that London, facing state budget cuts, was struggling to foot the bill for the security required for the visit.
But at a moment when the governments and the people are so divided in both the United States and Britain, what of the "special relationship"? How special is it? In a call with reporters last week, the United States ambassador to Great Britain, Robert "Woody" Johnson, took pains to say things were just great. "I want to stress this special relationship is not just (inaudible)," the official White House transcript of the call read. "It's as strong now as it's ever been, and I personally see it every day. The security and prosperity of American and British people are completely intertwined."
What is audible is that the visit, like so much these days, is bound to be about optics more than deliverables. May is eager to find some kind of understanding with Trump on trade, in light of Brexit and Trump's intention to impose tariffs on Europe, but that will take negotiating and time.
In the meantime, there is the balloon. The big fat yellow blimp that depicts Trump as a baby wearing a diaper, which is expected to float over the Houses of Parliament on Friday, a protest approved by Khan. "We have made a baby because we feel that Donald Trump acts like a baby—his style and tone are very childish," Nona Hurkmans told the BBC, who identified her as "Trump Baby spokesperson."
Multilateralism is complicated. Trade deals are complicated. Brexit is very complicated. The balloon is not complicated. It will likely be the lasting Instagrammable moment from the visit, an emblem of how dumb everything has become, even when so much is at stake. "Just imagine if Theresa May came to Washington and there was a big balloon of her in diapers. It's inconceivable," said Leslie Vinjamuri, the head of the U.S. and Americas program at Chatham House. "We start to take it for granted because of the crazy world we're living in."
Which brings us to another point. Trump's U.K. visit, with that fat yellow baby blimp, is the triumph of the normalization of the abnormal. Trump landed in London on Thursday straight from Brussels, where he spent a NATO summit hammering European countries to increase their defense spending and possibly threatening to pull the U.S. out of NATO before saying at an impromptu press conference Thursday that the United States' "commitment to NATO remains very strong." By now, we've learned whiplash is one of his most effective weapons.
Ahead of Trump's visit this week, the BBC saw fit to broadcast a documentary on whether Trump is a "sex pest." It interviewed a long string of women who said he had groped them or tried to peer up their skirts. "He did touch my vagina through my underwear," one said. "This son of a bitch just grabbed me!" another said. "Like someone trying to feel whether a fruit was ripe at the store," she added. Aired days before Trump is to meet the Queen, the documentary also had audio of him saying Princess Diana was a classy lady and he would have slept with her "without hesitation." And yet the grotesquerie disappears as fast as it appeared, a mawkish moment in the torrent of a news cycle.
Trump's visit was supposed to be an official state visit at the invitation of May, who was the first head of government to visit Trump at the White House after his election. But it was slowly downgraded to a "working visit," after 1.8 million people signed a petition opposing a state visit and Parliament had a debate about it. The president's unpopularity in Britain wasn't helped by his retweeting posts from Britain First, a far-right group that says it was set up to contest "Islamification of the U.K.," retweets May later criticized Trump for in no uncertain terms.
In the U.K., Trump will jet around by helicopter, mostly to locations outside London. It's in sharp contrast to Trump's visit last July to the then-newly elected French President Emmanuel Macron in Paris, where the two had a famously long handshake. "Macron was self-confident enough to try and out-manspread Trump and took him on his own terms," said Abell, the Times Literary Supplement editor. "He obviously felt sufficiently confident in his leadership to just dispatch any criticism of Trump and not be affected by it. Whereas we are in the cycle where our self-esteem is at a particularly low ebb. Theresa May is at a low ebb, the country is a particularly divided place, and therefore Trump has the ability to be more significant a figure."
Meanwhile, the activists behind the Trump baby balloon told Newsweek they'd raised enough money through crowdfunding to take the blimp on a world tour, following Trump on future visits. The normalization of the abnormal continues.