The U.S.-EU Trade Breakthrough That Wasn't
President Trump and European Commission President Jean-Claude Juncker claimed symbolic victories, but not much else.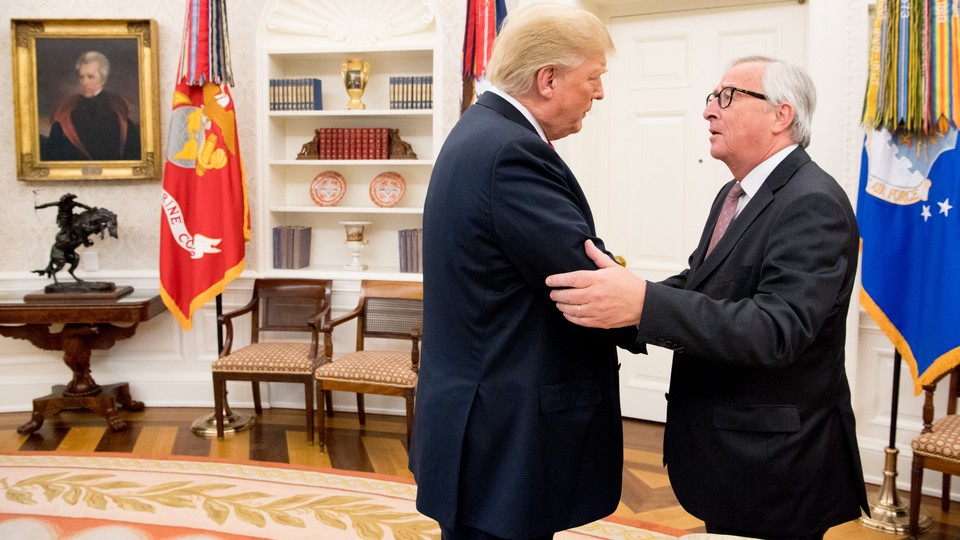 After months of transatlantic sparring, the United States and the European Union seem to have pulled themselves back from the brink of a trade war. President Donald Trump and European Commission President Jean-Claude Juncker announced Wednesday that they had reached a breakthrough deal on trade—one with fewer threats of tariffs on European automakers, and more soybeans.
"I had the intention to make a deal today," Juncker said alongside Trump from the White House Rose Garden in an unscheduled press conference. "And we made a deal today."
This "new phase" in the transatlantic relationship would have seemed fanciful less than two weeks ago, when Trump declared the EU a "foe" of the United States for "what they do to us in trade." Before that, the American president publicly sparred with European leaders at the Group of Seven summit in Quebec over Trump's steel and aluminum tariffs. Similar confrontations emerged during this month's NATO summit in Brussels, when the president voiced more frustration with Europe—this time over defense spending.
But whatever hostilities remained between the two sides seemed to all but dissipate during Trump and Juncker's meeting. Trump, who once dubbed Juncker "a brutal killer," was suddenly talking about their great relationship. The meeting featured kisses and even attempts at hand-holding. But it offered little else of substance. In a joint statement, the two leaders agreed to talk—about tariffs, about trade barriers, about energy cooperation, and about World Trade Organization reform. They pledged to resolve their dispute over the U.S. steel and aluminum tariffs and Europe's retaliatory tariffs that followed. Perhaps most notably, they agreed to not impose new tariffs that could risk escalating their burgeoning trade war for as long as their negotiations last.
And both sides claimed victory. Dubbing it a "big day for free and fair trade," Trump highlighted Juncker's pledge for the EU to import more American soybeans (a notable casualty of Trump's trade war with China) and liquefied natural gas. Juncker, in turn, hailed Trump's agreement not to impose any additional tariffs (including his threatened levies on European car exports) as "a major concession by the Americans."
But neither side walked away with substantial wins. To get Trump to dial back his threats on EU auto exports, Juncker promised that the EU would import more soybeans and natural gas—two things the bloc is already doing. In exchange for this PR victory, Trump gave Juncker the opportunity to claim that he had averted new tariffs on EU car exports (for now). "Instead of a firm commitment, what we really got was big language of striking collaboration and entering into dialogue," Marianne Schneider-Petsinger, a U.S. geoeconomics fellow at the London-based Chatham House, told me. "This combined with Trump's history of backtracking might mean that there might be a couple of more surprises as things develop over the next couple of months."
But for all the symbolic victories, there were some notable shifts. By agreeing to enter into negotiations without the U.S. lifting its steel and aluminum tariffs, Juncker reneged on the EU's claim that it would "not negotiate under threat." And after months of railing against European leaders, Trump's willingness to make nice with the EU signaled that he too may be questioning whether trade wars are "easy to win" after all.
And if the talks break down? Trump can return to declaring that tariffs "are the greatest!" and Juncker can claim that he promised nothing that wasn't already happening and, if nothing else, that he at least bought European car manufacturers more time. "I would be very cautiously optimistic about this," Schneider-Petsinger said. "It was a surprise, it was a positive step. But it's not this breakthrough that some people seem to make this out to be."