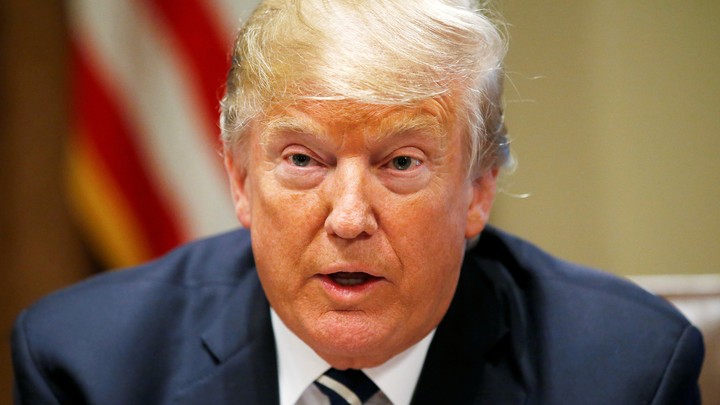 In a tweet late Sunday, President Donald Trump warned Iran of "consequences the likes of which few throughout history have suffered before," seemingly raising the odds of military conflict with one of the most powerful armed forces in the Middle East. He was responding to Iranian President Hassan Rouhani's remarks to Iranian diplomats that "America should know that peace with Iran is the mother of all peace, and war with Iran is the mother of all wars."
To Iranian President Rouhani: NEVER, EVER THREATEN THE UNITED STATES AGAIN OR YOU WILL SUFFER CONSEQUENCES THE LIKES OF WHICH FEW THROUGHOUT HISTORY HAVE EVER SUFFERED BEFORE. WE ARE NO LONGER A COUNTRY THAT WILL STAND FOR YOUR DEMENTED WORDS OF VIOLENCE & DEATH. BE CAUTIOUS!

— Donald J. Trump (@realDonaldTrump) July 23, 2018
Trump's all-caps message may make it seem as if conflict with the Islamic Republic is inevitable. But just as Rouhani held out of the prospect of the "mother of all peace," Trump's message is reminiscent of his threats against the "madman" Kim Jong Un. He threatened the North Korean leader with "fire and fury," and added that the North Korean leader will "be tested like never before." Just months after making those remarks, Trump was meeting with Kim in Singapore, launching a diplomatic process that, while short on results so far, has been high on optimism. Given the history of U.S.-Iran relations, which were poisoned by the 1979 revolution, such an outcome is highly unlikely with Tehran. But Trump's unpredictable and independent  foreign policy means, as he said last November, he's the "only one that matters."  
Still, John Bolton, the national-security adviser, said in a statement Monday: "I spoke to the president over the last several days, and President Trump told me that if Iran does anything at all to the negative, they will pay a price like few countries have ever paid before."
In some ways, Rouhani's comments, and Trump's response, have been coming since May, when the U.S. withdrew from the nuclear deal with Iran; that deal also involved China, France, Russia, the United Kingdom, Germany, and the European Union. The Trump administration maintained that the agreement, President Barack Obama's signature foreign-policy achievement, did not address Iran's involvement in Syria, Iraq, Yemen, and Lebanon, its ballistic-missile program, or its other problematic actions. The other nations and entities who are still in the Joint Comprehensive Plan of Action, as the accord is officially known, say the agreement was meant to deal exclusively with Iran's nuclear program—and, indeed, that it has succeeded in addressing that aspect of Iranian policy. Prior to the U.S. withdrawal, Trump-administration officials also acknowledged that Iran was abiding by the deal, but they contended that it had merely delayed Iran's acquisition of nuclear weapons without ending its pursuit of them. Supporters of the agreement call that position a willful misreading of the accord.
Last month, the Trump administration said it expected all countries that buy oil from Iran, which has some of the world's largest oil reserves, to wind down their purchases to zero by November 4 or face U.S. sanctions. Other trade with Iran is also being targeted. The administration has said it will not provide exemptions to the sanctions, even for U.S. allies in Europe who trade with Iran—a move that will almost certainly hurt Iran's economy. Iran has said it will remain a party to the accord as long as the other signatories provide Tehran with the investments that were promised in exchange for signing the agreement. The EU has enacted legislation that would target European companies that comply with U.S. sanctions on trade with Iran. But for European companies, with their global supply chains and international workforces, access to the U.S. financial system (which would be cut off in the event of U.S. sanctions), as well as access to the U.S. consumer market, are far more important than any deal with Iran. Indeed, while the EU and its member states say they will continue to abide by the deal, they have few realistic options left to keep the agreement going.
In a speech in May, Mike Pompeo, the U.S. secretary of state, listed 12 conditions that he said Iran would have to meet if it wanted diplomatic and commercial relationships with the U.S. Among them: an end to its ballistic-missile program, and to its support for terrorist groups like Hezbollah and its malfeasance in Iran and Syria. Barbara Slavin, the director of the Future of Iran Initiative at the Atlantic Council, told me at the time that the list was a nonstarter. "He's not asking the leopard to change its spots," she said of Pompeo. "He's asking it to become a lamb."
Iranians expected the nuclear deal to yield a shot in the arm to their economy, which has been crippled by years of international sanctions. But those expected benefits have been slow to materialize—because, Iran's critics say, the Islamic Republic is spending its money on military adventurism in Syria, Yemen, and other places in the region—leading to protests against both Iran's elected leaders as well as the Shia clerics who hold near-absolute power.
The Trump administration says it supports the Iranian people against their rulers, but at the same time Iran is among the countries on a list of nations whose citizens are forbidden from traveling to the U.S. under most circumstances. Pompeo, speaking Sunday at the  Ronald Reagan Presidential Library, in Simi Valley, California, said Iran's regime "resembles the mafia more than a government," adding that the "goal of our efforts is to one day see Iranians in Iran enjoying the same quality of life that Iranians in America enjoy."
In Tehran Monday, Bahram Qasemi, the Iranian foreign-ministry spokesman, said Pompeo's remarks indicate America's "frustration," adding that Pompeo's speech was "hypocritical and absurd." "Pompeo's words constituted very clear evidence showing the U.S. efforts to meddle in Iran's internal affairs," he said. That's perhaps what many of Iran's own neighbors would say about its actions within their borders.
Ultimately, Iran cannot afford a war with the U.S. It is tied up in Syria, Iraq, and, to a lesser extent, Yemen and Lebanon. It finances Hezbollah, Hamas, and the Houthis. All this while its economy is in a moribund state and will almost certainly get worse. What Iran can do, however, is make things difficult for Trump in the region. It has broad political and cultural influence in Iraq, which, despite ongoing protests, is on the cusp of stability after years of conflict; it continues to support the Assad regime in Syria; and it has the potential to sow instability in Afghanistan, with which it shares a border. The U.S. is aware of all this. Even if the more hawkish elements of the Trump administration may favor a conflict with Iran—and there's no public statement to suggest this is true—the president himself has been known to be averse to U.S. military adventurism. And, as he has said, he is "the only one that matters."
We want to hear what you think about this article. Submit a letter to the editor or write to letters@theatlantic.com.