Trump's Trade War Isn't Over
Despite a potential truce with the EU, the effects of Trump's tariffs will linger for years.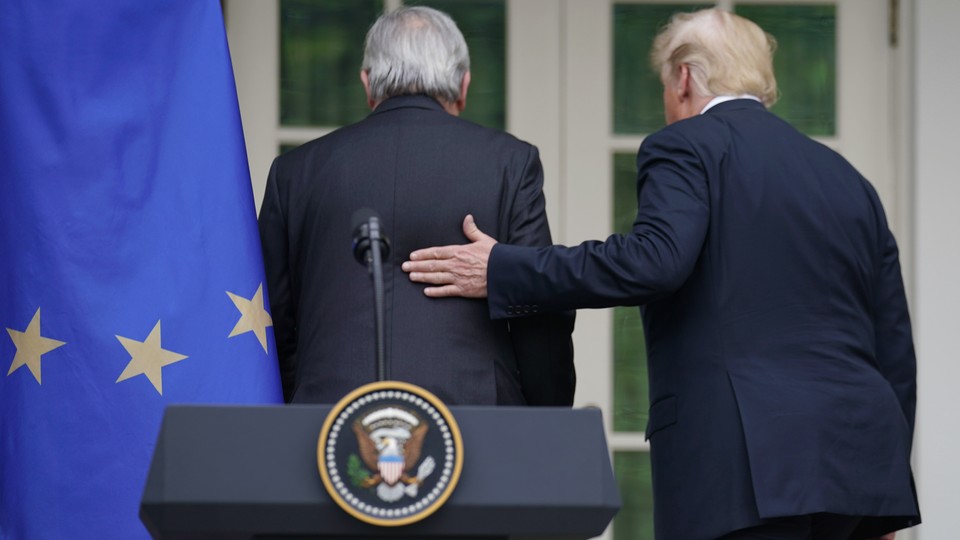 Ahead of European Commission President Jean-Claude Juncker's meeting with U.S. President Donald Trump yesterday, nobody was optimistic. If the talks didn't go well, Donald Trump had warned, he was prepared to follow through on his threat of imposing further tariffs, as high as 25 percent, on cars and car parts imported from the EU. "If we don't negotiate something fair, then we have tremendous retribution, which we don't want to use, but we have tremendous powers," Trump told reporters at the White House last week. "Including cars—cars is the big one."
As it turned out, Trump and Juncker emerged from their meeting to announce a truce, with both sides agreeing to pursue a broader deal on lowering tariffs across the board. Nevertheless, one thing is clear from Trump's quickly unfolding trade wars: Even relatively brief trade disputes can inflict costs that persist long after the war ends.
For one thing, there are direct costs arising from the disruption that higher tariffs wreak on supply chains. The Trump administration's failure to quickly negotiate resolutions to its new trade disputes, or to conclude any new agreements, also puts U.S. exporters at a disadvantage in markets where trading partners continue to negotiate deals. And there is a range of other potential costs that could hit American producers and consumers for years, even if the current trade disputes are somehow resolved soon. But that is not looking particularly likely at the moment, and the longer the disruption lasts, the higher the risk to broader economic growth, both in the United States and around the world.
In terms of the most direct costs of trade wars, foreign buyers hit with retaliatory tariffs look for new sources. New suppliers do not disappear. Domestic plants that close or move due to higher costs or lost markets do not reopen. If the Mid-Continent Nail Corporation in Missouri, which has gotten so much news attention around the steel tariffs' impact, closes and moves its operations to Mexico, the costs to reopen it when the tariffs finally disappear could be prohibitive. And those jobs could be lost forever. Meanwhile, farmers already grappling with lower commodity prices find themselves with unexpected surpluses that deepen debt burdens. South American farmers will be happy to increase soy and corn production to feed the fast-growing Chinese market, and will not readily cede that market down the road.
The Trump administration's seeming preference for escalation over negotiation adds a layer of uncertainty about U.S. policy that could further disrupt supply chains and deter investment by and in American firms. Foreign direct investment into the United States dropped 40 percent in the first quarter of 2018 compared to the previous year, the lowest level in four years. Meeting in Buenos Aires over the weekend, finance ministers and central bankers from the Group of 20 large economies—including the United States, Great Britain, France, Japan, China, Brazil and Argentina—called for increased dialogue to reduce the financial risks from ongoing trade disputes.
At the same time that President Donald Trump seems intent on closing the U.S. off from the rest of the world, other countries are continuing to negotiate agreements that will increase discrimination against American exporters. Japan led the way in salvaging the Trans-Pacific Partnership among 11 Pacific Rim nations after Trump rejected it. The deal, now minus the U.S., will lower the barriers that dairy farmers from Canada and New Zealand and cattle ranchers from Australia face in the Japanese market, giving them an advantage over American producers. Just this month, Japan and the European Union signed an economic partnership agreement that will give an edge to European winemakers. Eventually, Japanese auto producers will no longer face the 10 percent tariff in Europe that U.S. producers will continue to pay. While the Trump administration mulls additional barriers to trade with the rest of the world, Europe is negotiating to lower them with a long list of countries, including several TPP (Trans-Pacific Partnership) signatories in Mexico, Brazil and Argentina.
With regard to the trade war with China, Treasury Secretary Steven Mnuchin recently told a congressional committee that negotiations had broken down and that no resolution was in sight. At the G-20 meeting in Buenos Aires, Mnuchin said that it was up to China to make concessions, but he left those unspecified. If that means the trade war continues to escalate and drags on, the economic effects could become serious. Tariffs on all or most Chinese imports, as Trump has threatened, could even lead to inflationary pressures that cause the Federal Reserve to raise interest rates more than it otherwise would, which in turn could trigger a recession. The International Monetary Fund's managing director, Christine Lagarde, told the G-20 ministers in Argentina that escalating trade fights could depress global growth by as much as half a percent.
Even if Trump's trade war with China is resolved relatively quickly, the costs will linger and competition with China could become fiercer rather than fairer. Lack of clarity about the administration's demands is one of the barriers to resolving the dispute. The overarching goal is purportedly to ensure that U.S. companies have a fair shot in developing and selling the technologies of the future. But, far from backing down on its "Made in China 2025" policy to develop key technologies domestically, China is likely to double down on its promotion of these sectors in order to avoid dependence on an erratic American partner.
American firms are also likely to come to rue the administration's use of Section 232 of the Trade Expansion Act of 1962 to restrict imports for national security reasons. While the case for steel and aluminum as essential to national security is plausible, the application of tariffs against close neighbors, and allies and adversaries alike, undermined the case. The administration's opening of a new investigation into automobile imports decimates any argument that the administration is genuinely concerned about national security. The absurdity of the administration's case, in turn, opens the door to abuse of the national security exemption by other countries. Adjudicating the national security exemption is also a no-win situation for the World Trade Organization. If it eventually rules against the U.S. use of Section 232, the Trump administration could choose to ignore the ruling, or even use it as an excuse to withdraw from the WTO, as Trump has threatened. And if the administration wins the argument, it would be no-holds-barred for other member states seeking to protect their own industries for specious national security reasons.
Short of the extreme step of withdrawal from the WTO, U.S. policies are still a serious threat to the organization's continued effectiveness—and that is a cost that cannot be measured solely in dollar terms. On top of the serious economic toll, the ultimate cost of Trump's trade wars will be measured in frayed bonds and eroded trust that will take years to rebuild.
---
This article appears courtesy of World Politics Review.