France's World Cup Victory Is a Win for Emmanuel Macron
At stake was not only a clash of soccer teams, but also a clash of worldviews.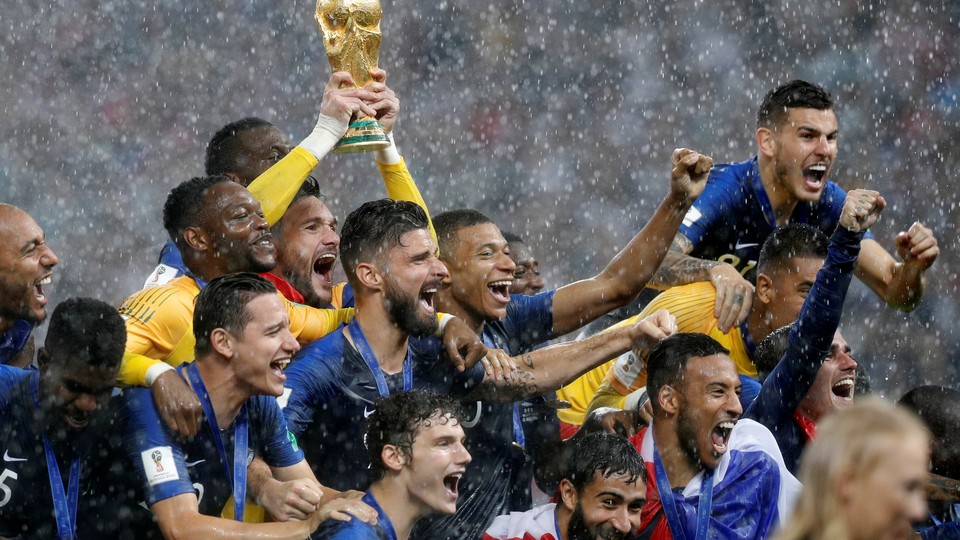 PARIS—When the victorious World Cup–winning French national team arrived on the Champs-Élysées on Monday evening, welcomed home by massive crowds under massive security, it capped weeks during which France didn't only cheer on its team, but also used the competition as a moment for soul-searching. The introspection was about race, about multiculturalism, about Paris's banlieues, and about how much has and hasn't changed in France since it last won the World Cup in 1998, months before Kylian Mbappé, the team's fleet-footed 19-year-old striker, was born.
The son of a father from Cameroon and a mother from Algeria, and a product of Bondy, one of Paris's troubled banlieues, Mbappé has become the poster child for a national team that reflects France—and for a country that celebrates a national team that reflects France. French President Emmanuel Macron offered a few words at the Élysée Palace on Monday evening, surrounded by the team, who had just sung a rousing, off-key rendition of La Marseillaise: "Never forget where you come from," Macron said. "This is France. Never forget it."
In Donald Trump's United States, football players kneel to honor Black Lives Matter; in Macron's France, the president effectively kneels before the national team. This World Cup win has been a gift for Macron. He defeated a nationalist, Marine Le Pen, who ran on a fear of immigrants. The image of Macron leaping up from his seat in the stadium in Moscow on Sunday holding his fists in a victory grip, as joyous as a child, after France scored a goal, is now the most iconic of his presidency—a rare spontaneous, unscripted moment for a president who cultivates his image more carefully than any of his recent predecessors.
But beyond the images, there's also a worldview at play here. The French victory came a few days after Trump, at a Friday press conference with British Prime Minister Theresa May, said immigration was harming Europe. After France won, Italy's hard-liner interior minister and deputy prime minister, Matteo Salvini, who's been sparring with Macron over immigration, tweeted a photo of four Italian world-champion sprinters and wrote, "Here are today's real winners! And Italian wine is better than French wine, and the same for cinema and music, and Sardinia is much more beautiful than Corsica."
France's victory was a stirring moment of national unity and catharsis after years of terrorist attacks. One television commentator even called it an "act of redemption." As soon as the match ended on Sunday, the streets of Paris were filled with scenes familiar from pictures of the postwar liberation—strangers embraced, cars honked their horns, people waved flags from the backs of scooters. It was a glorious public outpouring in a city thats most recent mass mobilization was a solidarity rally after the terrorist attack on Charlie Hebdo.
The joy will eventually fade, and with it maybe the national attention paid to France as a multiethnic nation. Before Sunday's winning match, the comedian Jamel Debbouze joked on television that with the World Cup, racism in France would disappear—for 48 hours.
But what of Macron's vision for France's banlieues? The French national team is a testament to France's ground-up soccer infrastructure, with local youth clubs that help develop talent across the country starting at a young age. What would France look like if its Grandes Écoles, whose graduates run the country, had such good feeder schools in the banlieues?
In May, Macron rejected a plan drafted at his request by a former mayor of a Paris suburb, Jean-Louis Borloo, but said the government would keep some of its recommendations. In releasing the report, Borloo was direct. "The less we've done in terms of urban policies, the more we've announced plans, numbers, and policy priorities. We've replaced public funding with public announcements," he told Le Monde. "The result is that in some neighborhoods there are fewer public services, fewer nurseries, less sports equipment … less access to culture, fewer police officers … It's an absolute scandal."
When France's happy World Cup hangover ends, there's work to be done.