A Funeral for a Vision of Europe
France celebrates the icon and Holocaust survivor Simone Veil, at a time when her ideals are under threat.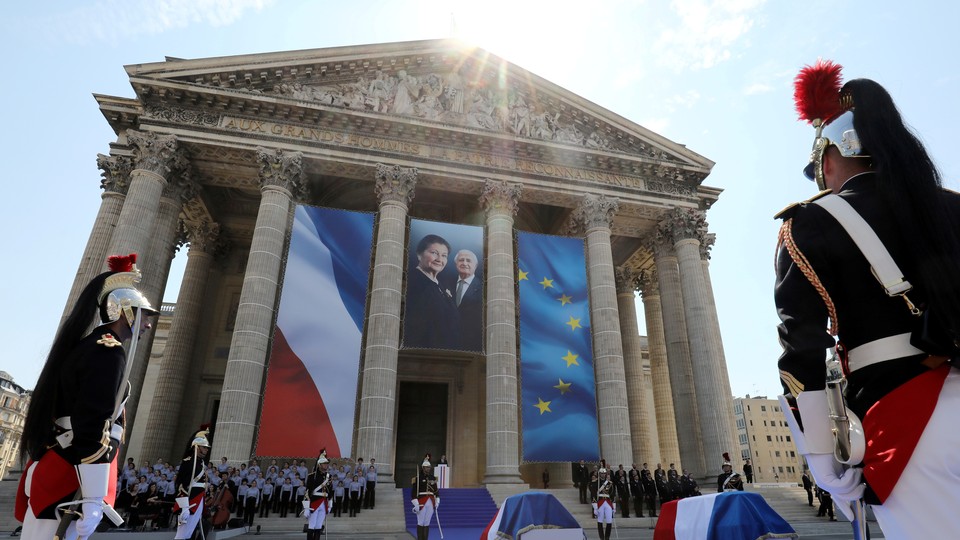 PARIS—On Friday morning, news was just trickling in from a heated European Union summit on immigration whose pre-dawn result seemed to be a tightening of borders and the creation of centers to "process" would-be arrivals before they dared inch toward Europe. Headlines from America were of children separated from their parents at the Mexican border and how Justice Anthony Kennedy's retirement might affect abortion rights. And at the Memorial of the Shoah here in Paris, people were paying their respects to Simone Veil.
Veil, who died last year at 89, is an icon in France whose life spoke to the worst and best of Europe's 20th century. Born in Nice in 1927, deported to Auschwitz at 16, she survived, studied law, became a magistrate, fought for European reconciliation, was the first woman president of the European Parliament, and as France's health minister in 1974, wrote the law that legalized abortion. For this, her face has adorned posters across France that read simply, "Merci, Simone."
Veil's coffin and that of her husband, Antoine, who died in 2013, were on display at the memorial, draped in French flags, for public viewing for two days ahead of an elaborate ceremony on Sunday in which President Emmanuel Macron installed them in the Panthéon, the country's memorial to its illustrious dead. A picture of Veil and her husband hung from large banners on its façade, flanked by the flags of France and the European Union. The "panthéonisation," as it's called, was broadcast live on state television with all the solemnity of the funeral of a head of state. Newspapers live-blogged every step.
People lined the streets as the hearses passed; a children's choir sang Beethoven's Ode to Joy, the European Union anthem; Macron, normally so punchy or composed, delivered an emotional speech, tears welling in his eyes while the Army choir sang the Marseillaise and the assembled guests paused for a minute of silence. It all began to look like not just an homage to Veil, a sign of France's commitment to her legacy, but also a kind of funeral for a vision of Europe.
The historian Timothy Garton Ash recently observed that Macron and German Chancellor Angela Merkel are the only two leaders in Europe today with a "sense of the tragic," a sense of what's at stake and what the European project was intended to do—to unite Germany and France economically and politically, to bind their fates together eventually with those of other European states. Contrary to President Trump's remarks in a speech last week that the EU was founded to take advantage of the United States—a salvo in a de facto trade war that will only further erode the European economy and feed the forces of populism here—the EU was founded with the help of the Marshall Plan because America's leaders believed helping Europe's postwar reconstruction would benefit the United States.
Since then, the EU has become technocratic and opaque. Today, borders are back. Populism is back. I cannot think of a single figure in Europe today who commands the widespread respect that Veil does. Polls have shown her to be one of the most popular figures in France. Her face, a lovely one—that, too, is part of her legacy and her appeal—graced the front pages of France's leading right- and left-wing papers this weekend. The word used most often to capture her essence is dignity.
Macron, a young man governing an old country, has staked his legacy on Europe, on pushing for the ideals embraced by Veil, and in channeling her legacy, he was embracing it as his own. In his speech on Sunday, he hailed Veil as someone who "wanted Europe out of realism, not idealism, out of experience, not ideology, out of lucidity, not naiveté," a woman who fought "against prejudice, against isolation, against resignation and indifference …because she knew what France was—she embraced causes that seemed lost in order to stay true to an idea she had of the Republic and the hope she placed in it."
"We wanted Simone Veil to enter the Panthéon without waiting for generations to pass, as we have traditionally done, so that her struggles, her dignity, her hope will remain a compass in the troubled times that we now face," Macron said.
What would Veil make of this season's events in Europe, where the gears of European bureaucracy may not move fast enough to stop the forces endeavoring to tear the project apart? Where in the past few weeks Merkel has been under siege from her restive Bavarian conservative coalition partners and is still paying the political price for allowing in 1 million asylum-seekers in 2015, even though since then deals struck with Turkey and Libya that are questionable on a human rights front have significantly stopped the flow of arrivals? Where the new Italian populist government has been banging on the table demanding a common European strategy for immigration—and at the summit last week seems to have scored a political victory? Where Central European leaders benefit from Europe's financial largesse but don't want to play by its rules on human rights, freedom of the press, and immigration?
Veil might be rolling in her now-illustrious grave. She was 16 when she was rounded up on the streets of Nice. She and her family, who were then living under false papers, were deported. Her father and brother were never heard from again. One sister joined the resistance and died in France. Simone, her mother, and another sister were sent through Drancy, a deportation area north of Paris, then on to Poland, to Auschwitz-Birkenau, in cattle cars. There, Veil was branded number 78651 by the Nazis. For reasons that remain unclear, her hair was never shaved, just cut short, something she later said helped preserve her dignity.
Veil and her mother were sent to a work camp near Auschwitz building airplane parts for Siemens, the German industrial conglomerate, and were eventually shipped to Bergen-Belsen, where her mother died of typhoid at 44. Her last words were said to be, "Don't ever wish others ill; we know too well what it is." As soon as the war was over, Veil studied law in Paris, where she met and married Antoine, a fellow student, had three sons, and began pushing for European—that is, Franco-German—reconciliation. While serving as health minister, she helped bring awareness of the Holocaust, and the Vichy regime's complicity in it, to the French popular imagination in decades when denial was the status quo.
In a 2010 speech inducting Veil into the Académie Française, one of the highest honors of the French state, reserved for cultural figures and intellectuals, the writer Jean d'Ormesson called her "at once tradition and modernity incarnate."  "I see you, madam, and I think of those great women of other times whose dignity and allure commanded respect. And then I consider your path and I regard you as a figure on the prow of a ship, moving history ever forward."
In France she has been hailed for a certain kind of feminism—one that got concrete results, like legalizing abortion, after she pushed against Catholic traditionalists as health minister in a center-right government of Jacques Chirac. In a famous 1974 speech before France's National Assembly, Veil said, "I want to share my conviction as a woman. I apologize for doing it before an Assembly that almost exclusively consists of men," before delivering strong words that ultimately won the vote. But she also embodies a certain kind of traditionalism. In his 2010 speech, D'Ormesson placed Veil in contrast to Simone de Beauvoir and her adherents who, he said, "deny the difference between the sexes." "You are on the side of the weak, but you deny all victimization," he said.
In the many tributes to her in the French press since her death, Veil is often depicted not only as a fighter for European and women's rights but also as a devoted wife to Antoine, a mother, a grandmother, a woman who exuded moral authority and convinced men in power to modernize France without upending the country's traditional notion of the family or the state. Before the ceremony on Sunday, former president Nicolas Sarkozy told a television reporter that what he liked most about Veil's entering the Panthéon was that her husband was there, too. "I don't think either of them would have wanted to be separated," Sarkozy said, adding how nice it must be "for a man to find his wife in the Panthéon." Sarkozy's Socialist successor as president, François Hollande, said, "She's a woman in which many women recognize themselves, but also many men."
Veil seemed to embody so many French ideals—rebel and stateswoman; a victim who didn't define herself by her victimhood; a member of an ethnic and religious minority who defined herself first and foremost as a citizen of France and of Europe; a feminist who didn't threaten men. Was there any doubt she would be put in the Panthéon, becoming along with Marie Curie one of the five women interred there, one of whom is trailing a spouse?
Friday morning, while the leaders of Europe worked out their plans to prevent more immigrants from arriving, the director of the Memorial of the Shoah, Jacques Fredj, talked about the importance Veil placed on teaching the history of the Holocaust in French schools, including ones in the banlieues where young Muslim students sometimes show resistance. "She believed in the teaching of history, not memory," Fredj said. "History is something solid, while memory is fluid."
Nearby, people wrote tributes to Veil in the guest book. "Madame, thank you for your courageous fight for the cause of women. You played an essential part in our liberation. … I honor your just and humane approach. Especially today at a moment when Europe is in decline on the question of refugees," one wrote. Another, who signed her name only as Michele L., 66, wrote: "Madame, you represent everything the 20th century produced: horror but also dignity, grandeur, the fight against intolerance, the hope for a better world, construction after destruction, the fight for the respect for women. Thank you for everything."