Europe's Agenda Is in the Hands of a 31-Year-Old
How migration shaped the rapid rise of Sebastian Kurz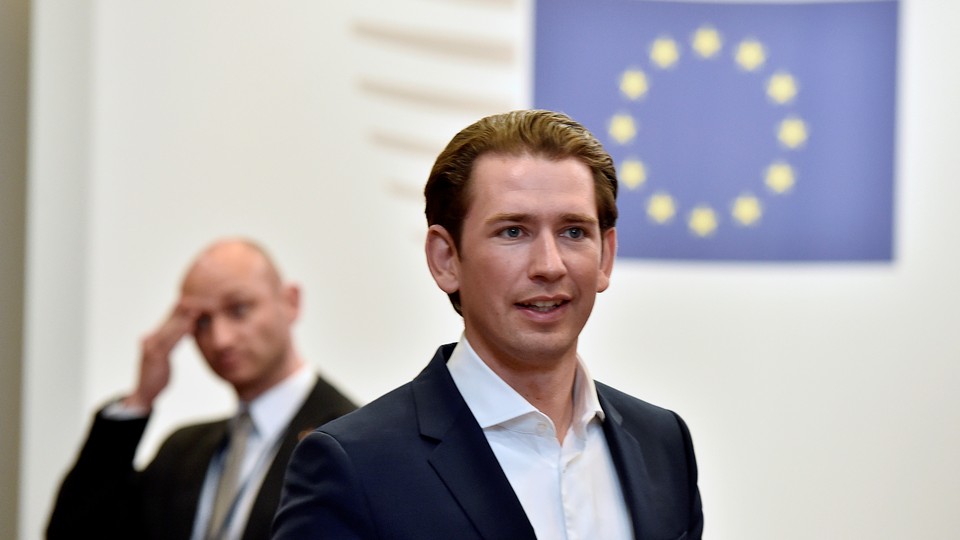 Meidling, a district in the southwest of Vienna, is known for its residents' distinct pronunciation of the letter "l." Whereas many people form the sound with just the tip of their tongue against the palate, the "Meidlinger l," which can also be heard in working-class neighborhoods all over Vienna, involves using almost the entire tongue, making the letter sound almost thick. Today, the typical, soft Viennese German is nowhere near the only language heard on the streets there. Almost every other Meidling resident, 45 percent of the district's population, was either born abroad or holds a foreign citizenship.
Meidling is where Sebastian Kurz, Austria's 31-year-old chancellor in the conservative People's Party (ÖVP), grew up—although in the early days of his political career he was often mistaken for someone from Hietzing, the adjacent and more upper-class district. This is because Kurz doesn't do the "Meidlinger l;" instead, his voice is nasal, and cadences of his speech sound more like French than German, which is typical of Hietzing.
Meidling is considered working-class, which Kurz isn't. His mother is a high school teacher, his father an engineer. Nevertheless Kurz has managed to turn his upbringing into a compelling narrative: His parents worked hard to afford an apartment they owned; he enjoyed spending the summers at his grandmother's farm in Lower Austria; half of his high-school classmates were either immigrants or the children of immigrants, many having fled the war-torn Balkans.
Barely more than a decade after sharing classrooms with refugees, Kurz would boast of having closed the "Balkan route" that a new set of migrants was using to flee to Europe from wars or poverty elsewhere. Indeed, the issue of migration has defined Kurz's political career and helped propel him to the chancellorship last October. He went on to form a coalition with the far-right Freedom Party (FPÖ), making Austria at the time the only Western European government with a far-right party in government. (Italy has since followed suit.) And Europe is following Kurz's lead in other ways. His preoccupation with migration is shaping the agenda of the continent as a whole.
In one sense, quite literally: Austria has taken on the presidency of the Council of the EU. The six-month presidency, which rotates among all EU member states, is mainly responsible for planning and chairing meetings among members, but each country that holds the presidency gets to offer its priorities for the term. Austria's is titled "A Europe That Protects." Listed first is "Security and the fight against illegal migration." Kurz has sought to forge alliances with immigration hardliners like Hungary's Viktor Orban, and has put pressure on Germany's Angela Merkel to toughen up her own, more open immigration policy. He has controversially proposed that Austria, Germany, and Italy should form an "axis of the willing" against illegal immigration—a suggestion that evoked memories of an earlier, Nazi-led Axis that also included Germany and Italy. And Kurz's call for strengthening Europe's borders against newcomers seems destined to be implemented; on Friday, the EU reached a deal to achieve just that.
A telling milestone on Kurz's path to this moment occurred around three years ago, when the now-chancellor was still in his 20s. In September 2015, Vienna was an emotional place. It was shortly after the image of drowned Syrian three-year-old Alan Kurdi washed up on a Turkish beach was shown all over the world; after a truck with 71 suffocated refugees was found on an Austrian highway; after Germany declared that Syrian refugees wouldn't be sent back to the EU country they first entered and chancellor Angela Merkel announced "Wir schaffen das" ("We can do it"). Thousands of refugees and migrants were arriving at Vienna's Westbahnhof train station every day, most continuing their journeys to neighboring Germany. In Vienna, they were greeted by volunteers. High-ranking politicians, including the president and the interior minister, came as well. But Sebastian Kurz wasn't among them. Given that he was then the minister for Europe, Integration, and Foreign Affairs, this seemed curious to some.
Virtually his whole national political career to that point—all four years of it—had been spent dealing with migration issues. He had first served as the Interior Ministry's permanent secretary for integration—that is, the process of facilitating immigrants' full participation in society. In that job, the then 24-year-old Kurz had received praise from liberal commentators for making the migration debate more "matter-of-fact," demanding "integration through achievement," and appointing "ambassadors of integration"—prominent Austrians who were immigrants or had immigrant parents. "Kurz knows that a heterogenous society functions when people come close to each other. In his discourse, foreigners are finally no longer just victims or perpetrators, but self-confident actors who decide their own fate," Florian Klenk, the editor-in-chief of the liberal weekly newspaper Falter (for which I am a frequent contributor) wrote in October 2012. This was shortly after Kurz suggested a reform of the citizenship law that made it possible for people with "excellent integration" (like good German skills and contributing to society, for example through volunteer work) to receive citizenship faster. Back then, Kurz was in line with the pro-European stance of his party: When the far-right Freedom Party demanded that citizens from other EU countries should receive limited access to welfare, Kurz spoke out against it.
Much of Kurz's job then involved communication and press work, rather than pushing actual laws. And indeed, both critics and supporters of Kurz agree on his excellent communication skills. Stefan Lehne, who held various high-ranking positions at the Austrian Ministry of Foreign Affairs until 2011 and is currently a visiting scholar at Carnegie Europe in Brussels, attests that Kurz is a great talent when it comes to "managing political processes:" "He has a great feeling for how the public opinion changes. He's a great communicator, but you don't really know what he is thinking."
Kurz relies on a tight-knit team, many of whom he has known since his days at the Young People's Party, his party's youth group, of which he became the national head in 2009. In their book Sebastian Kurz: Austria's New Wunderkind? the journalists Nina Horaczek and Barbara Tóth describe how Kurz transformed the previously feeble organization into a powerful network: He frequently invited well-known politicians and founded a highly successful alumni club. Its members, highly loyal to Kurz, are now spread across the party, a priceless advantage in a party infamous for its vicious fights between different interest groups.
It worked: During the national elections in 2013, Kurz was the candidate with the most "Vorzugsstimmen" ("preferred votes")—the Austrian election system allows people to vote for both a party and a candidate of that party—even more than the incumbent chancellor at the time. Kurz became the youngest foreign minister in the world, and that position further increased his popularity, since it allowed him to stay away from disputes about national politics. Erhard Busek, the former head of his party, called Kurz "chief commentator of the government."
Yet he wouldn't have become chancellor so fast if it hadn't been for what happened in 2015. From the very beginning, with the first wave of refugees, before the public mood in Europe shifted after the Paris attacks in November and the New Year's sexual attacks in Cologne, Kurz stood firmly against his coalition partner, Austria's then-chancellor Werner Faymann, and his German colleague Angela Merkel. Asked why he never went to greet refugees at the train station, he responded: "It's the wrong signal to criminal smugglers that people who gave them that much money and made it across the Mediterranean are greeted with smiles" from European politicians, according to his recently published authorized biography by the German journalist Paul Ronzheimer. Then in 2016, at a conference in Vienna, the West Balkan countries decided to close their borders. Germany was not invited.
Germany did, however, strike a deal with Turkey to take back some migrants, and both deals have contributed to a long-term decline in migration into Europe—though they have not diminished migration's potency as a political issue. Kurz's "Balkan route" boast was his main talking point during the 2017 election campaign, and it helped his party end up in first place. Like France's Emmanuel Macron, whose movement Kurz seemed to be trying to mimic, Kurz brought with him into government several political "newcomers."
Kurz's coalition government has been in power for half a year now, and it has been consistent in following an anti-immigrant course: It has cut back state-funded German classes for asylum-seekers and is pushing through a law that will cut family benefits for EU citizens with children in lower-income EU countries. "He was never interested in integration politics," argues Muna Duzdar, a member of parliament for the opposition Social Democratic Party and the daughter of Palestinian immigrants. "It was just a tool to gain power. And he succeeded."
Most recently, his government announced a sweeping action against political Islam, briefly closing eight mosques that allegedly ran afoul of the so-called "Islam Law" of 2015, which prohibits foreign funding for mosques. As a secretary of integration, Kurz demanded an "Islam of Austrian character," and that sermons in mosques be delivered in German. The Islam Law also requires new communities to present their teachings in German and allowed for the establishment of a faculty for Islamic theology at the University of Vienna in order to educate imams in Austria.
Despite having reached a deal at the EU summit on Friday, Kurz said in an interview with Politico that he didn't think the debate was over: "There are still many different approaches [to migration] in the European Union." While Kurz has repeatedly met with Merkel's domestic political antagonists Horst Seehofer and Jens Spahn (who attended Kurz's election party in Vienna last October), he told Politico that he had no interest in seeing Merkel ousted, fearing a "domino effect" if migrants were turned away at the German border, as Seehofer has demanded. In an interview with the Austrian daily Der Standard, Kurz criticized other EU member states for "looking down" on the anti-immigrant leaders of Europe, namely Hungary's Orban and Italian Interior Minister Matteo Salvini.
"Austria can't be building bridges and an axis at the same time," said Lehne, referring to the supposedly neutral role as council president. If the presidency goes well, Lehne muses, Kurz could come out as pro-European. If it doesn't, he might end up being more skeptical. "I think he doesn't know yet himself."
As chancellor, Kurz still lives in Meidling. This hasn't kept him from criticizing Austria's multicultural capital, which is governed by a coalition between Social Democrats and the Green party. "There are enough Viennese who are moving into another district because they no longer feel safe in their street," Kurz said in September 2017. There are no statistics to prove this; instead, the consulting firm Mercer this year named Vienna the most liveable city in the world, for the ninth year running.