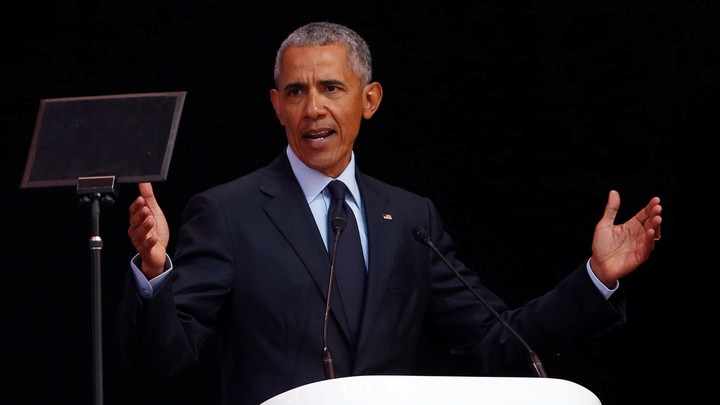 Less than 24 hours after an astonishing joint news conference between Donald Trump and Vladimir Putin, in which Trump sided with Putin over his own intelligence agencies, former President Barack Obama finally did what his supporters have waited for him to do since he left the Oval Office.
He spoke up, forcefully, with a dire warning about the direction of global politics. "I am not being alarmist, I'm simply stating the facts," Obama said in a closely watched speech in South Africa.
"Look around," he said. "Strongman politics are ascendant, suddenly, whereby elections and some pretense of democracy are maintained, the form of it, where those in power seek to undermine every institution or norm that gives democracy meaning."
"The free press is under attack," he added. "Censorship and state control of media is on the rise. Social media, once seen as a mechanism to promote knowledge and understanding and solidarity, has proved to be just as effective promoting hatred and paranoia and propaganda and conspiracy theories."
The occasion for Obama's remarks was the 16th annual Nelson Mandela Lecture, and though he did not mention his successor by name, President Trump loomed large in the speech. Trump, in contrast to Obama, has rebuked America's Western allies while offering kind words to the world's strongmen—from Turkish President Recep Tayyip Erdoğan to Filipino President Rodrigo Duterte, Chinese President Xi Jinping, and North Korean leader Kim Jong Un, who is perhaps a category unto himself. But Trump's warmest words have been reserved for Vladimir Putin, the Russian leader.  
The fact that Obama's lecture came a day after Trump's news conference with Putin in Helsinki, Finland, suggests that Trump's latest support of Putin may have been a tipping point. In the 18 months since he left the presidency, Obama's silence has frustrated some of his supporters even as Trump has dismantled many of his predecessor's most cherished accomplishments, including the nuclear deal with Iran and the Affordable Care Act. But Obama, in keeping with his own predecessors' actions, has remained silent, allowing Trump to perform his duties as president unfettered by the criticism of the 44th president.
Trump has been harshly criticized for his remarks at that event in which he said he believed Putin's assurances that Russia did not interfere in the 2016 presidential election over the assessment by his own intelligence agencies that Moscow did just that. Trump also criticized Democrats and the media for the poor state of U.S.-Russia relations, and reiterated his often-repeated view that the FBI and Special Counsel Robert Mueller were engaged in a "disgraceful" "witch hunt" against him. Many of the themes that past U.S. presidents have raised publicly with Putin—including human rights in Russia, its annexation of Ukraine's Crimea region, its alleged interference in elections in the U.S. and elsewhere, and its alleged use of nerve agents to target political rivals—were publicly left unsaid during Monday's news conference.
The broad themes of Obama's speech, meanwhile, left little doubt about the targets of his criticism. He touched on the erosion of a consensus on what constitutes facts; "news cycles [that bring] more head-spinning and disturbing headlines"; and the threat of a "return to an older, more dangerous, more brutal way of doing business."
"People just make stuff up. They just make stuff up. We see it in the growth of state-sponsored propaganda. We see it in internet fabrications. We see it in the blurring of lines between news and entertainment," Obama said. "We see the utter loss of shame among political leaders where they're caught in a lie and they just double down and they lie some more. It used to be that if you caught them lying, they'd be like, 'Oh, man'— now they just keep on lying."
We want to hear what you think about this article. Submit a letter to the editor or write to letters@theatlantic.com.