Another Novichok Poisoning Has Britain Investigating a Dangerous Mystery
Authorities insist public risk remains low after civilians fell ill from exposure to a nerve agent.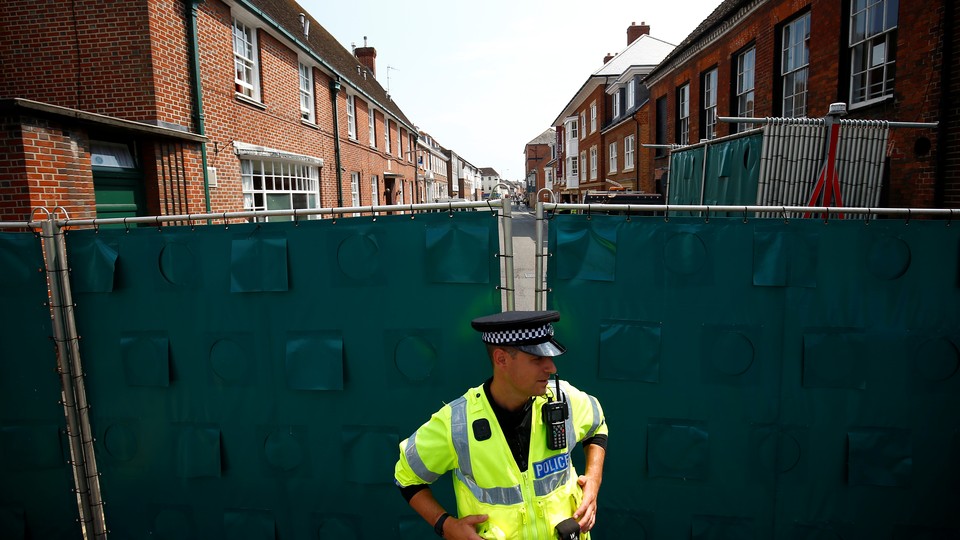 Caution tape and teams of hazmat-clad forensic investigators returned to Britain this week after two civilians fell ill from exposure to Novichok, the same nerve agent used in the recent poisoning of a former Russian spy and his daughter in the city of Salisbury. This time, the victims were not Russians, but a British couple. And unlike the first poisoning, which the U.K. accused the Russian government of orchestrating (a claim Moscow denies), there is no indication these victims were targeted on purpose.
British authorities confirmed it was the second Novichok poisoning to occur in four months late Wednesday night, four days after 45-year-old Charlie Rowley and 44-year-old Dawn Sturgess fell ill in Amesbury, a city located just seven miles from where Sergei and Yulia Skripal were poisoned last March. Like the Skripals, Rowley and Sturgess were found to have exhibited signs of nerve-agent exposure, including convulsions, sweating, and foaming at the mouth. Also like the Skripals, the couple are believed to have come into contact with Novichok during a visit to Salisbury earlier that day. As of this writing, both remain in critical condition.
But there are also some key differences between the two poisonings. British Home Secretary Sajid Javid said there is no evidence to suggest either Rowley or Sturgess visited any of the places the Skripals had been to in Salisbury on the day they were poisoned—sites authorities say have since undergone exhaustive testing and decontamination. "Our strong working assumption is that the couple came into contact with the nerve agent in a different location to the sites which have been part of the original clean-up operation," Javid told British lawmakers Thursday in the House of Commons. Though authorities have yet to determine if both pairs of victims were poisoned from the same batch of Novichok, Neil Basu, Britain's most senior counter-terrorism officer, said Wednesday that there is no evidence to suggest Rowley and Sturgess were targeted deliberately. Sally Davis, the U.K.'s chief medical officer, confirmed the risk to the public remains low.
Efforts by British authorities to reaffirm public safety in the wake of Novichok's resurgence in Britain—especially so close to the site of the original attack—is understandable. But nestled within their reassurances are potentially worrisome admissions. If Rowley and Sturgess did not visit any of the sites visited by the Skripals, then it's likely they came into contact with the nerve agent elsewhere—a location authorities may not yet be aware of. And if there is no indication that either of them was deliberately targeted, it seems to follow that they stumbled upon the substance accidentally.
One of the many theories is that the couple handled something contaminated with the substance—a theory buoyed by reports that investigators found the greatest concentration of Novichok on their hands, as opposed to other parts of their bodies. Simon Cotton, an honorary senior lecturer in chemistry at the University of Birmingham, told me such a scenario would be possible with a substance as persistent as Novichok, noting that one likely source could be the container within which the nerve agent was originally held. "We know that Novichok has been brought into the Salisbury area and has been used to try and kill the Skripals," he said. "We don't know what the people responsible did with the container, if there was more than one container, how they disposed of them."
Here's another theory: Perhaps the couple came across residue of the substance elsewhere in Salisbury. "Novichok, unlike other nerve agents that are in a vapor or liquid form, is in an ultra-fine powder," Daniel Gerstein, a senior policy researcher at the RAND corporation and a former senior official at the U.S. Department of Homeland Security, told me. "The thing about a powder that makes it very interesting is that it settles out and does not go away. So if it settles out onto a railing … it's entirely possible that someone could have brushed up against it and not realized."
That Rowley and Sturgess may have stumbled upon Novichok accidentally has not been ruled out by investigators, and it's a scenario Javid has signaled the U.K. would fault Russia for if proven to be the case. "The decision taken by the Russian government to deploy [Novichok] in Salisbury on March 4 was reckless and callous," the home secretary said, adding: "It is completely unacceptable for our people to be either deliberate or accidental targets, or for our streets, our parks or our towns to be dumping grounds for poison."
Meanwhile, the Russian government is propounding its own theory about what happened. Russian lawmaker Sergei Zheleznyak suggested the incident was being used to stoke "anti-Russian hysteria" in the midst of the World Cup. Russia's embassy to the Netherlands called the assertion that Moscow had any involvement in either poisoning "dumb."
Until the investigation yields more information, U.K. Prime Minister Theresa May has insisted that Salisbury remains "very much open for business." But the prime minister's words, and those of British authorities, may ring hollow to people who fear this latest poisoning could be what the first one wasn't: an accident. In some ways, an unintentional poisoning is even scarier than an intentional one.