Who's Afraid of Mexican Populism?
Andrés Manuel López Obrador, the newly elected president, could take a pragmatic approach or go the way of Venezuela.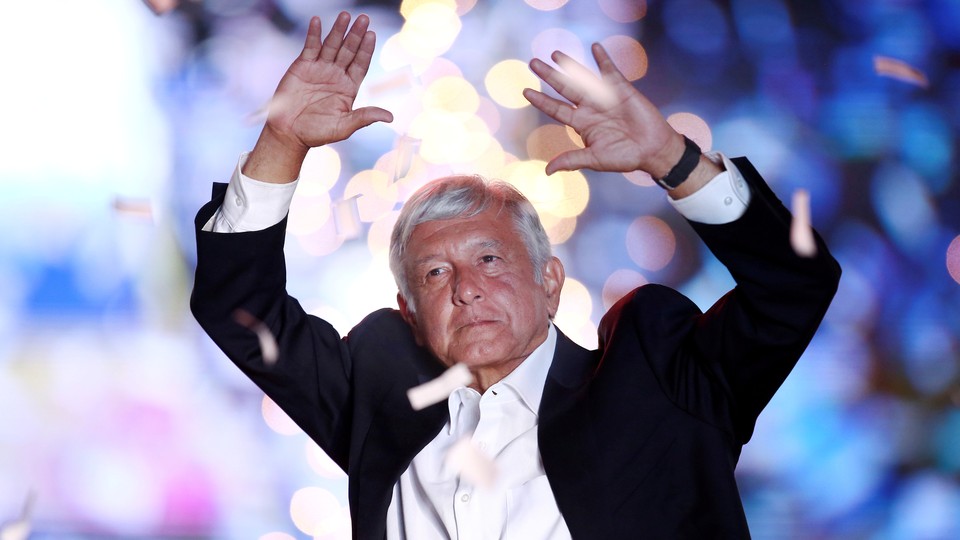 In many ways, Andrés Manuel López Obrador's victory Sunday in the Mexican presidential elections seemed preordained. The socialist former Mexico City mayor is a two-time presidential candidate. He has been labeled a populist, an outsider, Mexico's Donald Trump, and a "tropical messiah." His ascent to the pinnacle of Mexican politics, after failed runs in 2006 and 2012, is as much a testament to his campaign as it is to the fact that Mexico's dominant political parties are deeply unpopular, the economy is sputtering, and systemic corruption and crime are rampant. In such a scenario, López Obrador, who is projected to win about 53 percent of the vote, was the obvious choice.
But getting elected, in the face of deep skepticism from investors and the business community, not to mention reservations in Washington, was the easy part. López Obrador, who, because of his initials, is known as Amlo, will now preside over a country that struggles with corruption, violence, and inequality, as well as an economic uncertainty because of the fate of the North American Free Trade Agreement, which President Trump wants to renegotiate; and the decline of the country's oil industry. The new leader has vowed to bring transformation—"We are now in a position like never before to finally achieve real change"—but with few specifics. The path he chooses to achieve that change will be closely watched by his allies as well as his political adversaries and skeptics. For them, the best-case scenario is the route followed in Brazil; the worst: Venezuela.
In the early 2000s, Brazil was facing some of the same problems Mexico is today, including rising inequality and violence, that made the candidacy of Luiz Inácio Lula da Silva, a former trade-union leader, an attractive proposition for voters. Not investors though. They feared that Lula, as he is known, would destroy Brazil's economy through left-wing economics. Lula was, if nothing else, pragmatic. He re-energized Brazil's economy, introduced generous social-welfare programs, and achieved, by some estimates, modest reductions in income inequality. For this he was re-elected once, and stepped down from the presidency in 2011, lauded by Brazilians and international investors. (After he left politics, he became embroiled in a massive corruption scandal that has engulfed nearly all of Brazil's major politicians from across the political spectrum. His was disqualified from seeking the presidency in 2018 over those charges.) The other prominent moderate leftist elected during the same period was Michele Bachelet, Chile's Socialist leader, whose policies were similarly praised.
Venezuela offers a very different path. The late Hugo Chavez, buoyed by high oil prices, announced generous social-welfare programs, nationalized many industries, and offered free oil to places like Cuba in exchange for medical doctors. The policies resulted in the virtual ruin of what was once one of Latin America's richest countries. Chavez's successor, Nicolas Maduro, continued those policies, but was hurt by the decades-low price of oil. He has since consolidated the government in his hands, stifled the opposition, and virtually killed the independent media in a country that is now an economic basket case. That model has been adopted, with similar effects, in Bolivia.
There are clues to which way López Obrador will go. Although he has said he will reverse some of the energy-sector reforms announced by Peña Nieto, the incumbent who is restricted from seeking a second term by term limits; and that he will cancel the work on a new airport for the capital, his aides have tried to placate investors and the Mexican elites. There is a practical side to him, too. When López Obrador served as mayor of Mexico City from 2000 and 2005, he worked with Carlos Slim, the Mexican billionaire, on developing the capital's historic downtown. He also improved the city's highways and created a pension fund for the elderly. More recently, he has told Mexico's elites that he will restrict spending, seek to preserve NAFTA, and has formed an electoral alliance with an evangelical Christian party.
"His likely cabinet picks are technocrats and businesspeople, not radicals," Jennifer Piscopo, an expert in Latin American politics at Occidental College, told Bloomberg.  His "win is more a story about Mexican voters' dissatisfaction with the incumbent government than a preference for leftist demagoguery. His election raises questions about Mexico's future, but fears about a Venezuelan-style dictatorship on the U.S.'s southern border are overblown."
It should be noted here that Trump was not an issue in this election. The American president's derogatory language to describe Mexicans has ensured that he is universally reviled in the country; that anti-Americanism, a strain within Mexican politics, that had virtually disappeared in the country, has returned; and Mexicans are keen they don't end up, in their view, losing in any renegotiation of NAFTA. While his advisers maintain language that placates markets, López Obrador has said no NAFTA is better than a bad NAFTA. (His home state of Tabasco did not see the gains from the pact as did other parts of Mexico that received foreign investment.)
Ultimately those looking for clues on how López Obrador might  govern his country should look to his long record in politics. The new Mexican president might position himself as an outsider, but he has been a part of Mexican politics since the 1970s, first as part of the PRI, the current center-right ruling party that has dominated Mexican politics for decades, then as a member of the PRD, the center-left party, before forming his own party, Morena, in 2012. His political longevity that has taken him from the fringes of Mexican politics to its pinnacle shows a man adept at dealing with changing times and changing voter demands: in other words, López Obrador is likely to be a successful politician, populist at times, perhaps, but not an ideologue.