What's Missing From Kim Jong Un's 'Very Nice Note' to Trump
The North Korean leader cites "epochal progress," but leaves out one very important issue.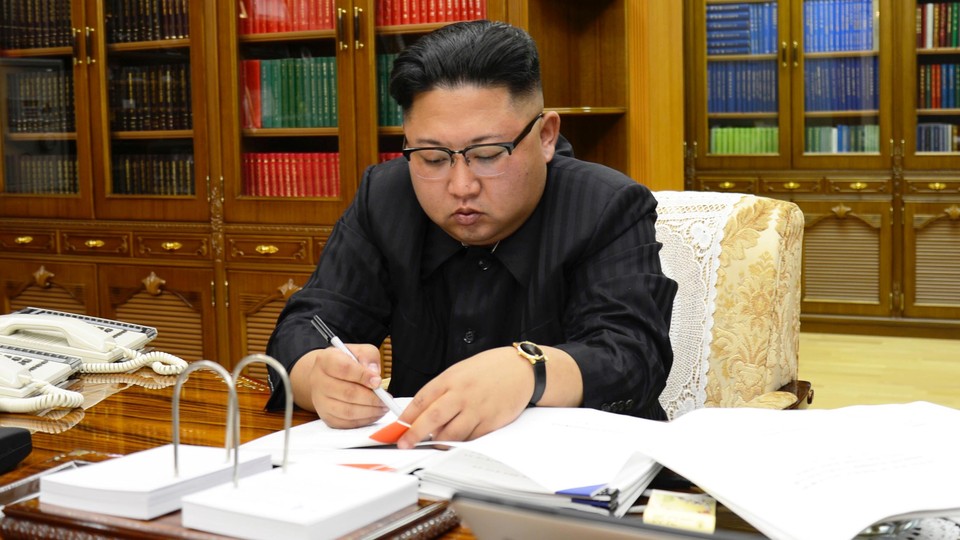 Donald Trump called it "a very nice note." And it is super-nice! In the letter that the president published on Twitter on Thursday, Kim Jong Un refers to Trump as "Your Excellency" and writes glowingly of the "meaningful journey" he and the U.S. president have embarked on since last month's summit in Singapore. He notes the "epochal progress" they're pursuing in improving U.S.-North Korea relations, which he suggests could include a second meeting between the two leaders.
But there's one word conspicuously missing from the message, which Kim's deputy delivered to U.S. Secretary of State Mike Pompeo in Pyongyang last weekend: "denuclearization." The North Korean leader makes no mention of giving up his nuclear-weapons program, his more ambiguous vow in Singapore to "work toward complete denuclearization of the Korean peninsula," or anything else related to his nuclear weapons. The closest he gets is mentioning "faithful implementation of the joint statement" he and Trump signed at the summit, but even there it's in the context of praising Trump's efforts to implement the agreement, not his own.
The omission is significant for two reasons. First, Kim wrote the letter at a time when several signs have emerged that North Korea may not be prepared to make serious concessions on its nuclear program. Pompeo left his meetings in Pyongyang—the first high-level talks since the Singapore summit—with nothing substantive but Kim's letter and a furious statement from the North Korean Foreign Ministry, denouncing the secretary of state for pressing the Kim government to disclose the elements of its nuclear program and take verifiable steps to dismantle it. "The North Koreans were just messing around, not serious about moving forward," one anonymous source with knowledge of Pompeo's negotiations told CNN. This week, the North Koreans, without offering an explanation, didn't show up for a planned meeting with U.S. officials at the Korean Demilitarized Zone to discuss returning the remains of U.S. soldiers killed during the Korean War—repeating the kind of snub that contributed to the temporary cancellation of the Trump-Kim summit in May. The "immediate repatriation" of remains already identified was one of the four points in the Singapore agreement.
Second, the letter is yet another indication that North Korea is emphasizing better relations over denuclearization, even though the diplomatic process that it's currently engaged in has been designed to pursue both goals simultaneously. The concern, Duyeon Kim of the Center for a New American Security told me earlier this week, is that North Korea could hold nuclear talks "hostage to peace talks" by focusing "heavily or only on a peace regime and normalizing relations with the U.S. while pushing serious negotiations on denuclearization to much later. … Then we may end up signing peace with a nuclear-armed, economically vibrant North Korea that also enjoys normal relations with the U.S."
On Monday, Pompeo sought to put a positive spin on the discouraging developments in recent days by noting that the North Korean statement that had been so critical of his visit "continued to express [Kim's] desire to complete the denuclearization to which he is so committed." And the statement did, indeed, make brief mention of denuclearization as a process that depends on building trust and better relations between North Korea and the United States. In his own letter, though, Kim himself didn't seem to think it worth mentioning.