Israel's New Law Inflames the Core Tension in Its Identity
Critics, especially Jews in the diaspora, see it as a definitive declaration in favor of a Jewish identity at the expense of a democratic one.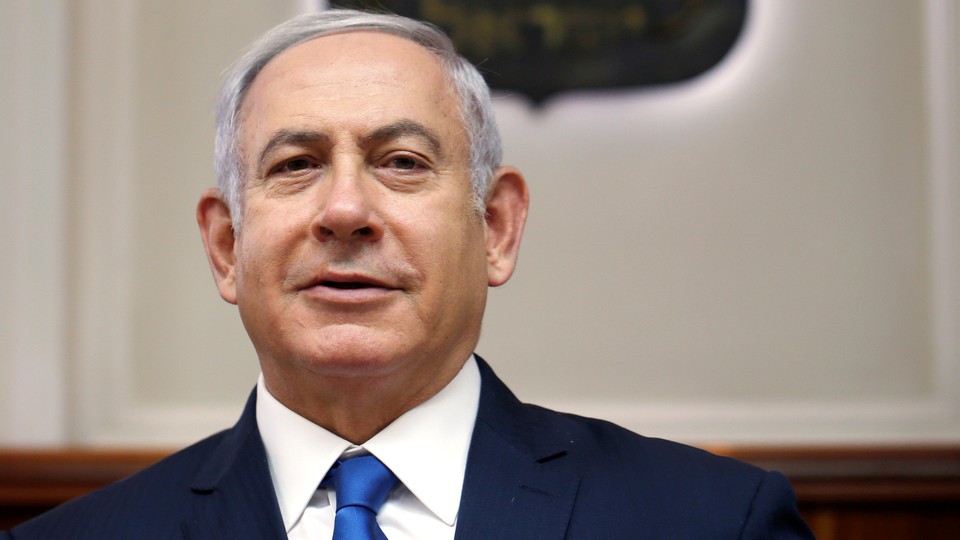 Israel passed a law this week that has been floating around the Knesset for a half-dozen years. Branded the "nation-state bill," the legislation declares that Israel is the historic homeland of the Jewish people, and that "the right to exercise national self-determination in the State of Israel is unique to the Jewish people." It establishes Hebrew as the official language of Israel and downgrades Arabic to a language with "special status," even though many people in Israel's sizeable Arab minority primarily speak in Arabic. The law also asserts that Jewish settlement—without specifying where—is a national value, and promises to encourage and advance settlement efforts.
Some liberal Jews, especially outside of Israel, are outraged. "The damage that will be done by this new nation-state law to the legitimacy of the Zionist vision … is enormous," wrote Rick Jacobs, the head of the U.S.-based Union for Reform Judaism, in a press release. J Street, a liberal Zionist organization, called it "a sad day for Israel and all who care about its democracy and its future."
The law is controversial because it inflames the core tension in Israel's identity. The country was established as a democracy—and a model of Western, liberal values—but it's also premised on Jewish identity. In a state established as the national homeland of the Jews, it was never entirely clear what rights non-Jewish minorities should be assigned, and Israel has been arguing with itself over how to balance these identities since it was founded. Critics, especially Jews in diaspora, see this new law as a definitive declaration in favor of the Jewish identity at the expense of the democratic one.
The interpretations of those outside the land and those living there don't always overlap, however. Israel's new law is a consequential signal of Israel's values, especially when it comes to Arab-Israeli minority rights. But its passage doesn't necessarily represent the right-wing victory that critics claim.
The nation-state bill was first introduced in 2011 by a center-right member of the Knesset, Avi Dichter. The core goal was to establish the unique Jewish right to an Israeli homeland as one of Israel's basic laws—effectively, its foundational, constitutional rules. When the final version passed this week, Dichter declared that "we are enshrining this important bill into a law today to prevent even the slightest thought, let alone attempt, to transform Israel to a country of all its citizens," according to Ynet, an Israeli news website.
Prime Minister Benjamin Netanyahu put it this way: "We enshrined in law the basic principle of our existence. Israel is the nation state of the Jewish people, that respects the individual rights of all its citizens. This is our state—the Jewish state. In recent years there have been some who have attempted to put this in doubt, to undercut the core of our being. Today we made it law: This is our nation, language, and flag."
In its initial form, however, the bill didn't win much support, and its provisions have been haggled over ever since. "Over the long and tortured seven-year history of this bill, it has essentially been emptied of almost all of the content that the right-wing folks who supported it at the beginning sought for it to contain," said Noah Efron, a professor at Bar-Ilan University and former member of the Tel Aviv City Council. "If the right-wing government has worked for seven years on a bill that in its first forms had teeth, and in the end they pass a weakened bill that's symbolic … is that a sign of strength or of weakness?"
And indeed, Bezalel Smotrich, a member of the Knesset's right-wing Jewish Home party, wrote on Facebook after the bill passed that he felt conflicted about the final version. "It does not mention the name of God," he complained, or "a settlement clause with real practical significance." Efron, who has been monitoring the reaction to the bill in Israel, told me that ultra-Orthodox newspapers have been arguing that the law could end up being challenged in Israel's largely liberal courts, which could ultimately undermine its provisions—or worse. The law establishes Shabbat as an official day of rest in Israel, and ultra-orthodox Jews worry that courts could end up reversing that or making it harder to protect Shabbat observance through laws that close public stores, for example. Smotrich echoed this as well in his written comments.
On some parts of the Israeli left, though, the reaction has been vastly different. "It fits so well with the narrative on the left that it's almost not questioned: that Israel is sliding towards an abyss of non-democracy, of rising commitment to ethnocracy," said Efron. "There are people who really felt as though: This is it. This is the day I'm marking on my calendar, the day when Israeli democracy ended." For his part, Efron thinks "that's crazy," even though he identifies with the political left himself. He doesn't think the bill matters nearly so much, especially because it has minimal practical effect.
"Arabic is no longer an official language, but it's not going to suddenly stop being spoken by 20 percent of the Israeli population," said Sara Hirschhorn, a lecturer on Israeli history at Oxford. "Stores and businesses and buses were already closed on Shabbat in some parts of Israel. What difference is [the provision about Shabbat] going to make?"
Daniel Sokatch, the head of the liberal Zionist organization the New Israel Fund, sees the new law as a signal of what Israel values—and where it's heading. Even if it won't change much about day-to-day life in Israel in the short term, it's part of a larger trend. The law asserts "Jewish supremacy," he told me, and serves "mostly to be a stick in the eye to Israel's 22-percent Arab minority."
Many liberal Jewish organizations in the U.S. have echoed this apprehension: This is one more sign, they say, that Israel is becoming less tolerant of minorities—including non-Orthodox Jews. Steven Wernick, the head of the Conservative Jewish movement in the U.S., wrote a letter to the Israeli government protesting the bill, according to Haaretz. The legislation was passed around the same time that a Conservative rabbi was arrested in Israel for performing a non-Orthodox wedding, which is illegal; the Conservative movement condemned the arrest in a statement.
"Israel is losing its soul and weakening its democracy and Jewish character," Wernick said, according to Haaretz. "Its beacon of light on the nations is now dim. Even I am having difficulty seeing it."
But diaspora Jews may be imagining Israel differently than Israelis imagine themselves. "Israelis, specifically, see Israel as a political concept. And diaspora Jewry see it more as a spiritual expression," said Hirschhorn. This is evident even in Wernick's language: For many diaspora Jews, Israel represents the hope of a righteous expression of Jewish values—"a beacon of light"—rather than a state with a horse-trading political process and all its attendant shortcomings. Especially in America, where the establishment of a state religion would seem anathema to most citizens, the ethno-religious aspects of Israel can be jarring. "Part of Zionist DNA …. was to have elements of a special status for Jewish homeland and Jewish historic rights that would be elevated above the rights of others," Hirshhorn said.
Palestinians and Arab-Israelis have condemned the bill, arguing that it formally sanctions discrimination against minorities in both Israel and its territories. "What surprised me is that Israel went ahead and just enshrined that Jewishness is more important than its democratic character," said Nizar Farsakh, who was a member of the peace-negotiation team of the Palestinian Liberation Organization between 2003 and 2008. "That has always been the case—that's how Palestinians experience Israel—but to actually make it into the [basic law] is a first."
The prospect of a peace deal between Israelis and Palestinians has long been distant, but over the past few months—with ongoing protests in Gaza and signs of a deepening alliance between Israel and the U.S.—it has seemed even less likely. Farsakh said the new law makes any kind of negotiation impossible. "Rationally speaking, you cannot expect peaceful resolution to the Arab-Israeli conflict with such a statement," he said. "Now it's law: Jews have higher rights than non-Jews." Saeb Erekat, a current representative of the PLO, wrote in a statement that "this law builds up on dozens of racist and discriminatory laws against non-Jews. … We are convinced that this law would not have been passed without the culture of impunity that Israel continues to enjoy."
While the law is new, the challenge it presents to Israel's identity is not. This was written into the very first lines of the 1948 Israeli declaration of independence: "The Land of Israel was the birthplace of the Jewish people. … After being forcibly exiled from their land, the people kept faith … and never ceased to pray and hope for their return to it." This law repeats the longstanding Jewish claim to the land of Israel, which some believe extends all the way between the Jordan River and the Mediterranean Sea. As far as the current Israeli government is concerned, it seems, that claim is the only one that truly matters.