Why Would Iran Want to Talk to Trump Anyway?
He loves the pageantry and attention of a big summit. But Rouhani won't meet unless he has something to gain.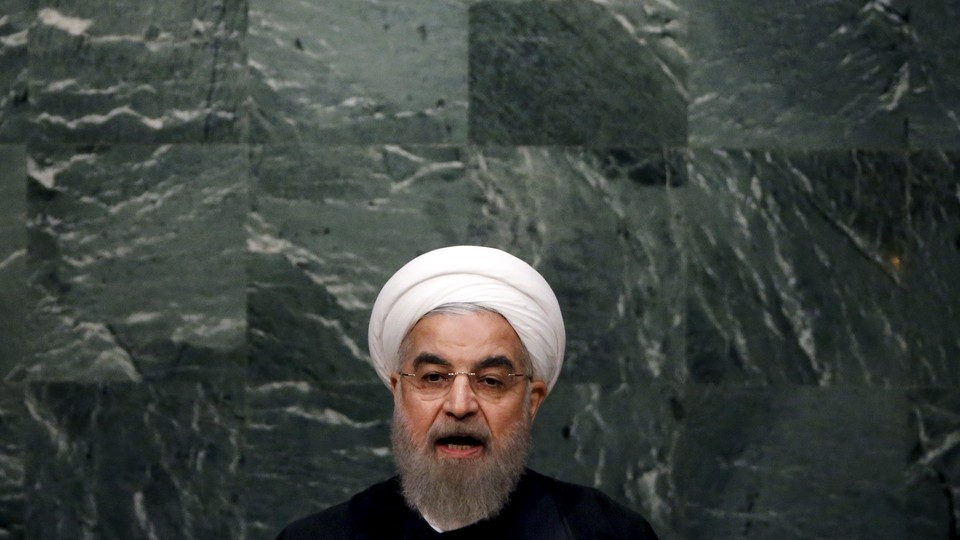 One would think that Tehran might welcome President Donald Trump's recent announcement that he is willing to meet with his Iranian counterparts "any time they want" with "no preconditions." After all, Trump's offer could be interpreted both as a vindication of Tehran's refusal to blink first, and as a timely relief for an embattled Iranian economy. Only days earlier, Trump had issued an all-caps tweet vowing that Iran would face "CONSEQUENCES THE LIKES OF WHICH FEW THROUGHOUT HISTORY HAVE EVER SUFFERED BEFORE" if it dared threaten America again. Rather than yielding to the president's warning, Iran dismissed it, and lobbed yet another threat of its own.
Trump's apparent retreat to a more conciliatory tone affirmed, yet again, the vacuity of his rhetoric. The Islamic Republic may have seized upon his shift as evidence that he, not they, had backed down. At the same time, Iran's leaders are struggling with a virtually unprecedented corrosion of their currency. With the reimposition of U.S. sanctions only days away, the announcement of a summit between Trump and Iranian President Hassan Rouhani might have cushioned the blow.
That, however, was not to be. Rather than accepting Trump's invitation, Tehran reacted with collective indifference—a stance that is only likely to harden over time.
Talk of negotiations and high-level meetings between the United States and Iran is nothing new. Trump reportedly tried to meet Rouhani last September on the sidelines of the UN General Assembly, right after he delivered a fiery speech critical of Iran. The Iranians promptly spurned his outreach, as his harsh insults had rendered the political cost of engagement prohibitive for Rouhani and his associates. Trump remains radioactive in Tehran, and not just because of his Twitter feed.
Since then, circumstances have only worsened. The Trump administration has walked away from the 2015 nuclear deal. Many Iranians had pinned their hopes for a better life on the deal, and it may well have improved relations between the two countries. Instead, the Trump administration is now seeking to levy sanctions that would crush the Iranian economy. It has done little to disguise its goal of fomenting unrest among Iranians. Stung by the deal's failure, burned by Washington's attitude, and keen to survive politically, Rouhani, for his part, has adopted the bellicose tone characteristic of the Islamic Republic's hard-liners.
In his speech announcing his withdrawal from the nuclear deal, Trump said, "Iran's leaders will naturally say that they refuse to negotiate a new deal … I probably would say the same thing if I was in their position. But the fact is they are going to want to make a new and lasting deal, one that benefits all of Iran and the Iranian people. When they do, I am ready, willing, and able." Then, too, the Islamic Republic chose to ignore the invitation: They were not about to negotiate with a leader who had just unjustifiably scrapped the outcome of prior negotiations, and openly claimed he had done so to strengthen his hand. As Iranian officials have pointed out since Trump's latest pronouncement, destroying the smidgen of trust that the deal created between the two sides impeded any further talks.
More broadly, there is a widely shared conviction among Iranian officials that no deal can be struck with such a mercurial U.S. president. Iranian officials often cite a long list as evidence: One day, he approves a G7 statement; the next day, he withdraws his signature. One day, he threatens his adversaries with Armageddon; the next day, he showers them with praise. His secretary of state lays out preconditions for negotiating with Iran both before and after the president claims there are none. For Tehran, all this is proof that talking with Trump is "as futile as milking the ram," as a senior Iranian diplomat recently told me.
Another obstacle standing in the way of Iranian leaders meeting with Trump is certain elements of the foreign-policy establishment in Washington, D.C. Trump might see the allure of a "mother of all deals" with Iran, which conceivably could bring about a nuclear pact more advantageous to the United States and deescalate tensions in Syria, Yemen, and elsewhere in the Middle East. But, as Iran's ambassador to the United Nations recently pointed out, no one in the president's entourage seems to share that sentiment. Instead, the Iran hawks and Washington, D.C., lobbies associated with Iran's regional rivals seem to prefer to let sanctions take their toll on its economy, forcing the Islamic Republic to surrender or—they hope—generate a popular uprising that topples the regime.
There's also something of a difference of opinion between the two sides over the inherent value of summits. While Trump seems to love summitry and its associated pageantry, the Iranians, as a foreign-policy adviser to the supreme leader explained, put little currency in "meeting for the sake of [a] meeting" that "produces intangible results." Still fresh off his unprecedented sit-down with North Korea's Kim Jong Un, Trump seems interested in leveraging "maximum pressure" to reach a hitherto unachievable deal with Iran. But the two cases are quite different. In the past, Tehran has engaged Washington only when it felt either a U.S. invasion was imminent, like in 2003 after America toppled Saddam Hussein in Iraq, or when it had a strong hand. In 2007, Supreme Leader Ali Khamenei green-lit narrow negotiations aimed at stabilizing Iraq when the United States was bogged down by an insurgency abetted by Tehran. In 2012, he approved nuclear negotiations only when he felt that Iran had accumulated sufficient nuclear capabilities to extract reciprocal concessions from the Obama administration. The Iranians doubt that Trump will invade a country four times the size of Iraq with twice its population. They have also given away most of their leverage due to the nuclear deal Trump tore apart. As such, from Tehran's perspective, neither the time nor the circumstances are ripe for negotiations.
There is yet another impediment to talking: a lack of positive incentives. The notoriously transactional Trump should have no problem understanding the Iranian leadership's bazaar mentality. But the one thing he has never hinted at is what he is willing to put on the table in return for concessions from Iran, giving Tehran the impression that he is only interested in a less-for-more arrangement—a nonstarter for any half-decent negotiator. As such, it is no surprise that shortly after Trump's remarks about meeting with his counterpart in Tehran, one of Rouhani's advisers tweeted that "those who believe in dialogue as a way of resolving conflicts should subscribe to its imperatives: respect to the great nation of Iran, reduce tensions, and return to the nuclear deal."
While Trump is unlikely to recommit to the nuclear deal, he can still open mutually beneficial negotiations with Iran aimed at achieving what he has described as a "real deal." A first step would be to appoint a special Iran envoy who does not belong to the hawkish neoconservative camp and with whom the Iranians have had positive working relations. The envoy could develop a set of achievable and realistic confidence-building measures that could lead to a more comprehensive understanding. For instance, Iran could release American citizens it has imprisoned on spurious charges, while the United States could grant sanctions exemptions to certain European or Asian companies willing to work with Iran. Another necessity: toning down the rhetoric and hints at regime change. This would signal to Tehran that Trump is serious about engagement, and willing to circumvent domestic political obstacles.
Expecting sanctions to compel Iran to raise the white flag is akin to waiting for Godot. The key to a historic breakthrough is respect and reciprocity. The president has severed all channels of communication between Iran and the United States and scuttled the only diplomatic achievement the two countries had clinched in many years. If he now wants to talk, he should take steps to repair the damage he has caused. That would be a Nobel-worthy effort.