They Don't Make Helsinki Summits Like They Used To
The Finns are once again preparing to host Russian and American leaders—but the context is very different this time.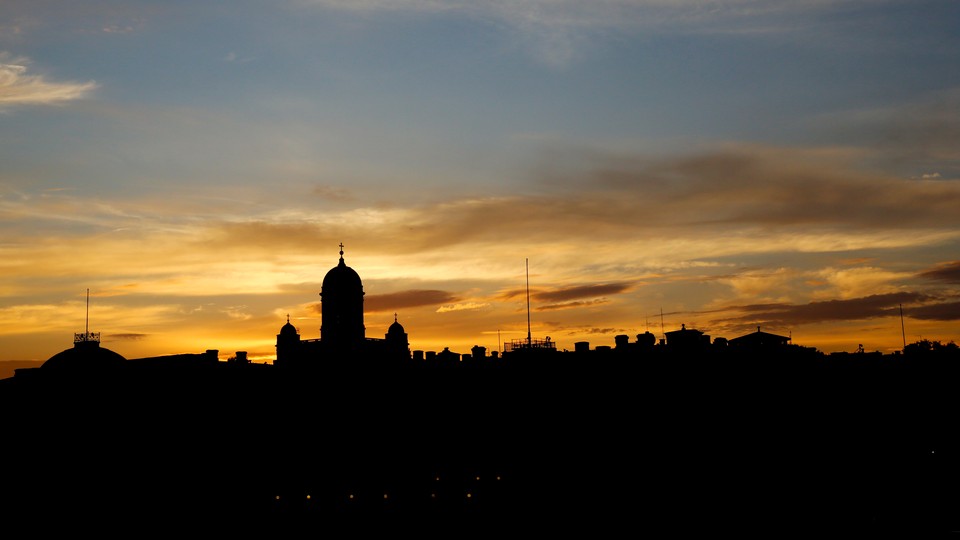 HELSINKI—There's a strong sense of déjà vu as U.S. President Donald Trump and Vladimir Putin, the president of Russia, prepare to sit down together in Helsinki on Monday. The Finnish capital hosted numerous Cold War-era negotiations between the United States and the Soviet Union, and both presidents are eager to portray themselves as the leaders of two superpowers prepared to make their mark on history. But while the location and parties involved might be familiar, the similarities between the upcoming meeting in Finland and its Cold War antecedents stop there.
Unlike past U.S. presidents that came to Helsinki as ambassadors for the Western world, Trump comes as the man who is throwing it into chaos. Before departing for his European trip earlier this week, Trump quipped that his sit-down with the Russian president "may be the easiest of them all." The meetings that preceded it were certainly difficult. While the final communiqué from the NATO summit contained unified and tough language against Russia ahead of the meeting in Finland, much of that has been undercut by Trump's own behavior and rhetoric. The NATO summit was by all accounts tense—most notably with Germany— who Trump accused of being "captive to Russia" due to plans to build a new gas pipeline. The dark cloud of Robert Mueller's investigation into Russian meddling in the 2016 presidential election—as well as the recent indictment of Russian military intelligence officers by a federal grand jury—will keep the issue of election interference and Trump's seeming unwillingness to press Putin on the issue in the spotlight. "Trump is going to Helsinki after having shown a lot of disdain for the Western alliance and lots of praise for Putin," Angela Stent, a former U.S. national intelligence officer on Russia and a professor at Georgetown University, told me. "I'd think that's making Putin quite pleased."
While the Finnish capital has been abuzz with around the clock preparations to knit together a smooth and efficient event on only a few weeks' notice, the meeting in Helsinki has been producing anxiety across the West. On the one hand, expectations remain low. The word "summit," used to denote a high-level meeting with a pre-arranged agenda, quickly vanished from official documents after it was announced in late June. Instead, Helsinki will be a flashy one-day event with an unstructured agenda that has largely come about due to Trump's reported personal desire to meet with Putin, rather than the need to discuss a particular issue at the highest level. But the specter of a potential grand bargain also hangs over the meeting. Trump has, for example, hinted about recognizing Moscow's illegal annexation of Ukraine's Crimean peninsula, sparking concerns that the U.S. president's desire to "get along" with Russia could lead to concessions.
All of this sets up the meeting in Helsinki as a historic, yet potentially hollow event, as the city plays host for the American and Russian leaders against a very different geopolitical backdrop than in the past. "This is not a meeting about substance, it is a meeting about being disruptive and trying to captivate the world," Andrew Weiss, a former director for Russian, Ukrainian, and Eurasian Affairs on the National Security Council staff, told me. "Trump is trying to show his critics that even with the constraints on him, he still can force a new phase in U.S.-Russia relations," Weiss said.
This places Finland in an awkward spot. The country has shed its Cold War balancing act of appeasing Moscow while trying to integrate with Europe and today occupies an uneasy position as a Western country that shares an 833-mile border with Russia. Hosting the two presidents is both an opportunity for the government to showcase itself diplomatically and a source of national pride dating back Finland's historical role as a mediator.
But Putin and Trump's coming arrival has also produced a good deal of unease. Not only are both men uniquely unpopular in the country—83 percent of Finns have a negative view of Trump and 76 percent have a negative view of Putin, according to recent poll—but the possibility of a rapprochement between them, and how it could affect the rest of the world, has unnerved some observers. "We don't want these two leaders to cut deals over our heads," Heidi Hautala, the vice president of the European Parliament, told journalists at a press conference in Helsinki on Friday. Hautala, a Finnish Member of European Parliament, is part of a large demonstration underway on Sunday in Helsinki organized by journalists, activists, and politicians to protest Putin and Trump's domestic agendas and give a platform to global problems like climate change, inequality, and human-rights abuses that are unlikely to be discussed during the meeting with the two presidents.
The diplomacy of human rights has a storied history in Helsinki. A 1975 summit with the United States, the Soviet Union, and 33 other countries helped codify their international protection, and Finland has since celebrated its role as a host country for talks and warmly welcomed leaders from Moscow and Washington. Soviet President Mikhail Gorbachev's international reputation as a reformer led to a rockstar's embrace in 1990. During the same visit, President George H.W. Bush shook hands and greeted Finns at an outdoor market before saying "Long live Finland!" from his limousine's loudspeaker to the crowd. The city also played enthusiastic host to President Bill Clinton and Boris Yeltsin during their 1997 summit.
Such a welcome is unlikely this time around. Trump's attacks on the press, tough immigration policies, and sexist comments clash with the values of the majority of Finns. Similarly, Putin's annexation of Crimea and sabre-rattling around the Baltic Sea have brought back memories of Finland's difficult history with the Soviet Union that saw it fight two wars, cede territory, and have Moscow interfere in its domestic affairs. "We're proud that Finland is able to bring these leaders here and push for dialogue," Abdirahim "Husu" Hussein, a Finnish politician and activist involved in the protest, told me, "but both these guys are helping to diminish the status Europe and what it stands for. We need to make sure that human rights are not silenced during this meeting." Organizers said they were expecting roughly 10,000 people to show up ahead of the protest (although only 2,400 said they are going on the demonstration's Facebook page as of this writing).
Putin's political prisoners and other human-rights issues are unlikely to be on the agenda, however. Instead, Trump and Putin are said to be tackling a wider range of issues, but it remains to be seen if the meeting can produce any concrete results. "The practical outcomes for this are not clear at all," Elena Chernenko, the foreign editor of the Russian newspaper Kommersant, told me. "But there is a desire to agree to something and take home a deliverable to move forward on." The Kremlin would welcome any form of relief from sanctions due to its annexation of Crimea and role in the war in eastern Ukraine, but a 2017 law bars Trump from easing those sanctions without approval from the U.S. Congress. Arms control remains another potential area for discussion. Neither side has started talks on what to do when New START, a treaty between the two countries to cut their nuclear arsenals to 1,550 deployed warheads, expires in 2021. Putin and Trump could agree to trigger a provision and extend the treaty by five more years. But Trump rejected Putin's offer to extend the agreement in a February 2017 phone call and John Bolton, Trump's national-security adviser, remains an outspoken critic of the treaty. It's possible Trump could ask for Russian assistance in Syria to limit Iran's presence on the ground, but experts question Moscow's ability to truly rein in Iran.
In the end, Monday's meeting will likely be designed to open the door to future discussions. The Kremlin is aware that Trump's domestic problems make a rapprochement between Russia and the United States unlikely, but simply getting the meeting is itself a victory for Putin. Russia remains isolated from the West, but Trump's deteriorating relations with European allies, and his apparent willingness to give Putin a pass on election interference, open the door for Moscow to end its isolation on its own terms.
"Trump has created new divisions and given plenty of openings to exploit," said Weiss. "As with much of what Trump does, it doesn't require the Russians to do much except sit back and reap the knock on effects."