Confronting Horror at the Jordan-Syria Border
As the Assad regime declares victory in Daraa, Syrians fleeing his forces have been left stranded.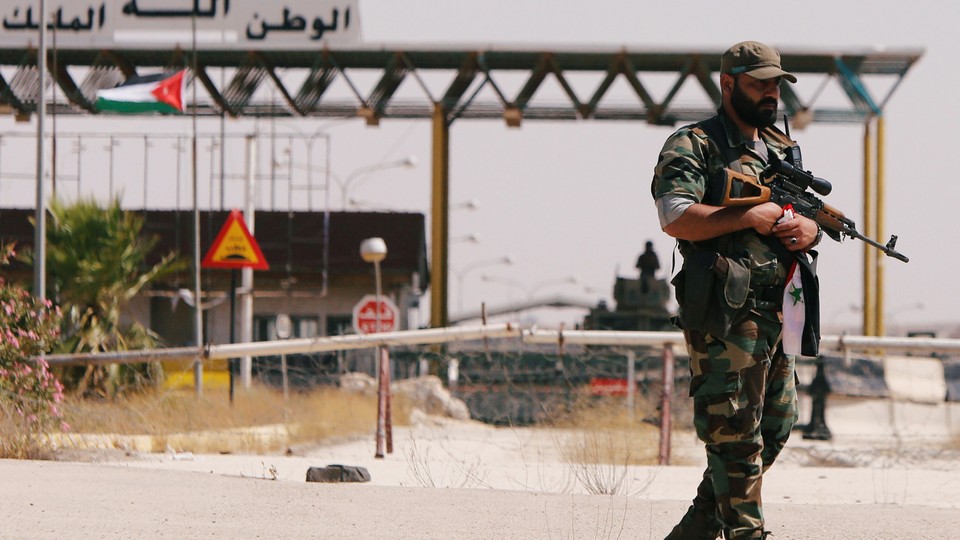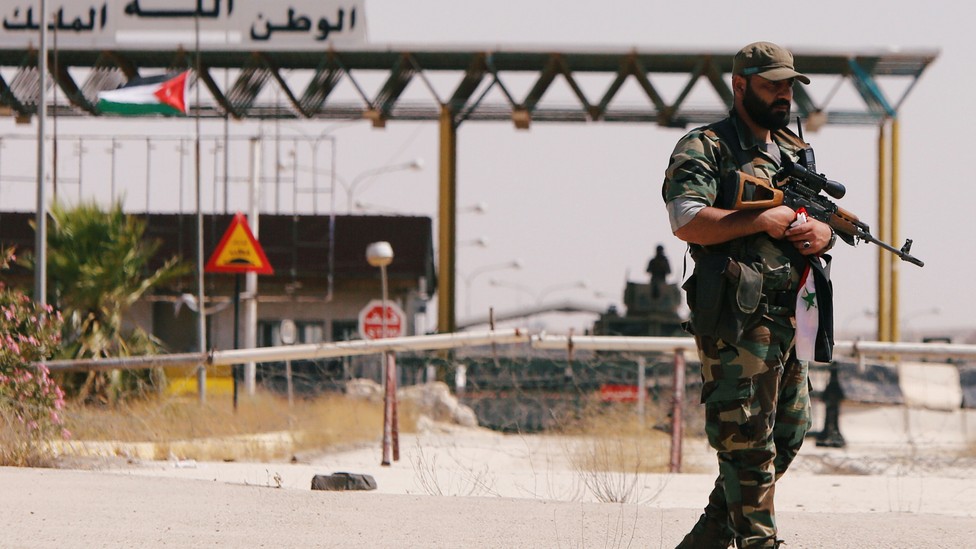 JABER AS SERHAN, Jordan—On a hill overlooking this village in northern Jordan, locals gather each day to watch as desperate Syrians amass at the border. With black smoke billowing on the horizon behind them, they pitch makeshift tents in a no-man's-land that locals call the "free zone," a former duty-free commercial zone where Jordanians and Syrians once did business. Now it's a makeshift displacement camp, hosting thousands of Syrians who fled over the past two weeks as Russian planes and Syrian ground troops attacked their homes in Daraa, a governorate in southern Syria.
The Syrian army's offensive came after a year of relative calm in Daraa and its surrounding governorates, which were declared a "de-escalation zone" under a ceasefire negotiated by Jordan, Russia, and the United States last July. The ceasefire decreased fighting but never ended it completely. While the Syrian government continued to retake swaths of territory, southern Syria was cloaked in an illusion of calm, under which opposition-held towns set up local police stations and health clinics. Meanwhile, the United States cut its support to rebel militias in the south and Jordan deported thousands of registered refugees. (Some Syrians also went home voluntarily, many of them unable to survive economically in Jordan. Others believed their home region was safe.)
On June 19, that illusion shattered as airstrikes, shelling, and ground attacks tore into Daraa, destroying hospitals, targeting civilians, and displacing more than 330,000 Syrians—the largest displacement since the Syrian war began. According to the British-based Syrian Observatory for Human Rights, 159 civilians were killed over that interval, including 33 children. The fleeing Syrians rushed to the Jordanian and Israeli borders, both of which were sealed. Jordan is "at capacity," its foreign minister tweeted, citing the government's estimate that 1.3 million Syrians are already in the country. "We can't host more," he said. Meanwhile, hundreds of thousands languished at the borders, sleeping in the desert under the open sky without sufficient food, water, or medical access. Their panic rose amid the ongoing airstrikes and the growing casualties.
On Friday, after several weeks of escalation in the "de-escalation zone," Syrian regime forces and the opposition fighters reached an agreement: The rebels, who have held the Naseeb border crossing since 2015, agreed to give it up, handing over some of their heavy weapons and allowing the Russian military police to deploy along the Jordanian border. Those rebels who oppose the deal will be evacuated to opposition-held areas in northern Syria, according to the terms of the deal, while Syrian government forces will withdraw from parts of the south, leaving Russian military police in charge of security in their stead. The Syrian regime's takeover of the border crossing will likely also allow commerce to flow once again, boosting Jordan's flailing economy. Hours after the deal was announced, Syrian regime forces reached the border crossing. For the first time in years, the Syrian national flag flew over the crossing.
The people trapped at the Jordan-Syria border have seen this sequence play out before: broken ceasefires, failed negotiations, diplomatic hand-wringing, blocked aid, closed borders, and useless rhetoric, culminating in yet another victory for the Syrian government and its Russian- and Iran-backed allies. As the regime celebrates, Jordan breathes a sigh of relief, patting itself on the back for dodging another refugee crisis while providing a token amount of relief within the border zone. Daraa's civilians are now left to take stock of the hell they've only barely survived, and ponder the unknown fate that awaits those who will now return to government or Russian rule.
---
Several weeks ago, with the help of a Jordanian helping to coordinate relief donations, I spoke with a 35-year-old Syrian woman from the border town of Naseeb. In 2012, her family first fled the war in Syria for Jordan, where they lived as refugees in the northern city of Irbid. But life there was expensive, refugees weren't allowed to work at that time, and rumor had it that Daraa, where the Syrian uprising began in 2011, was safer than the rest of Syria. So in 2014 she returned to Daraa with her five children and husband. Several months later, her husband was killed in an airstrike. In 2015, Syrian rebels took over the Naseeb border crossing, and the Jordanian government sealed the crossing, refusing to deal with a non-state authority at the border. In 2016, after a deadly car-bomb attack at an army post on the border, Jordan sealed the border altogether.
Since Tuesday, the woman and 27 of her family members have been hiding in a tent made out of floor mats just outside the free zone at the Jordanian border, she told me over the phone. One of her nephews was killed by airstrikes last week, she said, and the whole family had fled here in hopes of protection. "We are afraid. Surrender is not far from us. We are afraid of what will happen," she said. In recent days, they'd moved just beyond the free zone because they were afraid it would be besieged, as the Syrian government has done to other rebel enclaves. "We are living in horror," the woman said.
Convoys run by the UN and humanitarian agencies were unable to cross the border because they could be hit by airstrikes. According to a Human Rights Watch statement, eight airstrikes on hospitals occurred over eight days, killing at least one doctor. Most medical facilities in south Syria closed. Afraid to cross, aid trucks lined up along the Jordan side, while spokespeople decried the lack of access. "This is a catastrophe in the making, but it can be stopped at any moment, and it has to be stopped," Jan Egeland, the secretary general of the Norwegian Refugee Council, said in a statement.
The scale of that catastrophe is crushing. Displaced Syrians along the border are using holes in the ground as toilets, and living in makeshift tents stretched over sticks of wood. A rising number of sick people and children have died from scorpion stings, dehydration, and drinking contaminated water. According to the UN, nearly half of the displaced are children. The Norwegian Refugee Council's statement also included reports of pregnant women giving birth in the open desert.
Earlier this week, Medecins Sans Frontieres' Salah Daraghmeh said his group feared that people "already dying from conflict and war" were now at risk of even more death from manageable, preventable conditions like lack of access to water or cover from the sun. "When people are not protected, are not sheltered, it's going to be like hell," Daraghmeh said.
In Jaber Serhan, some Jordanians mobilized to donate blankets, food, and water to those across the border. "They don't have anything. They are just children, women, elderly, our brothers," Awad Serhan, a 60-year-old Jordanian who was helping to coordinate donations at a mosque in the border town, told me. The relief they were gathering came from the people of Jordan, they emphasized, not from the government. "We would be happy to open the borders. We'd make a camp for them," Serhan said. "But we need support from outside to do this"—a reference to Jordan's ongoing economic and unemployment crisis. "We are also suffering," one teenager on the hill overlooking the border told me.
---
The two-week advance on Daraa by Syria and its allies followed the formula they have deployed in other rebel-held territories: bomb the opposition without regard for civilian casualties, with greater intensity each time the rebels refuse to surrender; ignore the UN and aid agencies' calls to protect civilians and humanitarian workers; win. With the United States recently telling the rebels that it would not provide them with any military support, they know they have little leverage in any negotiations. Six hundred airstrikes occurred during the 15 hours between the two most recent rounds of talks, killing 150 civilians, according to the Syrian Observatory for Human Rights.
The Syrian government has yet to reach Quneitra, one of the governates surrounding Daraa, where roughly 189,000 of the displaced Syrians from Daraa are still seeking shelter along the Israeli border of the occupied Golan Heights. Israel has also announced that it will not allow Syrians in, although like Jordan, it has provided some medical treatment and relief supplies for those on its borders.
Mohammad, a 35-year-old from Tafas, has been living in a tent in Quneitra with his family since last Friday. He first fled Daraa in 2012, he said, seeking asylum in Jordan and securing refugee status which came with protection from the UN, which is supposed to prevent refugees from being sent back to ongoing danger in their home countries. Five years later, Jordanian authorities suddenly deported him and his family back to Daraa without giving any reason, he said. "I just try to sleep," Mohammad said. "If I look ahead, everything is getting worse. I sleep and when I open my eyes and feel that I am in Syria, I wish I could stay asleep and not wake up."
As of Friday night, most of the displaced Syrians at the Jordanian border had not yet moved. "We are relying on God," said the woman from Naseeb, who was still in the desert with her family. People around her were planning to go home if the fighting really ended within the next few days, she added. In Quneitra, which analysts expect will be the Syrian government's next target, Mohammad said he was not surprised that the displaced would return to live under the same powers that had just been bombing and killing them. "The people are tired from the wilderness, from hunger, from sleeping on the earth and giving birth under the trees," he said. "The people are at a point where they cannot do anything. There is no alternative."