Cambodia Eviscerates Its Free Press—And the Whole Region Suffers
With authoritarianism on the rise, does an independent media have a future?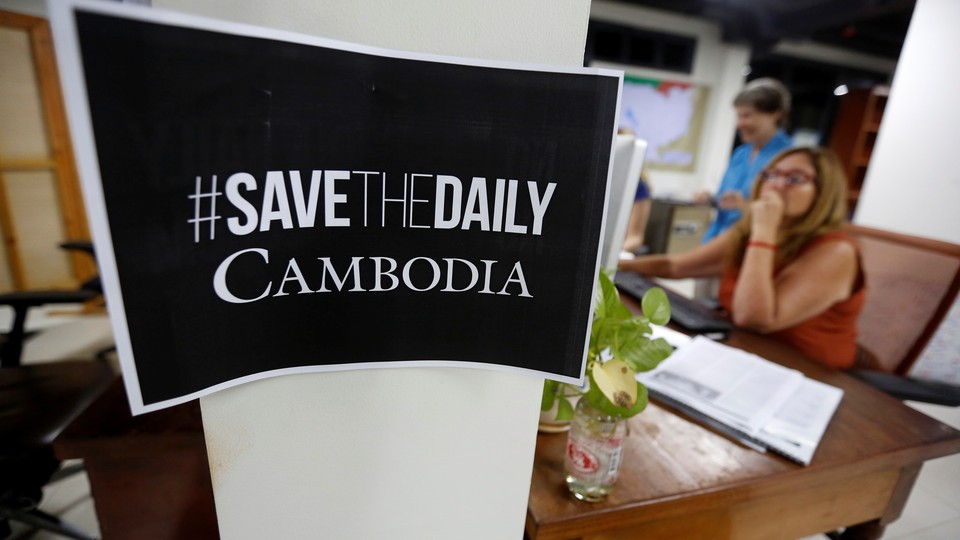 PHNOM PENH, Cambodia — It is the final stretch of campaign season in Cambodia. The dark-blue posters for Prime Minister Hun Sen and his Cambodian People's Party are ubiquitous, seen from the sides of buildings in Phnom Penh to the billboards along the main roads in the Cambodian countryside. Yet somehow it still doesn't feel like a parliamentary election is happening on Sunday in this country of 16 million. In large part, that's because there are effectively no longer any independent news outlets left in Cambodia to cover it.
The descent has been rapid. In less than a year, more than 30 radio stations and The Cambodia Daily, one of Cambodia's two independent, English-language newspapers, were shuttered; Radio Free Asia was chased out of the country and two of its reporters were arrested and charged with espionage; and The Phnom Penh Post, regarded as the country's last remaining independent newspaper, was sold to Sivakumar S. Ganapathy, a Malaysian businessman with reported ties to Hun Sen's government.
Cambodia is hardly the only country in Southeast Asia experiencing a crackdown on the free press. Never known as a bastion of journalistic freedom, the region has taken a sharply repressive turn, from the jailing of two Reuters journalists in Myanmar, to assaults from armies of online trolls in the Philippines, to the now-infamous Anti–Fake News Act in Malaysia, which imposed harsh penalties on anyone discovered to be spreading what the government deemed "fake news." "When you take a glance across the region, all these threats and apparent deterioration in the press-freedom environment seem to be popping up all over the place," Shawn Crispin, the Southeast Asia representative for the Committee to Protect Journalists, told me. "The situation was already pretty dire in many countries across the region, and oftentimes what we're seeing is just kind of a piling-on effect."
For roughly two decades, the press in Cambodia was relatively free. At the Daily and the Post, expat journalists and local reporters could get a crash course in covering Cambodia and in foreign correspondence, alums of both papers told me. They could report on touchy subjects, such as corruption, or other stories critical of Hun Sen's ruling party. "It was always pretty free: You could be very, very critical and you would be allowed to do whatever you wanted to do without any repercussions," Alex Willemyns, a former editor at the Daily, told me. "Maybe you'd get an angry statement from the government, but that's normal in any country."
The beginning of the end came last June, after the opposition party finished nearly even with Hun Sen's CPP in local elections. In August, the government began shutting down more than 30 radio stations across the country, including those run by the U.S.-backed Radio Free Asia and Voice of America. It also slapped the Daily with a $6.3-million tax penalty for allegedly failing to properly register with the government, forcing the financially strapped paper to close up shop last September. The headline on its final issue, which was published on the same day that the opposition leader Kem Sokha was thrown into jail: "Descent Into Outright Dictatorship." "If you look at Cambodia … the situation is really alarming because there really were pockets of press freedom there," Crispin said. "That space has just been abruptly closed."
For the Post, change came more gradually. When its staff published an investigation into the new owner's decades-old ties to Hun Sen and the Cambodian government, the editor in chief and the reporters who worked on the story were fired or resigned after refusing to take down the article. A subsequent exodus of staffers, particularly the expats, depleted the newsroom. Since then, the reporters who remained have had controversial stories spiked or have had to censor their own articles in order to comply with the new owner's wishes. "The real tragedy of what has happened to free press in Cambodia in the last year or the last 18 months is that it used to be this kind of free-media haven," Erin Handley, an Australian journalist who was among those who resigned from the Post this spring, told me. "The fact that the Post and the Daily were able to exist at all was something of an anomaly … We're losing a lot of that free press."
Some foreign journalists have left Cambodia entirely, while others are freelancing for foreign outlets. Many out-of-work local journalists either began working as fixers for visiting foreign correspondents or took jobs at NGOs or embassies. Others joined news organizations seen as aligned with the government in order to continue providing for their families. Of the dozen journalists and civil-society staffers I spoke with, several asked not to be named. Some were willing to speak in general terms about the situation journalists face, but, fearing retribution from their employers or the government, declined to get into specifics about what's happened within their newsrooms.
Even the last organization seen as remotely independent, the Cambodian Center for Independent Media and its affiliated station, Voice of Democracy, feels pressure to avoid hot-button topics in order to stay off the government's radar. "We are still operating our daily job, but we try to avoid some critical issues," such as the election, corruption, and border issues with Vietnam, Sek Sophal, a staffer at CCIM and VOD, told me. "We try to think of long-term consequences … We know that we are not going to win if we confront directly with the government, so we are not going to do it … But it does not mean we are going to retreat, so we try other ways that are not really direct." The organization's journalists are frequently turned away from government ministries and offices; out of an abundance of caution, colleagues will text one another after work to make sure they have arrived home safely.
In Cambodia and across Southeast Asia, it's become increasingly difficult for reporters to do their jobs. International assessments reflect this trend: In Reporters Without Borders' 2018 press-freedom index of 180 countries, no Southeast Asian country ranks higher than 124 (Indonesia)—and one, Vietnam, ranks in the bottom 10 countries worldwide (175). Cambodia, ranked at 142, has dropped an impressive 10 places in just one year.
Reporters in the Philippines, though still relatively free compared with their Cambodian counterparts, face an onslaught of abuse both from their ever outspoken president and an army of state-aligned online trolls. After her organization's critical reporting on Filipino President Rodrigo Duterte's deadly drug war, Maria Ressa, the head of the online news outlet Rappler, received repeated rape and death threats from those trolls. Rappler's Duterte correspondent has been banned from the presidential palace, and Duterte himself has threatened to revoke the publication's license. Sometimes the violent threats go beyond social media: Reporters Without Borders ranks the Philippines as the deadliest country for journalists in Asia, with four journalists killed in 2017 alone. "It's enough to make us cry," Ressa said at a conference in Singapore late last month.
In Malaysia, the Anti–Fake News Act drew headlines for the harsh penalties it imposed on anyone discovered to be spreading disinformation: up to six years in prison and a fine of about $125,000, for Malaysians and foreigners alike. "It's not a nice distinction to be the first country to actually put a law to Donald Trump's fake news term," Darshini Kandasamy, an assistant editor at Malaysiakini, the country's largest online news organization, told me. It's not just the Anti–Fake News Act, either: six national-security-related laws from when the country still faced communist threats have been used to prosecute journalists. Still, Malaysian journalists say there's reason to believe a positive change is on the horizon. The country's new prime minister, Mahathir Mohamad, has pledged to repeal the Anti–Fake News Act and increase access for independent news outlets.
In Cambodia, there's some hope—though not much—that things could also improve once Hun Sen has secured his party another five years in office. But in the meantime, many in the Cambodian media scene are holding their breath. In the lead-up to election day, Hun Sen's government has been doing everything it can to ensure a smooth victory: The CPP has been instructing voters on how to cast their votes for the party (complete with diagrams) and has promised to extract steep fines from anyone who encourages voters to boycott the polls. (Five members of the outlawed opposition party have already been fined approximately $2,500 each for their boycott efforts.)
Journalists, who always risk being detained or turned away from government offices, are aware that tensions remain high. "Will it be better? I don't know," one Cambodian journalist, who asked not to be named for fear of jeopardizing his and his news organization's position, told me. "We see all the fear among our Cambodian colleagues. We see in their eyes that they're scared, that they've lost their job, that they don't know what they're doing right now—so it's a scary situation."