ISIS Is Shaking Britain's Anti–Death Penalty Resolve
The U.K. government has long opposed capital punishment. But in the prosecution of two former British citizens accused of fighting for ISIS, it may make an exception.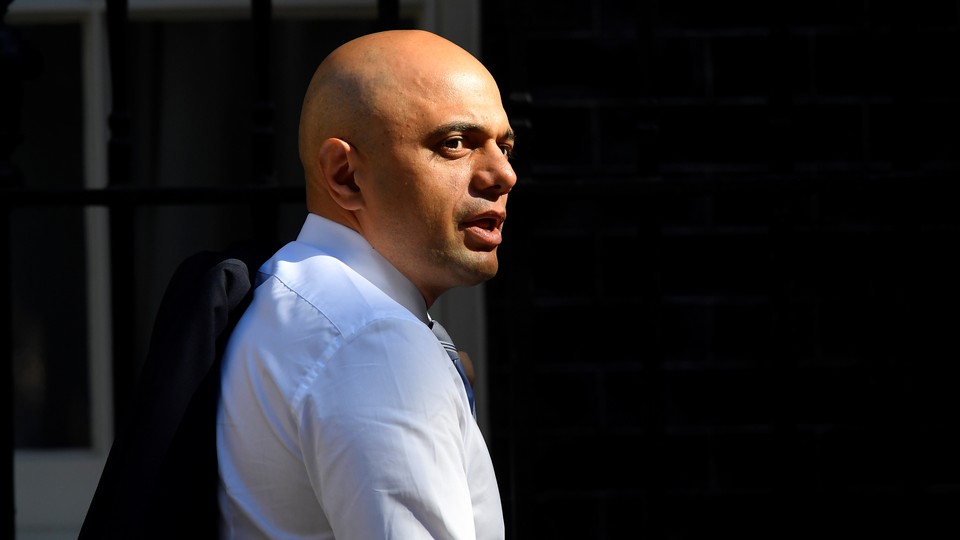 The death penalty has been outlawed for more than 50 years in the United Kingdom—and not just within its borders. Even abroad, the U.K. has boasted a legacy of opposing capital punishment, going so far as to refuse to extradite individuals to countries where the death penalty is still enforced without assurances that it won't be used.
But Britons' staunch opposition to capital punishment may be waning. On Monday, a leaked letter written by British Home Secretary Sajid Javid to Jeff Sessions, the U.S. attorney general, revealed that the British government is willing to cooperate with American authorities in the prosecution of the former British citizens Alexanda Kotey and Shafee El-Sheikh. Most notably, Javid said the U.K. would not seek assurances over the use of the death penalty, as it customarily would, in return for its support.
Both London natives, Kotey and El-Sheikh are alleged members of the notorious ISIS cell known as the "Beatles," a four-man group of British nationals who are believed to have killed a number of Westerners taken hostage in Iraq and Syria. That includes the high-profile beheadings of the American journalists James Foley and Steven Sotloff, the British aid workers Alan Henning and David Haines, and the American aid worker Peter Kassig. Kotey and El-Sheikh were captured in January and later stripped of their British citizenship. They are currently being held by U.S.-backed forces in Syria.
"I am of the view that there are strong reasons for not requiring a death penalty assurance in this specific case, so no such assurances will be sought," Javid wrote in his letter to Sessions, dated June 2. He noted that while the decision does mark a departure from the U.K.'s usual stance, "our decision in this case does not reflect a change in our policy on assistance in U.S. death penalty cases generally."
But his opponents don't see it that way. Lawmakers and human-rights groups derided the unilateral move as setting a dangerous precedent. "We cannot pick and chose when to apply a principle as fundamental as opposition to the death penalty," the Conservative lawmaker Anna Soubry said. Allan Hogarth, Amnesty International's head of advocacy and programs, called the decision "a huge backward step."
The decision raises difficult moral questions: Who gets to try terrorist suspects whose alleged crimes cross borders? Who can punish them? And by what methods? Beyond the moral challenges to the decision, there are also legal ones. In addition to passing its own law abolishing the death penalty in 1965, the U.K. also signed on to the European Convention on Human Rights, which formally outlawed the practice for all signatories in 2010. And in 2003, the U.K. passed a law expressly forbidding the extradition of individuals to countries where they could face execution. "The Extradition Act of 2003 requires that they have something in writing that people will not be killed," Thom Brooks, the dean of Durham Law School, told me. "Javid's bad legal advice is 'Just don't ask.'"
Adam Wagner, a human-rights lawyer, told me the decision could undermine the U.K.'s efforts to oppose capital punishment elsewhere. "The point of the policy is that we don't just have an opposition to the death penalty at home," he said. "We also oppose it as a country abroad. We're opposed to the death penalty in China, we're opposed to it in Iran, we're opposed to it in the United States."
In an address to the House of Commons on Monday, British Security Minister Ben Wallace sought to downplay the government's decision not to seek assurances, adding that a ministerial guidance permits the home secretary to make exceptions "where there are strong reasons not to seek assurances." He noted the move was made as a condition for supporting Kotey and El-Sheikh's prosecution on U.S. soil and that though the U.K. agreed to share intelligence with the U.S., it would not extradite the pair, as neither remains a British citizen.
Though it is lawful for the British government to revoke the citizenship of suspected terror suspects while they are abroad in order to bar them from returning to the country, Brooks said the practice could run afoul of the U.K.'s international obligations if it leaves individuals stateless, as is the case for Kotey and El-Sheikh. "I can tell you with certainty that this is illegal," he said. "You can't leave people without a home. If they don't have the citizenship of another country at the time their [British] citizenship is pulled, then it can't be done."
Although the decision may be framed as a one-off, Wagner said the unilateral nature of the decision risks setting an undesirable precedent for British policy going forward. "They are always extremely serious cases, by definition—anything that could involve the death penalty is an extremely serious case," he said. "As soon as you make exceptions, you open yourself up to more."