South Korea's Ambassador Has a Message for All the North Korea Skeptics
"We need to be more patient," says Cho Yoon Je. The Trump-Kim summit was "a good start."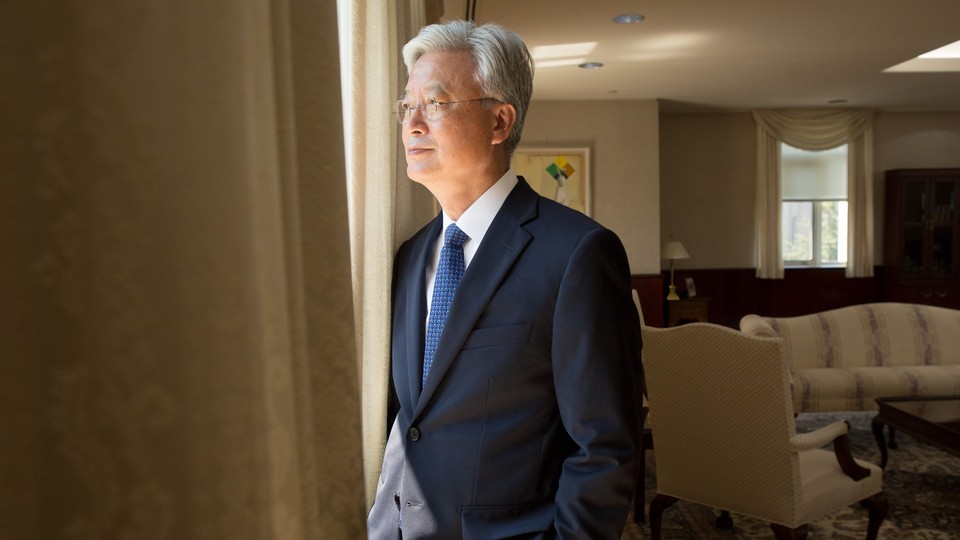 South Korea's ambassador to the United States acknowledges that Kim Jong Un hasn't yet destroyed a major missile-engine test site, as the North Korean leader supposedly promised Donald Trump in Singapore he would. He says he's "not in a position to confirm or deny" recent reports that North Korea may in fact be expanding nuclear-weapons facilities, despite promising to "work toward the complete denuclearization of the Korean peninsula." He concedes that a disclosure of the various elements of the North Korean nuclear program, let alone the nation's nuclear disarmament, is "yet to come."
And yet Cho Yoon Je has not succumbed to skepticism. When I went by the South Korean embassy this week, at a moment when many observers were concluding that North Korea isn't really intending to abandon its nuclear program, and before U.S. Secretary of State Mike Pompeo returned to Pyongyang to "fill in some details" on Kim's pledges at the Singapore summit, I found the ambassador hopeful and optimistic.
"We need to be more patient," said Cho, in his first interview since Kim Jong Un's meetings with the South Korean president in April and the American president a few weeks ago. "If you expected some immediate outcome from this summit meeting, it may be disappointing. But if we pay attention to the fact that we had a good start, actually it's quite encouraging."
This assessment of Trump's North Korea policy is not necessarily typical in Washington, D.C., where many have chided the U.S. president for granting Kim Jong Un the stature of a summit, and proclaiming the meeting a sweeping success while extracting only vague commitments from Kim. But Cho, in an indication of how top South Korean officials are processing the latest developments, evaluates the situation differently. What's important in his view isn't only the technical questions of how and when North Korea's "denuclearization" takes place, but also the political project of overhauling North Korea's relations with South Korea and the United States. Looked at through that prism, the summit itself was a concrete achievement.
"Over the last 10 years, there was virtually no dialogue between South and North [Korea] and between the U.S. and North Korea," Cho said. "Now we have established a solid platform for dialogue" at the highest levels, "which can lead to a desirable outcome. In that regard, I think the Singapore summit was a success." (Or, as Donald Trump tweeted this week, "Many good conversations with North Korea-it is going well! In the meantime, no Rocket Launches or Nuclear Testing in 8 months.")
To critics who might counter that the only thing patient talks with Pyongyang over the past two and a half decades has led to is a North Korea with a nearly full-fledged nuclear-weapons arsenal, Cho argued that this time may really be different, for three main reasons.
First, the leaders of North Korea, South Korea, and the United States "are all new players" in an old game, according to Cho. Kim Jong Un is a young leader who attended school in Switzerland. He has proven himself serious about not just building up his military, but also implementing economic reforms. Moon Jae In, the South Korean president, has a carefully crafted vision of how to engage Kim in concert with the U.S. and achieve "peaceful coexistence and coprosperity" between the two Koreas. Donald Trump made North Korea "one of the top priorities of his administration" and "successfully mobilized international pressure" against North Korea in regards to its nuclear activities, while nevertheless remaining open to dialogue.
Second, in becoming the first U.S. president to meet with North Korea's leader, suspending U.S.–South Korea military exercises while diplomacy proceeds, and speaking positively in recent months about Kim and North Korea, Trump has taken a novel approach of seeking to build "new relations" and "goodwill" with North Korea, Cho said. North Korea, in turn, has shown goodwill by releasing American hostages, while South Korea has done the same by exploring projects to reconnect inter-Korean railroads and reforest North Korean mountains.
Since "the difficult goal of denuclearization will be impossible to achieve unless supported by mutual trust," Cho explained, "the United States and North Korea will have to, first and foremost, work on building [a] new relationship with patience." It's not fair to expect U.S.–North Korea relations to advance as easily as inter-Korean relations because "the two Koreas used to be one nation for 13 centuries, whereas the United States and North Korea, for 70 years, haven't had any relationship built on trust."
"The important reason we can be hopeful that, this time, we will be able to achieve denuclearization of the Korean peninsula is that, unlike in the past, we have two pillars going at the same time: establishing new relations and denuclearization," Cho told me. (The statement that Trump and Kim signed in Singapore cited both denuclearization and new relations as shared goals.)
Third, the North Korea that Kim Jong Un is leading, and the world he is navigating, aren't the same as those his father and grandfather encountered. The North Korean economy is more dependent on foreign trade (until sanctions hit in 2017, at least) and North Korean society is more exposed to outside information (despite the government's ongoing efforts to severely police the digital realm) than they were 20 years ago, when the Clinton administration nearly struck a nuclear deal with North Korea. Kim has already taken steps to deregulate the economy by creating hundreds of private markets and converting the country's collective farming system into family farms—reforms that are "hard to reverse," Cho noted.
But does any of this mean Kim would really give up the nuclear weapons he and his father and grandfather spent decades building? The ambassador sees signs that he might. In April, for example, Kim declared "victory" in simultaneously developing the national nuclear force and economy, and then unveiled a new strategic goal of focusing solely on the economy. Cho suggested this could signify that Kim is willing to trade nuclear weapons for economic transformation.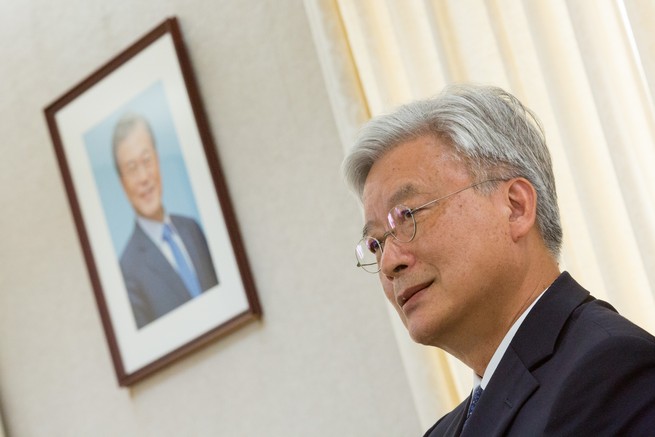 To understand the decisions facing Kim, Cho explained, it's helpful to consider North Korea's original rationale for developing nuclear weapons. In the late 1980s and early 1990s, the collapse of the Soviet Union forced its socialist trading partners to undergo painful integration with the world's free-market economies—which Cho witnessed firsthand as an economist at the International Monetary Fund. But Kim Jong Un's grandfather Kim Il Sung, fearing that he would lose power, refused to make the economic transition. Instead, as agricultural productivity plummeted and starvation spread in the absence of the North's Soviet patron, Kim Il Sung staked his state's survival on nuclear weapons. His son Kim Jong Il deepened North Korea's militarization and isolation.
Kim Jong Un inherited the weapons as well as the poverty, and may have initially intended to establish North Korea as both a new nuclear-weapons state and a resurgent economy. But when U.S.-led sanctions started hammering the North Korean economy last fall, Cho said, Kim "hastily claimed" his nuclear program completed—perhaps following a certain logic: In contrast to what his grandfather had concluded at the end of the Cold War, the key to North Korea's survival nowadays is economic prosperity, which can't be realized without ending international sanctions and pressure, which can't be accomplished without permanently improving relations with the United States, which can't be done without denuclearization.
Maybe Kim is contemplating merely carving out special zones for foreign investment. Maybe he has something much bolder in mind: adopting the Chinese or Vietnamese models of gradually but comprehensively opening up economically and joining international financial institutions while maintaining his political system. But "as a young leader, [Kim] knows that without improving the economic situation of the country, the legitimacy of his … rule cannot be sustained," Cho continued. "His goal is to have regime security and economic development. Perhaps … he thinks that without improving relations with the United States [regime security is] not possible."
And just because Kim didn't unequivocally state in Singapore that he will relinquish his nuclear program doesn't mean he won't. "Kim Jong Un, I heard, [has] said expressly that 'If the regime's security is guaranteed, I don't need nuclear weapons,'" Cho told me. Kim may not yet feel he has received "clear assurance of his regime security."
Cho didn't offer a specific timeline for North Korea's denuclearization; Pompeo has forecast "major disarmament" in the next two and a half years, whereas Trump's national-security adviser, John Bolton, has said the "overwhelming bulk" of the nuclear program could be dismantled within a year and one expert analysis has imagined a 10-year process. But Cho did mention potential political milestones—for example that "hopefully within this year" the two Koreas and the United States will declare an end to the Korean War, which could give the North Koreans "some assurance of security" as an "interim step" toward a formal peace treaty to be concluded at "the end stage of denuclearization."
Cho argued that simultaneous progress on better relations and denuclearization would be "mutually reinforcing": The North Koreans, for instance, view efforts to verify the dismantling of their nuclear program as a humiliating violation of sovereignty, but might shed that resistance if they could be persuaded to see South Korea and the United States as their friends.
"Nothing is given 100-percent certain in this process," Cho conceded, while declining to estimate the percent likelihood that the process will succeed. Asked if the Moon administration has a contingency plan should nuclear negotiations with North Korea fail, he responded that "President Moon made it very clear that there should not be another war on the Korean peninsula." The South Korean government will continue to "play the role of facilitator" and will "not give up these diplomatic efforts," Cho vowed. "The other option is not an option that we can accept."