Watching Israeli TV's Fauda as a Palestinian
The Netflix show makes for some unconventional Ramadan viewing.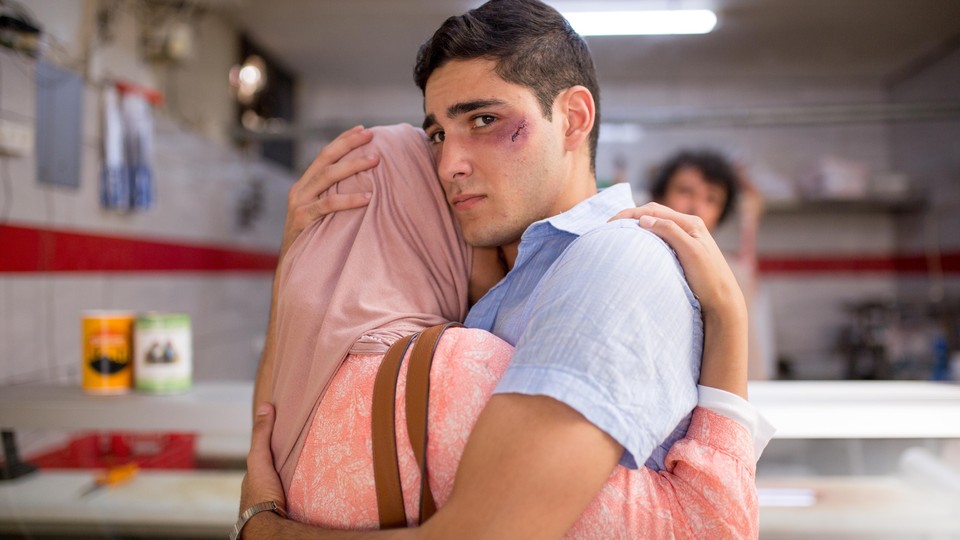 It's the third week of Ramadan, a month of fasting, charity, and prayer for the world's 1.8 billion Muslims. In the Arab world, it's also a month for an influx of new TV specials, which families gather to watch after breaking their fast. Because I've spent most of my Ramadans outside the Arab world—often without access to the region's popular TV channels—I've never been able to enjoy these shows the way my family members in the region might. Which show I watch depends on whatever Netflix has on offer at the time. My last couple of Ramadans have involved reruns of The Office and Frasier.
But this year, one week into Ramadan, I noticed the release of the second season of the Israeli political thriller Fauda (the word means "chaos" in Arabic). The show follows an undercover unit of the Israeli army called the Mista'aravim. Arabic-speaking soldiers pose as Palestinian civilians to apprehend suspected terrorists in the West Bank. First broadcast in Israel in 2015, the show gained international acclaim when it made its Netflix debut a year later.
"Why are you watching that?" a friend, who is also of Palestinian ancestry, asked me over text last week. I understood her message to contain many questions: Isn't that an Israeli show? Why are you watching a show that glorifies Israel's decades-long military occupation of a people—our people? Doesn't that bother you?
These questions were at the back of my mind as I made my way through the first and second seasons. My impulse was to respond defensively. "I think my fragile Palestinian identity can handle it," I typed out in response, before quickly deleting the message. Less sarcastically, I told her: "I think I know enough about the conflict to read through the inherent biases."
I understood where she was coming from. After all, our friendship was born out of our common heritage. We met in Bethlehem in July 2015 and spent much of that summer touring Israel and the Palestinian territories, witnessing the ways two peoples who live side by side (though rarely together) can experience diametrically opposed realities. On one side, we saw a people governed by laws and regulations; on the other, we saw people—some of them our own relatives—whose lives were ruled by soldiers and checkpoints. On one side, we met people who lived in coastal cities such as Jaffa and Acre; on the other, we met people who had only ever dreamed of seeing the sea.
Many Palestinians would disagree on political grounds with my decision to watch Fauda. In fact, some have called for a boycott of the show. "It is an anti-Arab, racist, Israeli propaganda tool that glorifies the Israeli military's war crimes against the Palestinian people," the Palestinian-led Boycott, Divestment, and Sanctions movement said of the show in March, adding, "By sanitizing and normalizing these crimes, Fauda is directly complicit in promoting and justifying these grave human rights violations."
Yet the harsh reality of Israel's continued military presence in the Palestinian territories isn't absent from Fauda, despite this and similar criticisms. The show depicts an elderly woman being stopped at one of the many military checkpoints around and within the West Bank, where an armed Israeli soldier rummages through her bags. It also shows Israeli soldiers trashing and seizing property from a Palestinian home during a raid. And one of this season's main plot arcs concerns a group of young Palestinian terrorists who realize that they're more likely to gain entry into Israel proper (from which the vast majority of Palestinians are barred, except on certain holidays) if they speak Hebrew and pretend to be religious Jews from one of Israel's West Bank settlements. These are the daily, almost mundane, images of occupation that linger in the background of Fauda.
Then there are the more brutal depictions. We see the Mista'aravim's broad-daylight kidnappings of suspects, who are brought in for interrogation. We see the protagonists' relentless questioning and threatening of characters whom we know to be innocent. And perhaps most distressing, we see the scores of Palestinians in the background who get caught up in the unit's raids gone awry, subjected to a hail of gunfire simply because they're in the wrong place at the wrong time.
This kind of violence wouldn't necessarily be remarkable in any other show or movie. But watching this show, set in this context, I found it difficult to see these nameless and dialogueless characters and not think of the real people dying on the ground. More than 100 Palestinians are estimated to have been killed by Israeli forces since protests at the Israel–Gaza border began, in March. Just last Friday, Razan al-Najjar, a 21-year-old volunteer medic, was shot dead near the border.
Still, despite these recent deaths and the spate of violence surrounding last month's controversial relocation of the U.S. embassy from Tel Aviv to Jerusalem, I kept watching. I watched because I wanted to see how a show lauded in some quarters for its evenhanded portrayal of the Israeli-Palestinian conflict depicts the players on either side of it, including Hamas. I watched to see how a group of Mista'aravim could manage to blend so seamlessly into a community they differ from so much.
Perhaps more than anything, I watched the show because of what it made me miss. The familiar sights and sounds—from the call to prayer frequently heard in the show's background to the Palestinian dialect that makes up the majority of its dialogue—reminded me of my last Ramadan spent in the region. It made me feel closer to my ancestral home, even while depicting scenes of violence within it.
And the scenes of violence are intense. In fact, they're sometimes so intense that my mom couldn't make it through the pilot episode. Within the first 30 minutes, the Israeli unit (posing as a group of caterers) crashes the wedding of a Hamas operative's brother, ultimately resulting in the deaths of scores of guests, including the groom. My mom generally hates watching violence. That this was Israeli violence against Palestinians made it even worse, and from her perspective belittled the lives of those portrayed.
Avi Issacharoff, one of Fauda's co-creators, who has also written for The Atlantic, says the show isn't intended to push a specific agenda. "This is a TV show—it's not a political manifesto," he told me in a phone call last week, noting that the idea was simply to give Israeli viewers a different perspective on the conflict. "I would say that a major theme in Fauda is the occupation … We've seen terrible things that the Israeli side is doing during the show, and for some reason they've been missed."
When I asked him about criticism that the show overwhelmingly favors the Israeli viewpoint, he pointed out that Fauda never purported to give a Palestinian perspective. "We started as an Israeli show that was meant to be seen by Israeli audiences," he said. "If a Palestinian would have written the show, it would have been written differently. But at the end of the day, we are not Palestinians."
Indeed, Fauda isn't a Palestinian show. It's an Israeli story about an Israeli unit, told from the vantage point of an Israeli lead, Doron Kabilio (Lior Raz), and the rest of the Mista'aravim. Though Palestinian characters do feature heavily in the series, many of their stories are told only in relation to Doron. The season-two antagonist, Nidal "Al Makdasi" Awdallah (Firas Nassar), seeks revenge on Doron for having killed his father in season one. Shirin al-Abed (Laëtitia Eïdo), a Palestinian doctor, is Doron's love interest.
Yet Fauda doesn't ignore the Palestinian perspective. The show's creators avoid portraying Palestinians as some homogenous other, dedicating much of the second season to highlighting intra-Palestinian political disagreements, which divide even members of the same family. The show also highlights the inherent power imbalances between Israelis and Palestinians, perhaps best showcased in the romantic relationship between Doron and Shirin.
Luna Mansour portrays Al Makdasi's sister-in-law, one of Fauda's main Palestinian characters. She told me that like her character, Marwa, she doesn't consider herself a very political person. "I just understand my vision of it, my point of view," she said, noting her identity as a Palestinian citizen of Israel, born in Acre. "Marwa and Samir [her character's husband, who is portrayed by Amir Khoury] are so unique. They don't care about revenge, they don't care about bombs, terrorism, Israelis, Palestinians. All they care about is having each other, having a chance to live their life, having the chance to raise their baby together."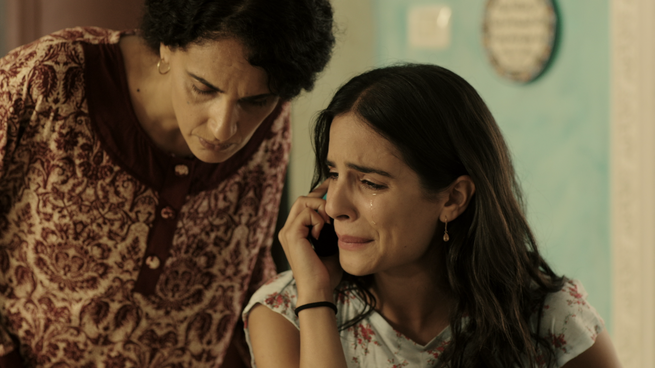 Mansour told me she has gotten responses for her involvement in Fauda, which she and her Palestinian co-stars expected. "Some got good feedback. Some got bad ones, like, 'Shame on you. How do you take part in it? You only see money. You only see dollars,'" she said. But she noted that she has also received praise for her performance, including from relatives who don't necessarily agree with how the conflict is portrayed on the show. "It's our job, and as actors we're kind of limited in our opportunities here," she said. "But I agreed to take part in it, because I like the story and I felt so comfortable with it. I had no problems with it. If I did, I wouldn't take it."
Viewers who are hungry for a Palestinian perspective on the conflict would do well to urge Netflix to commission a Palestinian-created series, because Fauda will probably prove a disappointment. Although it does better than most shows and movies at depicting certain facets of the conflict, like most shows it can't accurately represent every perspective—a limitation that even its creators concede—and for that reason it sometimes had me yelling at the screen. But that doesn't make it any less interesting or binge-worthy TV. When the third season drops on Netflix next year, I'll be watching.