Has the Western World Started Shunning America?
With a global trade war heating up just ahead of a major international summit, the U.S. may find itself the odd one out.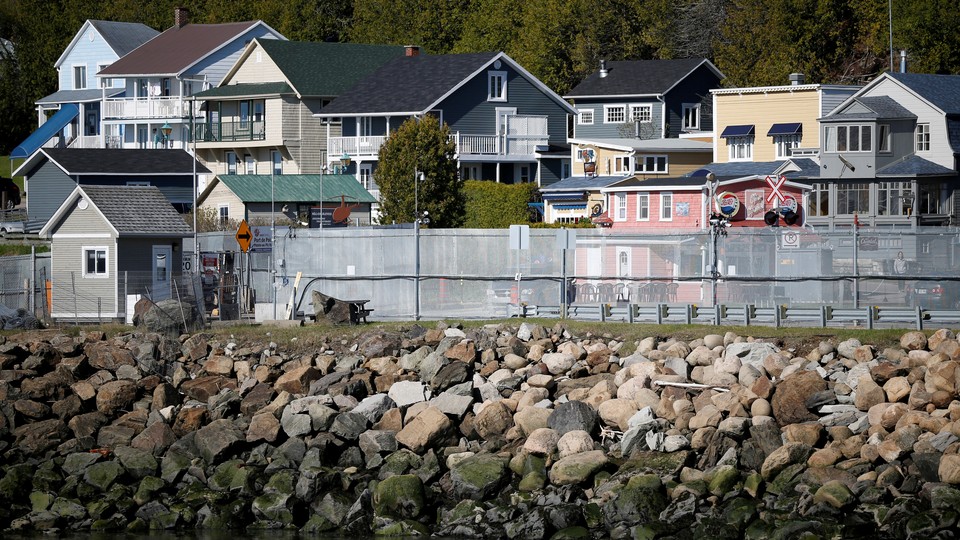 When leaders of the Group of Seven industrialized nations meet Friday in Charlevoix, Quebec, alongside the usual awkward group photographs, forced smiles, and lifeless communiques, expect to find something usually missing from such gatherings: candor.
A preview was on offer last Saturday as G7 finance ministers met in Whistler, British Columbia, and in a highly unusual move, specifically cited the United States—the architect of the current global economic order that has been in place since the end of World War II—for the "negative impact of [its] unilateral trade actions." Steve Mnuchin, the U.S. treasury secretary, came in for so much criticism at the meeting that his Japanese counterpart, Taro Aso, later said he "felt sorry for him." He added a caveat: "But I guess it's not the sort of issue I should sympathize with."
The dispute over trade—specifically over tariffs the U.S. imposed on steel and aluminum imports from Europe and Canada—is symptomatic of the divisions between the U.S. and its allies since Trump's election. Some of these frustrations were evident during the Obama years, as well, when allies grumbled about the absence of U.S. leadership internationally. Still, there were few doubts then about the administration's commitment to the U.S.-led global trading system. The frustration of the G7—which besides the U.S., includes Canada, France, Germany, Italy, Japan, and the U.K.—runs deeper with the Trump administration. Together, as well as individually, those countries have bristled at Trump's withdrawal from the Paris climate accord, his criticism of NATO, his attacks on free trade, and his withdrawal from the multilateral nuclear deal with Iran. But it might be Trump's challenge—and commitment—to the global trading system that has most angered America's allies.
Last week, the Trump administration used Section 232 of the Trade Expansion Act of 1965, and cited national security as a rationale for the punitive measures imposed on aluminum and steel imports from Europe and Canada. The targets of the tariffs bristled at the announcement not only because they were the principal targets of the levies, but also because of this cited rationale. Canadian Prime Minister Justin Trudeau called it "an affront to the … thousands of Canadians who have fought and died alongside American comrades-in-arms."
If there were doubts whether the U.S. action would be confined to steel and aluminum imports, news reports said Trump was considering using Section 232 to limit the number of German luxury cars entering the U.S. Joshua Meltzer, a former Australian diplomat who is now a senior fellow at the Brookings Institution, said on a conference call with reporters that the strong reaction from the G7 was to head off further use of Section 232.
"There is a very thin national security justification for doing this for steel and aluminum. I think it's very, very flimsy, but it's not completely absent," he said. "I think once you look at extending that to autos, you've essentially thrown out any pretense that you're actually doing this for genuine national security interests. You're clearly into a protectionist world. Given that national security is an exception embedded into all of the international trade rules, you've essentially blown that wide open."
The disputes over trade loom over the meeting among the G7 leaders that begins Friday. That is not to say, of course, that previous G7 meetings were free of tensions: Since the first summit in 1975, there have been divisions over inflation, U.S. missiles in Europe, U.S. budget deficits, and the war in Iraq. What's different now, however, is how America's allies perceive how the Trump administration views the rest of the world.
"While there have been differences in the past over specific economic policies and specific issues, there's never really been a fundamental question about commitment to the post-war international economic order," Thomas Wright, who is the director of the Center on the United States and Europe at Brookings, said on the same call. "That's really what's in question today. We do seem to be a little bit in a Rubicon moment in terms of whether or not the Unites States is going to fundamentally turn its back on this economic order."
Speaking to reporters Wednesday, Larry Kudlow, who is director of Trump's National Economic Council, said: "The world trading system is a mess. It has broken down." He compared the current situation within the G7 as a "family quarrel" that can be worked out, but he added: "The president is very clear with respect to his trade-reform efforts that we will do what is necessary for the the United States, its businesses, and its workforce [and] tariffs are a tool in that effort."
Until now, if Western leaders had concerns about Trump's policies, they tended to decide that the best way to address them was to embrace the American president—to varying degrees. It's clear now that the approach has hardly produced results. On nearly every issue the West, particularly Europe, cares about—from climate change to trade to Iran—the U.S. has stood apart. And the public criticism of the U.S. in Whistler may be a sign that the Europeans' approach to Trump is changing. There are already some signals that Europe is looking farther afield for allies. It has finalized a free-trade agreement with Canada, is close to another one with Japan, and has begun negotiations with Australia and New Zealand, as well as the Mercosur bloc of South American countries. Russian President Vladimir Putin, until recently a virtual pariah in European capitals because of his country's policies in Ukraine and Syria, his support of populist movements across the continent, and his country's efforts to undermine the electoral systems in several Western nations, is visiting European capitals to press not only for closer trade relations, but also a united front on the Iran nuclear deal. China, hardly a poster child for fair trade practices, has emerged as an important European ally on climate—stepping in with significant commitments on emissions reduction following Trump's withdrawal from the Paris accord last year.
In a speech Tuesday at the Heritage Foundation, A. Wess Mitchell, the assistant secretary of state for Eurasian and European Affairs, insisted that a "strong and free Europe is of vital importance to the United States." He acknowledged disagreements, but added: "The bonds that bind us are far stronger than anything that divides us. … But as in any family, we work out our disagreements in ways that leave us  stronger."
Ultimately, Western European nations have few other choices than to follow Mitchell's prescription. Criticizing Trump might go down well among their publics—the American president is, after all, deeply unpopular in those places—but if flattering Trump doesn't yield results, it's not clear the opposite approach will either. The global order is under pressure; many of the deficiencies in it that Trump cited in his run for the White House resonate in European countries where a slate of populist parties have become prominent. But Europe has become dependent on U.S.-led leadership over the past seven decades. No Western country is prepared to fill the void left by the U.S. Russia's actions in particular make those countries nervous. China remains an economic concern. The United States might be, in their view, going through a period of global retrenchment, but Western nations are hoping that, in the words of Canadian Prime Minister Justin Trudeau, "at some point their common sense will prevail."
Wright pointed out that because they see no real alternatives to the U.S. alliance, Western nations are going to try and find a way to "muddle through and buy time." But, he said: "There is a point at which that's not sustainable. At some stage, all of these tariffs ... will be such a weight that something will break. I don't think we're there yet, but I think this is a slow process of attrition. And each summit, and each meeting, and each tariff, and each break over [the Iran deal] or something else is another chip in that wall. I don't think we'll see something hugely dramatic this week, but I do think it's part of this broader anxiety over whether or not the United States is going to play its traditional leadership role, particularly in the global economy."