About That Movie Trailer Donald Trump Gave Kim Jong Un
It was a strange clip depicting a brighter future for North Korea in the event of a nuclear deal. The problem is it's not clear the North Koreans want that future.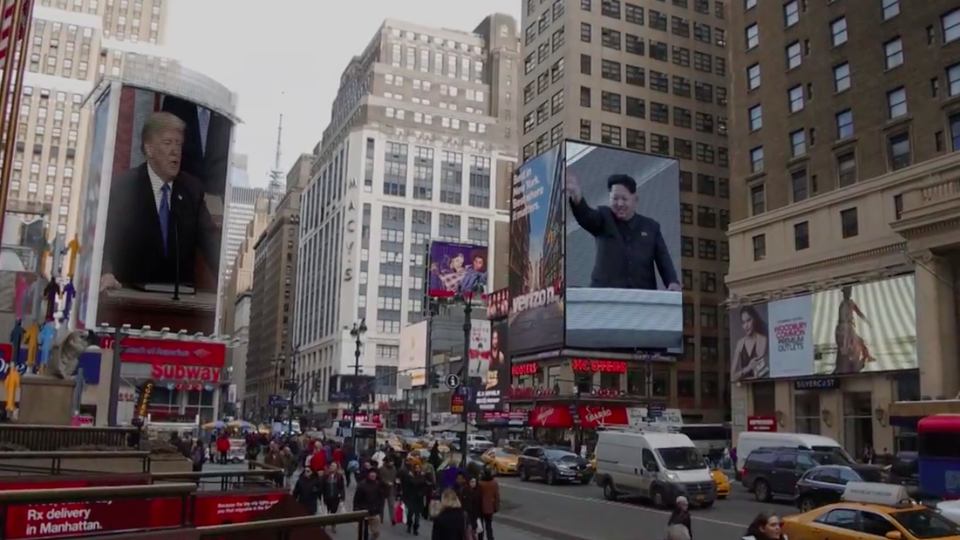 "A Story of Opportunity for North Korea," the four-minute movie trailer that Donald Trump showed Kim Jong Un when the two leaders met this week in Singapore, is a prime example of the new, quintessentially Trumpian ideas that the president is implementing to try and finally resolve the old challenge of denuclearizing North Korea. But there's one main problem with it. (I'm setting aside the fact that Trump apparently kinda sorta threatened North Korea with war via iPad during their negotiations. The narrator of the trailer presents Kim with a stark choice: Trade in his nuclear weapons for a peace-and-prosperity deal with the U.S. or decline to do so, at which point ominous images evoking explosions flash across the screen.) If the video reflects the Trump administration's core sales pitch to North Korea on why it should give up its nuclear arsenal, it's not clear that the North is buying what the United States is selling.
The film conjures the future of "friendship, respect, and goodwill" that awaits Kim Jong Un on the other side of a nuclear agreement. It's a "new world" of high-speed trains, hydroelectric dams, and glowing urban skylines, "where the doors of opportunity are ready to be open, investment from around the world, where you can have medical breakthroughs, an abundance of resources, innovative technology, and new discoveries. What if?" the narrator wonders. Punctuating the pitch are visuals of construction cranes, a stock ticker, a delivery drone, a marina and beachside buildings, even footage of Donald Trump and Kim Jong Un projected onto massive billboards in Manhattan.
During a conference call with reporters on Tuesday, Mike Green of the Center for Strategic and International Studies compared the video, which was made by Trump's National Security Council, to promotional material that a real-estate developer might use to get potential investors excited about plans for a theme park or building complex. But an approach that might have worked for Trump with investors back in New York isn't likely to have worked with North Korean officials who consider foreign investment a threat, argued Green, an Asia expert who participated in nuclear talks with the North Koreans while serving on George W. Bush's National Security Council.
The video "shows pretty much zero understanding of how [North Korean leaders] think about the economy, which is at most perhaps a Potemkin village-like availability for the elite to go to McDonald's and Starbucks," he said. "They don't want to open up to investment, because they can't handle the influences" or "North Koreans having their own access to money and information. They want to open up enough to get the appearance and experience of being a rich country for the elite, and to get cash."
Joshua Pollack, an expert on nuclear proliferation in Northeast Asia at the Middlebury Institute of International Studies at Monterey, recently made a similar point about American economic assistance in particular. Summarizing an editorial published last month in North Korea's state-run newspaper, he noted that the commentary "portrays the U.S. military threat to North Korea as paired with a campaign of ideological subversion, which will be spearheaded by U.S. intervention in the economy. Thus, any offer of aid or investment in exchange for disarmament is actually a pincer movement against the regime."
"The editorialist's reasoning goes like this: building up a strong, American-influenced, private-sector economy is meant to undermine [Kim Jong Un's Korean Workers] Party's grip on North Korean society and inspire an uprising against it," Pollack wrote. "As in Libya, the U.S. and its allies would then back an insurrection. The regime would be helpless to deter this intervention, having divested itself of its most powerful weapons. The country would be destroyed. Check and mate."
The disconnect between what U.S. officials seem to believe will appeal most to North Korea and what North Korean officials themselves seem to be seeking was on display in May, when Kim Kye Gwan, the North Korean first vice minister of foreign affairs, explicitly rejected the formula of "economic compensation and benefit" in exchange for North Korea "abandon[ing] nukes."
"We have never had any expectation of U.S. support in carrying out our economic construction," Kim said. Instead, he asserted that a "precondition for denuclearization" would be an end to America's "hostile policy and nuclear threats and blackmail" toward North Korea. North Korean leaders, the Korea expert Joel Wit has written in The Atlantic, believe this hostile policy can be unwound with political concessions such as normal diplomatic relations between the U.S. and North Korea, security concessions such as a peace treaty that replaces the Korean War-era armistice, and economic concessions such as lifting sanctions on the North. In these categories, the visions in Trump's video of international investment and a world-embracing, Manhattanite Pyongyang  don't feature prominently.
Nevertheless, when Kim Jong Un sent an envoy to the United States only days after Kim Kye Gwan's statement, U.S. officials continued to place stock in the allure of economic prosperity and integration with the world. During a background briefing with reporters, a State Department moderator called attention to a picture of Secretary of State Mike Pompeo standing at a window with the North Korean envoy, Kim Yong Chol, and pointing out New York City landmarks. Pompeo is "motioning" to "a brighter future for North Korea," the moderator explained.
Pompeo had previously spoken of "American know-how, knowledge, entrepreneurs, and risk-takers working alongside the North Korean people to create a robust economy" in the event of a denuclearization deal. And Trump has employed a similar argument. "There is no limit to what NoKo can achieve when it gives up its nuclear weapons and embraces commerce & engagement w/ the world," the president tweeted after this week's meeting with North Korea's leader. "Chairman Kim has before him the opportunity to be remembered as the leader who ushered in a glorious new era of security & prosperity for his citizens!"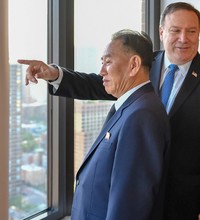 Kim Jong Un is keenly interested in economic growth, according to John Delury of Yonsei University in Seoul. Unlike his father and grandfather, Kim has prioritized not just military power but also economic development—and in engaging in nuclear talks with the United States he may now be focusing on the economy above all else. "People say, 'It just doesn't make sense. They put all this effort into getting these nukes, why would they give them up?' What they give them up for is to be wealthy," Delury told me. "That would be a massive legitimation for Kim Jong Un. It's true that he's made the missile and nuclear stuff a big part of his first phase of legitimacy, and it has worked, but he's young, he has a long time ahead, and he can't keep shooting off missiles every other week."
But while Kim may want to reform and open up North Korea's economy to a degree, and to expand economic ties with neighbors such as South Korea and China once international sanctions are eased, what's far from certain is whether Kim wants the type of prosperity dangled before him in "A Story of Opportunity for North Korea." And Trump acknowledged as much when he discussed the video at a press conference in Singapore on Tuesday.
"I think [Kim] loved it," Trump said of the movie trailer, but "I told him, 'You may not want this. You may want to do a much smaller version of this. ... You may not want that with the trains and the everything.'"
Then Trump elaborated on his vision of a prosperous, denuclearized North Korea. "They have great beaches," he noted. "You see that whenever they're exploding their cannons into the ocean, right? I said, 'Boy, look at the view. Wouldn't that make a great condo behind?' And I explained, I said, 'You know, instead of doing that, you could have the best hotels in the world right there.' Think of it from a real-estate perspective. You have South Korea, you have China, and they own the land in the middle. How bad is that, right? It's great."
The North Koreans might respond that condos and hotels don't provide the kind of security that they believe their nuclear weapons do.