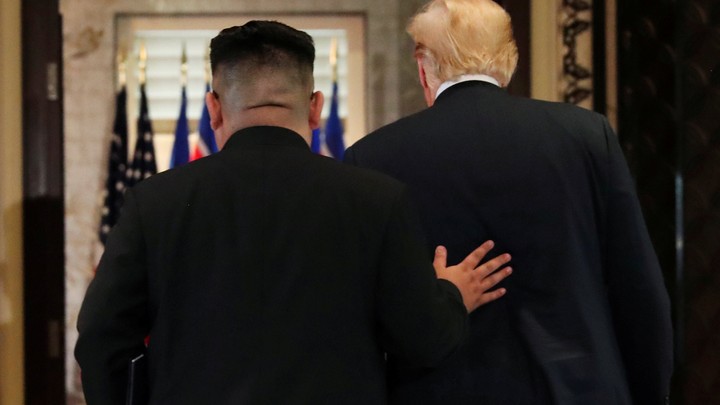 On Tuesday, in Singapore, Donald Trump and Kim Jong Un shook hands, strode along colonnades, dined on stuffed cucumber and beef short rib confit, and signed a joint statement. But if this was, as Trump declared afterward, "a very important event in world history," the president has little of substance to show for it beyond chummier relations with Kim—for the moment, at least.
In the joint statement, North Korea did not commit to the complete, verifiable, and irreversible dismantlement of its nuclear-weapons program—a longstanding demand of the Trump administration. Instead, Kim merely reaffirmed what he had already agreed to during his April summit with South Korean President Moon Jae In: to "work toward complete denuclearization of the Korean Peninsula." North Korea, in other words, committed not to denuclearization but to the goal of denuclearization. And even here, the aim is the "denuclearization of the Korean peninsula." For years now, the North has employed this protean phrase in an aspirational way to refer to a scenario in which it gives up its nuclear weapons in exchange for the United States: a) no longer protecting South Korea with the American nuclear arsenal and b) potentially ending the U.S.-South Korea military alliance and all dimensions of America's "hostile" policy toward North Korea. Kim and Trump specified no timetable for denuclearizing the Korean peninsula.
The most tangible results in the 403-word joint statement were that North Korea agreed to engage in follow-up nuclear talks with Secretary of State Mike Pompeo and other top U.S. officials "at the earliest possible date," and to recover and repatriate the remains of U.S. soldiers who died during the Korean War.
In a press conference after the summit, Trump offered contradictory messages about what exactly he had just achieved. He modestly defined success in Singapore as developing "a relationship" with Kim, characterized the meeting as "the beginning of an arduous process," and stated that Kim had taken only "the first bold step toward a bright new future for his people." At the same time, he described the joint statement as "very comprehensive" and argued that "I don't think you can be any more plain" in terms of the language on denuclearization. He said U.S. officials had worked on the substance of the joint statement for months and that the document was "far down the line." Asked why the document contained no details on how the denuclearization process will work, Trump responded, "Because there was no time. I'm here one day."
[A reader responds: Trump's North Korea Statements Are an 'Acknowledgement of Reality']
Trump maintained that while he had indeed consented to something the North Koreans have long sought—a meeting between their leader and the American president—he didn't view this as a concession and thought it was as beneficial to the United States as it was for North Korea. The United States hasn't given up anything of value to North Korea, he argued, while "they have given up a tremendous amount." He noted that in addition to North Korea committing to "complete denuclearization" and recovering the remains of American soldiers, he had secured a verbal promise from Kim Jong Un after the signing ceremony in Singapore to shutter a missile-engine testing site. He also listed a number of notable—if limited and in some cases provisional—gestures of goodwill that North Korea made ahead of the summit: halting missile and nuclear tests, releasing three American hostages, closing a nuclear-test site.
But Trump then proceeded to, rhetorically at least, make one concession after another to North Korea. He said that U.S. sanctions on North Korea would "come off when we are sure that the nukes are no longer a factor," but then chipped away at that firm stance by adding that "I actually look forward to taking them off" and that it was "OK" that China had recently eased up on sanctions enforcement at its border with North Korea. In announcing that the United States and South Korea would suspend their joint military exercises as long as negotiations progress, he adopted North Korea's longstanding position that these "war games" are "very provocative" rather than legitimate defensive measures. "I know a lot about airplanes. It's very expensive," he said of the drills, which can involve bombers based in Guam. Trump also hinted that he might eventually fulfill the North's longtime objective of booting U.S. forces from Korea. "At some point," he noted, "I want to bring our soldiers back home."
Trump acknowledged that he didn't dwell on North Korea's human-rights abuses during the summit, though he claimed to have raised the issue. (Human rights are "rough in a lot of places, by the way, not just there," he said.) He entertained plans to invite Kim Jong Un to the White House and travel to Pyongyang at the "appropriate time." (It's "a little bit early" to discuss normalizing diplomatic relations, he added.) And he remarked admiringly that Kim was clearly "very talented," since he took over North Korea in his 20s and ran it "tough." (Kim operates a sprawling network of political prison camps and is believed to have executed political opponents with anti-aircraft machine guns and chemical weapons.)
Trump also moved away from National-Security Adviser John Bolton's vision of rapid denuclearization and toward North Korea's view of denuclearization as a lengthy process, noting that "scientifically, I've been watching and reading a lot about this, and it does take a long time to pull off complete denuclearization." Nevertheless, he asserted that "we will do it as fast as it can mechanically and physically be done." Of course, this could be interpreted less as a concession to North Korea than as a concession to the reality of the North's elaborate nuclear infrastructure; Siegfried Hecker, a leading expert on North Korea's nuclear program, recently estimated that disarming the country could take 10 to 15 years.
Trump didn't cite much concrete evidence for why he feels these nuclear negotiations with North Korea will produce a different outcome than the last 25 years of inconclusive talks—that the North is really prepared this time to relinquish the nuclear arsenal that it has spent decades building as a security blanket, at tremendous cost. "My whole life has been deals, I've done great at it," Trump noted, and his instincts within seconds of meeting Kim were that "I think he wants to make a deal."
There were, however, fleeting moments of self-doubt. "Can you ensure anything? Can I ensure that you're going to be able to sit down properly when you sit down?" Trump asked one reporter who had stood up to ask him a question about Kim's commitment to denuclearization. "I think he'll do it—I really believe that. … I may stand before you in six months and say, 'Hey I was wrong.' I don't know that I'll ever admit that, but I'll find some kind of an excuse."
And Trump was particularly sober in reflecting on what might be his greatest accomplishment in Singapore: averting a military conflict that he himself had once threatened and launching a diplomatic process that still has the potential to yield a settlement to the North Korean nuclear crisis. In seeking a transformation of U.S.-North Korea relations, which will require years to forge and more than a brief statement to formalize, Trump may be starting something of great consequence, even if it doesn't look that way now. "If I can save millions of lives by coming here, sitting down, and establishing a relationship with someone who's a very powerful man, who's got firm control of a country, and that country has very powerful nuclear weapons, it's my honor to do it," Trump said. "I'll do whatever it takes to make the world a safer place."
We want to hear what you think about this article. Submit a letter to the editor or write to letters@theatlantic.com.
Uri Friedman
is the managing editor at the Atlantic Council and a contributing writer at
The Atlantic
. He was previously a staff writer and the Global editor at
The Atlantic
, and the deputy managing editor at
Foreign Policy
magazine.