Uneasy Riders: Trump's War on Harley
The iconic motorcycle-maker's decision to move some operations overseas isn't only about the president's tariffs.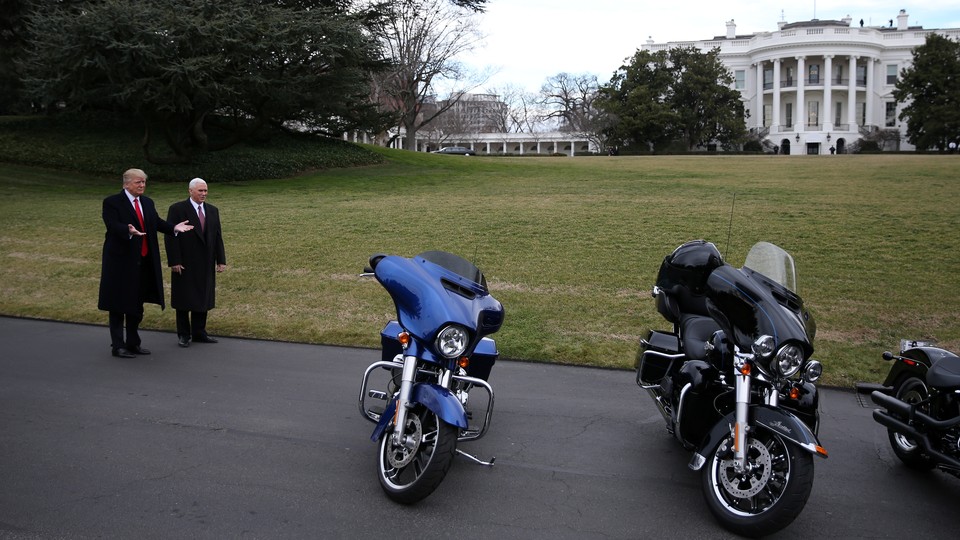 Donald Trump hasn't held back against companies he believes are hurting America by moving some manufacturing operations overseas: GM and Toyota have both been targets of the president's Twitter ire ("Make in U.S.A. or pay big border tax!"). His latest target: Harley-Davidson, which announced this week it was considering moving some of its manufacturing operations overseas in order to avoid EU tariffs directed specifically against the iconic Milwaukee-based motorcycle maker.
Trump warned the company on Twitter: "Harley must know that they won't be able to sell back into U.S. without paying a big tax!"
A Harley-Davidson should never be built in another country-never! Their employees and customers are already very angry at them. If they move, watch, it will be the beginning of the end - they surrendered, they quit! The Aura will be gone and they will be taxed like never before!

— Donald J. Trump (@realDonaldTrump) June 26, 2018
It's a rift in what had been an affectionate relationship with the iconic brand. Trump was supposed to visit the Harley factory in Milwaukee in January 2017, shortly after his inauguration, in order to promote American jobs. But the trip was reportedly canceled after planned protests against the president at the facility. Instead, Harley executives visited the White House the following month, where Trump thanked "Harley-Davidson for building things in America."
A year later, the realities of global economics and the president's trade policies have resulted in a very different message from Trump. Three of his five trade-related tweets Tuesday morning mentioned Harley. But the company's announcement, which was made Monday in a regulatory filing, was partly due to the trade dispute Trump himself sparked earlier this month. When the Trump administration announced levies on European steel and aluminum imports, the European Union responded with retaliatory measures—in Harley's case, the company said EU tariffs would add more than $2,000, on average, to the cost of each a motorcycle exported to Europe. And yet the deeper reason for Harley's decision is that, despite the presidential imprimatur of a storied "Aura" about the brand, Harley, and indeed most other motorcycle makers, have seen steadily declining sales. Europe had offered Harley a rare bit of good news.
Until the tariffs. The EU's retaliatory tariffs, which are worth $3.2 billion, specifically targeted bourbon, peanut butter, and Harley's motorcycles, among other things—items that are, not coincidentally, made in Republican-controlled districts of the United States. Making its motorcycles in Europe would allow Harley to avoid the tariffs incurred through export and keep the profit it earns on each motorcycle sold. But tariffs aside, there are deeper forces driving Harley's long term reorientation, one chief among them: evolving consumer tastes.
Thinking of Harley as an iconic American brand is tempting (just as it is tempting to blame Trump's tariffs for the company's decisions). But Harley is first and foremost a publicly traded firm that is answerable to its shareholders. This compels the company's management to choose the optimal path to maximize profits and minimize costs—even if it comes at the expense of its workers. Despite steadily declining sales, about 61 percent of Harley's sales are in the U.S. It makes sense for the company to domestically build all the bikes destined for its biggest market. But Europe is Harley's second-biggest market, and accounts for 16 percent of all the motorcycles it sells. EU import tariffs hurt its bottom line there. And the only way to avoid them is to avoid exporting to Europe—to build locally.
Free-trade agreements were supposed to take care of problems like this. The U.S. had been negotiating the Transatlantic Trade and Investment Partnership with the EU that would have eliminated many—if not most—trade barriers between the U.S. and Europe. In Harley's case this would mean there would be no particular cost advantage to moving a plant to Europe, since building in the U.S. and exporting to the EU would be effectively free. But Trump is hostile to multilateral trading agreements like this, and the status of T-TIP, as the agreement is known, is unclear. The president's decision to withdraw from the Trans-Pacific Partnership agreement, another large trade agreement encompassing countries on both sides of the Pacific, meanwhile was cited as one reason for Harley's decision to build a manufacturing plant in Thailand. The reasoning was similar to that behind the proposed Europe move: The company wanted to offset Asian tariffs on its products in what the company's CEO described as a "critical" market. (It moved operations from a plant it shuttered in Kansas City.)
"We would rather not make the investment in that facility (Thailand), but that's what's necessary to access a very important market," Matt Levatich, the company's CEO, told Bloomberg at the time of the announcement. "It is a direct example of how trade policies could help this company, but we have to get on with our work to grow the business by any means possible, and that's what we're doing."
All of this, however, doesn't change a larger truth about Harley-Davidson, in general, and the motorcycle industry, in particular. Young people are simply not buying motorcycles the way Baby Boomers did. Plenty of reasons have been cited for this, including rising student debt and the loss of motorcycling's allure, but the development, and Trump's response to it, is part of a broader pattern. The president sees the offshoring of jobs as having resulted in the hollowing out of the American middle class, and blames unfair trade for what has befallen the American worker. But he's using trade tools to respond to trends that may actually have little to do with trade at all.
There's something Sisyphean about Trump's attempts to keep alive labor-intensive manufacturing in industries that are becoming automated, his attempts to protect industries through tariffs, and his tirades, often justified, against unfair trade practices. The biggest problem in many of these cases isn't trade, or trading partners, or indeed automation. The problem is that the world has moved on.