Trump's Insidious Reason for Leaving the UN Human Rights Council
While his administration cited its criticism of Israel, the White House also wants to distance itself from a body critical of its own policies.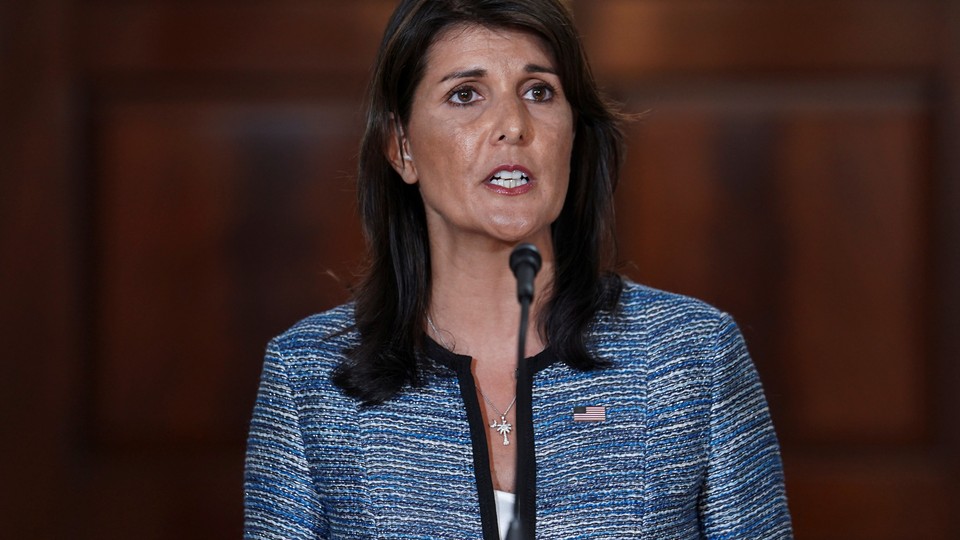 When the Trump administration commits to a decision, it goes full throttle—and often with little regard for the consequences. One such decision was announced Tuesday evening: The United States is withdrawing its membership from the UN Human Rights Council, which it joined in 2008, two years after its creation.
The stated reasons for withdrawal ranged from what the Trump administration regards as the council's seeming lack of interest in addressing abuses in places like Venezuela and Iran, to accusations of partiality. In a press conference on Tuesday, Nikki Haley, the U.S. ambassador to the United Nations, called the council a "protector of human-rights abusers, and a cesspool of political bias," and said that "America should not provide it with any credibility."
One of the more obvious reasons for the withdrawal from the council is America's aversion to what Haley called its "chronic bias" against Israel. She's been making that case for some time now, telling the body last year that it had a "relentless, pathological campaign" against the country. Even some critics of the U.S. extraction from the council told me that there is some truth to the fact that it does disproportionately single out Israel. One of the council's longstanding agenda items, for example, is examining human-rights abuses in "Palestine and other Arab territory"—the only item that delineates a particular place or region. Still, for human-rights advocates, the Trump administration's withdrawal is "a sad reflection of its one-dimensional human-rights policy: defending Israeli abuses from criticism takes precedence above all else," Human Rights Watch Director Kenneth Roth said Tuesday in a statement.
Human-rights experts told me that one of Trump's most likely, and most insidious, arguments for the move is to prevent the United States from being called out on its own alleged human-rights abuses. Trump has led an orchestrated attack on press freedom, while Congress has rolled back protections for women and girls both at home and abroad. HRW also points to media reports that say the United States has interrogated detainees in Yemen in secret prisons known for torture. Now, the Trump administration has enacted a policy to separate families attempting to cross the border illegally. Zeid Ra'ad al-Hussein, the United Nations high commissioner for human rights, called the policy "government-sanctioned child abuse." For the Trump administration, decrying the very body that plans to criticize you is a simple, if blunt, way to try to discredit it.
"There's certainly a pattern of saying one thing and having it be a pretext for something else in this administration," said Sarah Dougherty, a senior fellow at Physicians for Human Rights. Dougherty explained that the withdrawal is disturbing because it dismantles certain humanitarian precepts the United States has been known to uphold for more than 70 years—precepts that the current administration can't credibly maintain.
Withdrawing amounts to "grandstanding and has nothing to do with the actual interests of the U.S. that have for so long been reflected by its engagement with human-rights mechanisms," said Gabor Rona, a professor at Cardozo School of Law who teaches international human-rights law. He also called the abdication of the U.S. seat "childish petulance." The withdrawal "not only signals that the U.S. is now putting concern for human rights on a back burner, but it also signals to other countries that the U.S.'s leadership on human rights is gone," Rona said. "That dictators around the world now have much freer rein to abuse their citizens, commit torture, violate the right of freedom of expression, and harm political activity—and that not only harms the immediate victims. It also harms the whole international order that the U.S. is dependent on."
What does the council actually do, then? Each year, the 47-member body issues a "Universal Periodic Review," an evaluation of the human-rights conditions of all 193 UN member countries. It also produces reports on issues like the use of chemical weapons in Syria, enforced disappearances, and the rights of children and people with disabilities around the world. The council's many independent experts carry "the UN's blue flag to dark prison cells and homeless shelters to document abuses of international law and demand remedies from local and national governments," wrote Ted Piccone, a senior fellow at the Brookings Institution. In December 2017, the council held an important special session on the human-rights nightmare facing the Rohingya Muslims in Myanmar. (The UN Security Council has refused to act.)
Sitting on the council allows the United States to participate in an ongoing conversation on human rights. It is certainly problematic that Venezuela and the Democratic Republic of Congo, countries with atrocious human-rights records, also have seats on the Human Rights Council. But members are voted on by the UN General Assembly, and each of five major regions of the world (Africa, Western Europe, Eastern Europe, Latin America, and Asia-Pacific) receives a certain number. For all its flaws, the council has allowed the United States to demonstrate its commitment to human rights and dignity very publicly. Being a member at least signals an interest in accountability—if not of a country's own policies, then at least those of others.
Supporters of the move to withdraw appear to be few and far between. Michael Oren, former Israeli ambassador to the U.S., tweeted: "This is a welcomed response to a body that condemned Israel more than all other countries combined. The US now signals its refusal to lend legitimacy to UN bias against Israel and Jews."
Haley said the United States would continue working on human-rights issues outside the council, and talked about efforts to address human rights at the Security Council—a place a number of experts said is not a mechanism that cares to address such rights. Russia and China have permanent seats on the Security Council. It also allows motions to be vetoed, unlike in the Human Rights Council. (Russia has used its veto power on the Security Council to block action on Syria 12 times.) "So yeah, good luck with that," Akshaya Kumar, the deputy United Nations director at Human Rights Watch, said.
During Tuesday's press conference, Haley also placed a Trumpian emphasis on strength—and a lack of it: "Almost every country agrees with us that the Human Rights Council needs dramatic changes, but no other country has the courage to join our fight. … We gave them opportunity after opportunity and many months of consultations and yet they would not take a stand, unless it was behind closed doors," she said. Toward the end of the conference, she said the United States "will continue to strongly advocate for reform of the Human Rights Council," and that "should it be reformed, we would be happy to rejoin it." And with that, as reporters shouted questions after her, Haley turned her back and walked out.