America Alone?
A bitter end to the G7 summit could have consequences for America's alliances.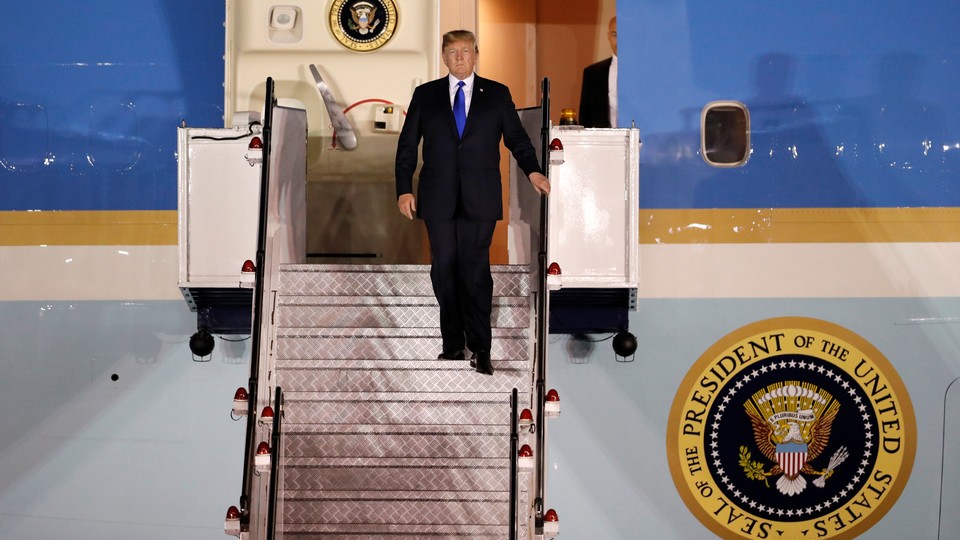 This weekend, President Donald Trump has called Canadian Prime Minister Justin Trudeau "meek and mild," "dishonest & weak." Larry Kudlow, Trump's top economic adviser, accused Trudeau of a "betrayal." Trump also retracted his endorsement of the joint communique he signed at the end of Group of Seven meeting in Charlevoix, Quebec, and threatened further tariffs against America's closest allies.
All this might come as a surprise only if one hasn't been paying attention.
The run-up to the summit, which also included Canada, France, Germany, Italy, Japan, and Britain, was rancorous. Trump arrived Friday at the gathering late and left early on Saturday. Earlier this month, he slapped tariffs on aluminum and steel imports, levies that affected mostly Europe and Canada. Trudeau appeared particularly galled by the national-security rationale used to impose those tariffs. French President Emmanuel Macron, who has embraced Trump publicly but reportedly had a "terrible" call with him after the imposition of the tariffs, said ahead of the G7 summit that the "will to have a [final] text signed by 7 countries must not be stronger than the content of that text. On principle, we must not rule out a 6+1 agreement." He got his wish.
Trump and the other G7 leaders had smiled and posed for the cameras—as world leaders often do on such occasions. Trudeau even managed to get all of them to agree to a joint communique. Among other things, the communique called for Russia to "cease … its destabilizing behavior" and pledged to ensure Iran's nuclear program remained "permanently" peaceful. But it was the communique's language on trade—the issue that has most roiled America's relations with its closest allies—that was most impressive, taking into account the concerns held by both the U.S. and its the other G7 countries. As an olive branch to Trump, the communique agreed on the need for "free, fair, and mutually beneficial trade," but also emphasized "the crucial role of a rules-based international trading system" and the need to "fight protectionism." Trump even tweeted:
But en route to Singapore, Trump either watched, or was briefed on, Trudeau's subsequent news conference in which the Canadian leader vowed to press ahead with retaliatory tariffs against the United States. "Canadians are polite and reasonable but we will also not be pushed around," he said in remarks that otherwise downplayed any differences with the U.S. Trump responded angrily:
Kudlow, Trump's chief economic adviser, said Sunday the Canadian leader "stabbed us in the back." And with that, any pretense of bonhomie among the world's liberal democracies is likely over—as are hopes that the North American Free-Trade Agreement, which brings together Canada, Mexico, and the U.S., can be renegotiated anytime soon.
There are a number of ways to interpret Trump's response. It may signal his preference to upend global alliances because of his feelings about Trudeau. Trump has also never cared much for multilateral forums like the G7, where he is one among several world leaders trying to achieve a compromise. He prefers the go-it-alone style of negotiation, of the sort he is engaged in with North Korea, for which, if it's successful, he will get sole credit. This could explain part of his preference for bilateral trade agreements—which few nations in the world are keen on—over multilateral ones with large trading blocs. Trump is also trying to infuse some unpredictability into the atmosphere ahead of his summit meeting Tuesday with Kim Jong Un, the North Korean leader. The American president honed his skills in the world of New York real estate. Perhaps he thinks it's better to go into a meeting with Kim—until recently, viewed as the world's most unpredictable leader—after making it clear that he won't think twice about abandoning his own closest allies, even after committing to a communique with them. This has been referred to as the so-called "madman theory."
But for each of those explanations, there is a counter-explanation. Consider the rationale for Trump's response to Trudeau's news conference. Macron's office issued a statement that said "international cooperation can not be dictated by fits of anger and throwaway remarks." In other words, this wasn't merely a difference of opinion over policy. It was personal. When you factor in Trump's preference to go it alone, the issue becomes even more complicated. U.S. allies, as I have written, have little choice but to go along with Trump's seemingly erratic behavior. They have no other allies. Trump has made his own preferences clear, praising China's Xi Jinping and Russia's Vladimir Putin while bizarrely seeking Russia's inclusion in the G7, a grouping from which it was suspended following its invasion in 2014 of Ukraine's Crimea.
At this point, given Trump's proclivity to withdraw from every single Western-engineered global agreement, from the Paris climate change pact to the Iran nuclear deal and the Trans-Pacific Partnership, there's little U.S. allies can do but to go along with it and issue the rare dissenting statements, like Macron's or Trudeau's, in the hopes that the administration might change in 2020 or 2024 and bring in a president who shares their values.
Trump's view of U.S. alliances has been consistent from the start. U.K. Foreign Secretary Boris Johnson's charitable notion that there is a "method to [Trump's] … madness" appears to be marked by a clear absence of a method. Trump views America's allies as freeloaders who have relied excessively on the United States for decades while treating it unfairly. While there may be something to this, with the U.S.-created global order under major strain and U.S.-Canada relations at perhaps their lowest point in modern times, Trump's reaction to Trudeau undermines the idea that alliances are forged between democratic nations, not their leaders.
To be sure, the Europeans can impose retaliatory tariffs. But they too will suffer in the ensuing trade war. Ultimately, their concerns over unfair trade are directed more at China than America. In the long term, they're likely to bet that Western values will keep the trans-Atlantic alliance together—Trump or no Trump.
For the moment, at least, Trump seems to want to distance himself from his allies—an impulse held somewhat in check by former aides like H.R. McMaster and Rex Tillerson. Indeed, the president has surrounded himself with advisers whose worldview reflects his own. John Bolton, the national-security adviser, tweeted perhaps the most iconic image of the G7 summit:
It was, as was pointed out, by Alberto Nardelli, the Europe editor for BuzzFeed News, a moment at which the leaders were discussing protectionism and support for multilateral trade. But Bolton cast the image in a different light. America, it appears, stands alone.