Trump's Obsession With Russia Reaches the G7
The president asked: "Why are we having a meeting without Russia being in the meeting?"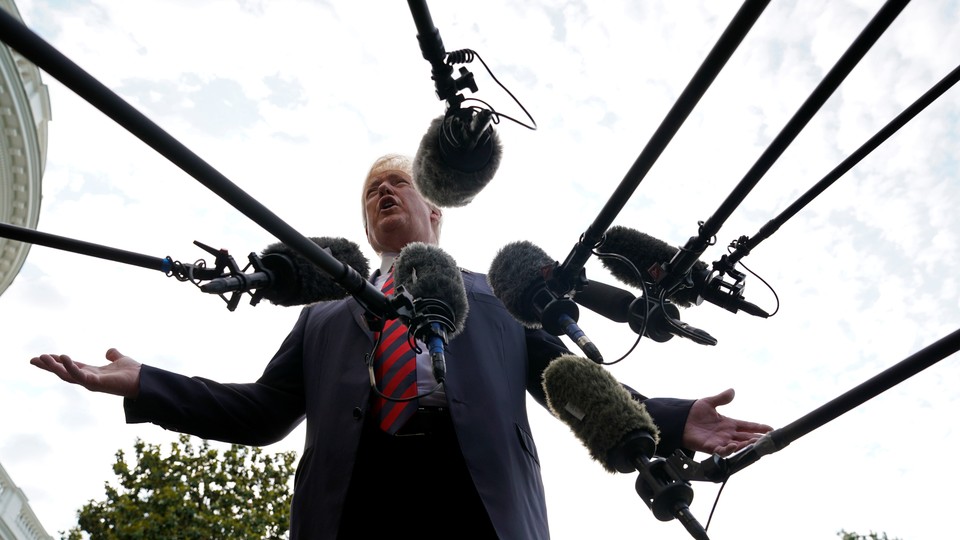 President Trump said Friday Russia should be readmitted to the Group of Seven industrialized nations, which the country was suspended from after its invasion and annexation of Ukraine's Crimean peninsula in 2014. He made the remarks as he prepared to head to Canada for the annual G7 summit, and they add to a list of positions that put the U.S. in opposition to many of its allies ahead of what will likely be a bruising meeting over trade, Iran, and other issues.
"It used to be the G8 because Russia was in it," Trump said in response to a question. "Now, Russia's not in it. Now, I love our country. I have been Russia's worst nightmare. … But with that being said, Russia should be in this meeting. Why are we having a meeting without Russia being in the meeting? … They threw Russia out. They should let Russia come back in, should have Russia at the negotiating table."
The G7 began as the G6 in 1975 as the world's leading industrialized nations met in the wake of the oil shock. Canada joined in 1976, making it the G7. Russia was admitted in 1998 as a response to political and economic reforms in the Yeltsin years, making the group the G8. But the other members unanimously decided to suspend Russia over its aggression in Ukraine.
Trump's remarks Friday are striking for several reasons. First, the president appears to be distancing himself—"They threw Russia out"—from what was essentially a decision made by the United States, at the time headed by the Obama administration, and the other G7 members: Canada, France, Germany, Italy, Japan, and the U.K. There are few, if any, decisions that are made at international forums—especially one like the G7—without U.S. buy-in.
Second, Trump's remarks come against the backdrop of the investigation by Robert Mueller, the special counsel, into Russian interference in the U.S. presidential election and possible collusion between Trump's presidential campaign and the Russian government. Trump has called the investigation a "witch hunt." Russia has denied it interfered in the 2016 elections. U.S. intelligence agencies say that Russia did interfere with the presidential vote, but they made no judgment about whether that effort was successful in its aim to help Trump.
Third, and perhaps more important, Russia's behavior hasn't changed since its annexation of Crimea, which itself was the culmination of years of political involvement in the former Soviet space, which Moscow regards as being within its sphere of influence. Indeed, Russia continues to support rebels in Ukraine's Donbas region, as well as Syrian President Bashar al-Assad and his brutal campaign to reclaim all of Syria; and it continues to back populist forces across Europe and elsewhere. Those same kinds of actions resulted in tough U.S. and EU sanctions against Russia and many of its key officials. Members of Trump's own Cabinet have called Russia's actions problematic.
But while some European leaders might balk at Trump's call for Russia's readmission to the G7, that sentiment is by no means universal. In other words, the G7, much like the Western world, is divided. Indeed, Giuseppe Conte, the new Italian prime minister who heads a coalition government of populist and far-right parties, has called for a review of EU sanctions on Russia—a sentiment that is gaining support across the EU—and he said Friday he supported Trump's call for Russia to be readmitted to the G7.
Russian President Vladimir Putin, who has shown a preference for influencing world events rather than watching them on the sidelines, hasn't been quiet, either. As Europe is drawn into a bitter battle with the U.S. on tariffs—but also the nuclear deal with Iran, climate change, defense spending, and other issues—Putin was in Vienna this week offering himself as a reliable partner to Europe.
"It is not our aim to divide anything or anybody in Europe," he said in a television interview. "On the contrary, we want to see a united and prosperous European Union because the European Union is our biggest trade and economic partner. The more problems there are within the European Union, the greater the risks and uncertainties for us."