Trudeau Reaches His Breaking Point With Trump
The Canadian leader's response to U.S. tariffs formed his sharpest-ever rebuke of the president.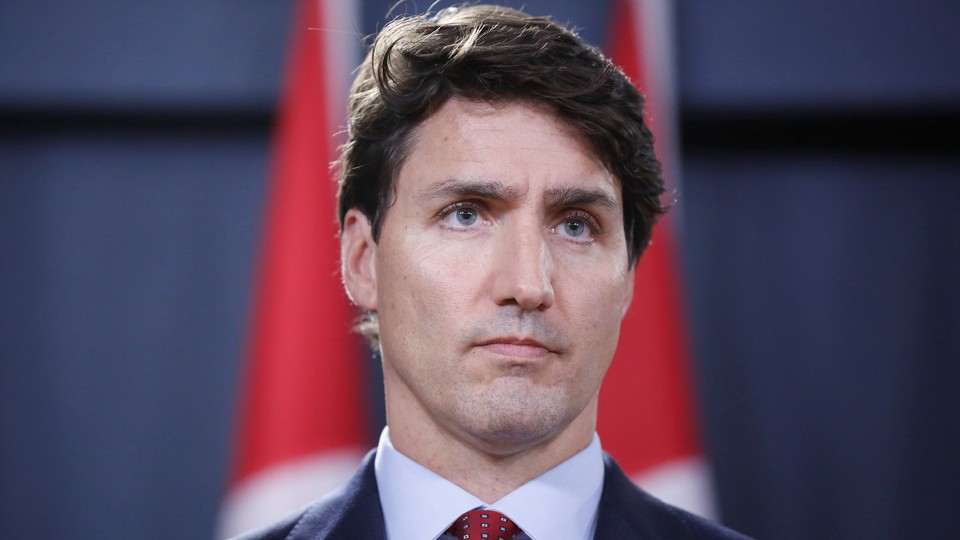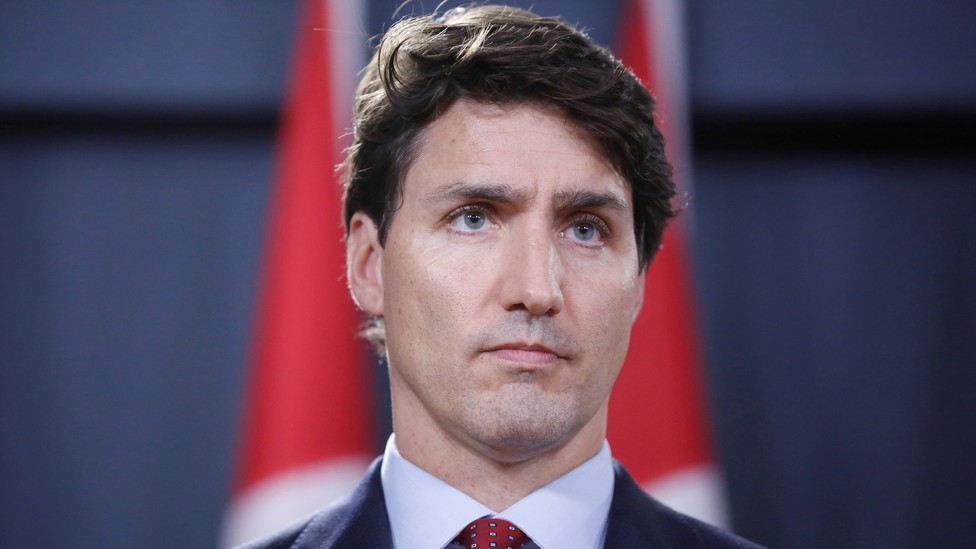 Spare a thought for Justin Trudeau. The Canadian prime minister is most often seen smiling while meeting with world leaders, showing off his immaculate sock collection, and uttering the kinds of pronouncements that make him the darling of many progressives. But on Thursday, Trudeau took on an unfamiliar role: that of Trump critic.
The occasion was the announcement that day that the U.S. would impose tariffs of 25 percent and 10 percent, respectively, on steel and aluminum imports from Canada and the European Union. That decision could spark a trade war that few people expect will end well for any of the parties involved. A visibly frustrated Trudeau responded almost immediately, saying Canada will impose tariffs against imports from the U.S. of steel, aluminum, and other products.
"We are imposing dollar for dollar tariffs for every dollar levied against Canadians by the U.S.," he said, adding the levies will take effect July 1 and will remain in place until the U.S. eliminates its measures against Canada. Trudeau also said Canada will challenge the U.S. measures at the World Trade Organization and under the North American Free Trade Agreement, a pact that now looks in danger of dying because Trump views it as unfair.
Trudeau's politics and worldview might not align with Trump's, but he was among the first world leaders to congratulate the U.S. president on his election victory, noting Canada has "no closer friend, ally, and partner than the United States." It's a message he carried to Washington where he endured an awkward handshake with Trump, and had what was generally billed as a positive meeting with the American president. When it ended, the two men spoke warmly of each other, and Trump even said he was prepared to tweak NAFTA instead of withdrawing from it.
But on Thursday, Trudeau seemed particularly aggrieved by the national-security grounds on which the Trump administration imposed the tariffs. He said Canada was America's "most steadfast ally" in war and peace, calling the tariffs "an affront to the … thousands of Canadians who have fought and died alongside American comrades-in-arms." But what he said next perhaps illustrates just how poor relations between the two neighbors have become.
"In closing, I want to be very clear about one thing: Americans remain our partners, friends, and allies. This is not about the American people. We have to believe that at some point their common sense will prevail," he said in the type of language that successive U.S. administrations have used to describe recalcitrant regimes such as Iran. "But we see no sign of that in this action today by the U.S. administration."
Trump fired back in a statement late Thursday: "The United States has been taken advantage of for many decades on trade. Those days are over. Earlier today, this message was conveyed to Prime Minister Justin Trudeau of Canada: The United States will agree to a fair deal, or there will be no deal at all."
On Friday, via Twitter, Trump added: "Canada has treated our Agricultural business and Farmers very poorly for a very long period of time. Highly restrictive on Trade! They must open their markets and take down their trade barriers! They report a really high surplus on trade with us. Do Timber & Lumber in U.S.?" (The U.S. has a $8.4 billion trade surplus in goods and services with Canada.)
The dispute over tariffs is part of a larger trade dispute between the United States and its two neighbors—Canada and Mexico—over NAFTA. Trump says he believes the agreement, which was signed in 1994 and allows for the free flow of goods and services among the three countries, has destroyed American industry, hurt American workers, and eviscerated the American middle class. No amount of data from economists, pleas from farmers who have found massive overseas markets for their produce, and entreaties from the Chamber of Commerce seems able to persuade him otherwise.
NAFTA is being renegotiated by the three countries, but the pact looks set to go the way of the Paris climate accord, the Iran deal, and the Trans-Pacific Partnership. The advisers who advocated for Trump to remain in those multilateral pacts have long left the administration and those who remain say they support Trump's worldview. Indeed, Wilbur Ross, the Commerce secretary, said Thursday the tariffs on Canada were being imposed because of insufficient progress on talks to renegotiate NAFTA.* Just days earlier, investors were optimistic that the three countries were close to an agreement. No longer.
Trudeau suggested as much when he said Thursday that he canceled a trip to Washington to meet with Trump about an agreement on NAFTA because Vice President Mike Pence told him that a meeting could only go ahead if a sunset clause were added to the pact. Canada views such a clause—one in which NAFTA would be renegotiated every five years—as a red line because it creates exactly the kind of economic uncertainty that deals like NAFTA are meant to eliminate. "I had to highlight that there was no possibility of any Canadian prime minister signing a NAFTA deal that included a five-year sunset clause, and obviously the visit didn't happen," Trudeau said.
U.S. officials have said the three countries are still talking about ways to salvage NAFTA, though at this point it looks like an agreement—if one is reached—is a long way away. Though as Bloomberg notes: "Failing to reach an accord on an update doesn't necessarily mean NAFTA is dead, though. The existing pact remains on the books. Any country can quit on six months' notice, which isn't binding, in that they can give notice and never actually quit. No country has yet given notice, though Trump threatens to." Giving notice might give the president the room he needs to keep his campaign promises—even if it hurts the U.S. relationship with its two closest trading partners.
Trudeau will no doubt have another opportunity this coming week to make the case to Trump when leaders of the world's seven richest nations gather in Quebec for their annual G7 summit. Trudeau, who is hosting this year's meeting, had hoped to focus on issues such as climate change, the jobs of the future, growth that benefits everyone, and women's empowerment. But as Politico reported, there is "unprecedented division over the agenda and what joint statements might be issued out of the summit."
Trump's tariffs on European products, as well as his reportedly planned levies on German car imports, is going to make this an awkward event. Trade's not the only reason why: The G7 includes Canada, France, Germany, Italy, Japan, the United Kingdom, and the United States. Of that list, three countries—France, Germany, and the U.K.—are part of the nuclear deal with Iran, which Trump pulled out of recently. At that same summit last year, in Taormina, Italy, it became clear Trump would withdraw the U.S. from the Paris climate accord. This time around, it is trade that might get the presidential treatment.
---
* The story originally mischaracterized Wilbur Ross's title. We regret the error.