How Do You Know When It's Officially a Trade War?
New tariffs come with new threats as the downward spiral continues.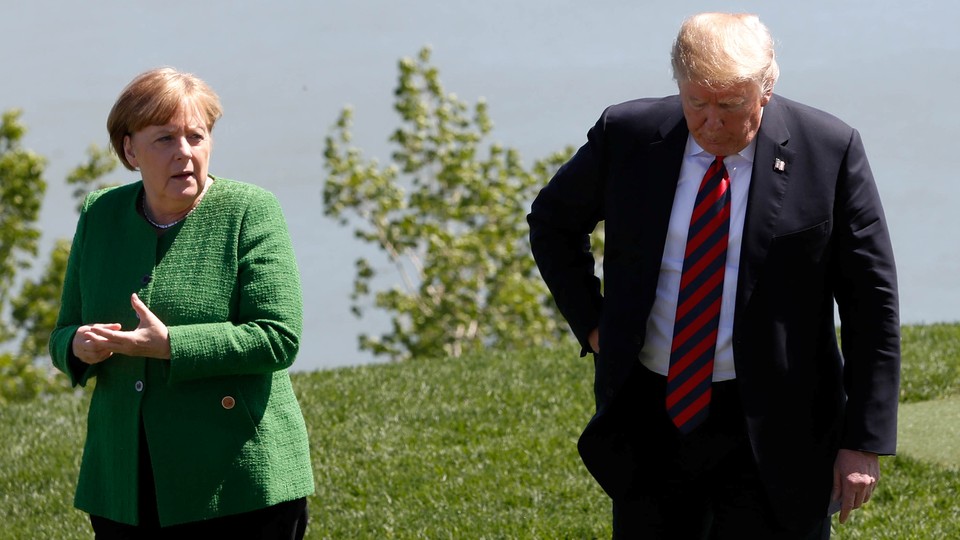 It's been coming for a while, but a tweet made the threat official (and specific): On Friday, President Trump denounced European duties on American automobiles and said if they were not removed, the U.S. would hit back twice as hard.
Based on the Tariffs and Trade Barriers long placed on the U.S. and it great companies and workers by the European Union, if these Tariffs and Barriers are not soon broken down and removed, we will be placing a 20% Tariff on all of their cars coming into the U.S. Build them here!

— Donald J. Trump (@realDonaldTrump) June 22, 2018
The United States and Europe are now locked in an escalating trade dispute that began in March, when Trump announced his intention to impose massive steel and aluminum tariffs on the EU and other U.S. allies. But the tariffs Trump is responding to actually predate the current trade dispute; the European Union already had a 10-percent tariff on auto imports from the United States, whereas the U.S. charged much less for European auto imports. Since Trump's new metal tariffs went into effect weeks ago, however, the situation has spiraled downward. The move was unanimously denounced by the tariffs' targets—which included Canada and Mexico in addition to the EU—and made for an awkward gathering at this month's Group of Seven summit. That normally staid annual meeting ended this time in the American president retracting his endorsement of the attendees' joint communique, and attacking Canadian Prime Minister Justin Trudeau and French President Emmanuel Macron over Twitter. Each country announced it would slap new charges on American imports.
In fact, the EU's new tariffs, on items like bourbon and blue jeans, went into effect Friday. It's not clear whether Trump's new threat was timed to mark that event. After all, it was only two days ago that U.S. Commerce Secretary Wilbur Ross told American lawmakers that the White House had made "no decision" on whether to recommend tariffs on automobile imports.
So does all this add up to a trade war yet? After all, imposing tariffs, which are met with retaliatory tariffs, which are then met with even more retaliatory tariffs, is the kind of tit-for-tat behavior global trading rules were designed to prevent. But so far, the EU has shied away from using the words "trade war" to describe the current dispute. As Cecilia Malmström, the EU's trade commissioner, told CNN's Christiane Amanpour earlier this month, "I wouldn't say that we are in a trade war, but we are in a very difficult situation that could escalate. … There are no winners in this, so we definitely hope this is something that does not materialize."
But how do you know when it has materialized? Marianne Schneider-Petsinger, a U.S. geoeconomics fellow at the London-based Chatham House, told me a trade war requires two elements. "One is the tit-for-tat tariffs that set off a downward spiral of protectionism," she said. Check. "The other element is that there is no more space for negotiations to potentially de-escalate the dispute."
It's this element that's missing so far. Though the EU has previously stated that it will not negotiate under threat, the bloc hasn't ruled out negotiations entirely. In fact, Germany's auto industry—which would be hardest hit by automobile tariffs—has said it would be amenable to reducing auto tariffs between the U.S. and Europe, provided that it be discussed through negotiations. "The basis for future agreements between the EU and the U.S. must be the rules of the WTO," the German Association of the Automotive Industry (VDA) said this week in a statement. "There is no proposal for unilateral concessions or the mutual dismantling of car duties exclusively."
Whether the Trump administration would be open to such negotiations is still unclear. The American president instructed the Commerce Department to investigate whether there could be national-security grounds for imposing tariffs on European automobiles and auto parts, which was the justification the administration used to impose its metal tariffs. Ross, the commerce secretary, said the department aims to wrap up its review within the next two months.
But if the Trump administration is not open to negotiations, the EU has already signaled its willingness to make a collective response. "We did not want to be in this position," Malmström said Wednesday in a statement in reference to its retaliatory tariffs, adding that when it comes to the bloc's retaliatory measures, "Our response is measured, proportionate and fully in line with WTO rules. Needless to say, if the U.S. removes its tariffs, our measures will also be removed."
"I do think that at the moment Trump is using this as more of a negotiation tactic—I don't think it's just a coincidence that he tweets that on the same day that the European [retaliatory] tariffs go into effect," Schneider-Petsinger said. "There are tensions that cannot be ignored and shots are being fired, but it's not a full-blown trade war yet because there is still room for de-escalation."
If it's still something less than a trade war, it will no doubt incur casualties—on both sides. Germany sold 1.35 million vehicles in the U.S. in 2017. And as the VDA pointed out last month, U.S.-based German automobile plants employ as many as 110,000 people. Half of those jobs, the VDA says, are dependent on German exports.